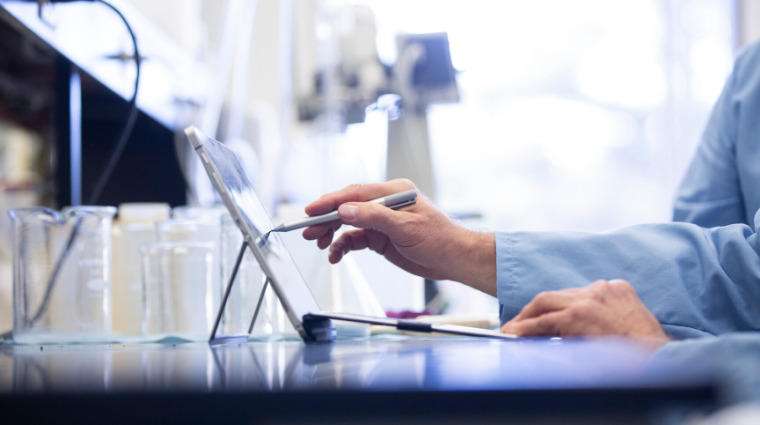 Saskatchewan Polytechnic is a part of Project Looking Glass: Protecting Canadians in a return to community
June 11, 2020 – Saskatchewan Polytechnic has joined the Digital Technology Supercluster to work on Project Looking Glass. This project will allow government and industry to use COVID-19 data to assess potential benefits and risks of public policy and practice, and thereby better inform policy direction as Canada looks towards a return to normal work and community life. Project Looking Glass provides a clear, evidence-based understanding of the impact of decisions made to protect the health of Canadians which would be needed to inform good policy-making.
The complex epidemiological, economic, and artificial intelligence-driven models that underpin the Looking Glass platform require tremendous computing resources. As well, running these models can be very expensive when using commercial cloud. However, Kings Distributed Systems has developed a distributed computing platform, called the Distributed Computer, which spreads computations over the many idle computers found in schools, homes, and businesses instead of in commercial cloud data centers.
"The Distributed Computer allows software developers to build powerful applications by connecting multiple devices together, taking advantage of the combined processing power to perform complex computational tasks," says Dr. Daniel Desjardins, CEO, Kings Distributed Systems Ltd. "Kings Distributed Systems is offering its platform at no cost to universities and high schools across Canada."
"Saskatchewan Polytechnic is excited to be one of the first post-secondary institutions in the country to trial this made-in-Canada cutting edge computing technology, which will be led through our Digital Integration Centre of Excellence (DICE) and will involve the computing power of our entire organization," says Dr. Larry Rosia, president and CEO, Saskatchewan Polytechnic. "DICE is focused on data issues, including data integrity, data transmission, and data analysis and storage."
Saskatchewan Polytechnic will be directly powering Looking Glass's predictive models that generate insights for Saskatchewan municipal decision-makers, helping them navigate the COVID-19 pandemic. Decision-makers will be able to input potential actions such as physical distancing measures, closing and re-opening of schools and businesses, widespread testing, and contact tracing. Looking Glass will then forecast through established epidemiological and economic models potential outcomes such as infection rates and economic impact of those proposed policies.
"Project Looking Glass will help decision-makers target recovery policies in a way that maximizes positive impact while minimizing health risk, and will do this is in a way that is tailored to the unique circumstances of a particular community," says Dr. Susan Blum, Sask Polytech associate vice-president, Applied Research and Innovation. "This is a great opportunity for the Digital Integration Centre of Excellence to use its expertise to help the people of Saskatchewan during the COVID-19 pandemic."
Once the Looking Glass project is complete, the computing networks will remain in place at no cost and can be used to accelerate innovation in AI/ML, blockchain, mathematical finance, bioinformatics, and much more.
Looking Glass is led by Kings Distributed Systems in partnership with Riskthinking.AI, Limestone Analytics, Queen's University, aiSight, and Distributed Compute Labs. Contributors include CENGN, Server Cloud Canada, Dymond, AMPD, PHEMI Systems, Krate Distributed Information Systems, and multiple municipalities in Ontario, B.C., Newfoundland and Saskatchewan.
About Digital Technology Supercluster: The Digital Technology Supercluster solves some of industry's and society's biggest problems through Canadian-made technologies. We bring together private and public sector organizations of all sizes to address challenges facing Canada's economic sectors including healthcare, natural resources, manufacturing, and transportation. Through this 'collaborative innovation,' the supercluster helps to drive solutions better than any single organization could on its own. The Digital Technology Supercluster is led by industry leaders such as D-Wave, Finger Food Advanced Technology Group, LifeLabs, LlamaZOO, Lululemon, MDA, Microsoft, Mosaic Forest Management, Sanctuary AI, Teck Resources Limited, TELUS, Terramera, and 1Qbit. Together, we work to position Canada as a global hub for digital innovation. A full list of members can be found here.

About the COVID-19 Program: The COVID-19 Program aims to improve the health and safety of Canadians and support Canada's ability to address issues created by the COVID-19 outbreak. In addition, the program will build expertise and capacity to anticipate and address issues that may arise in future health crises, from healthcare to a return to work and community. More information can be found here.
About Kings Distributed Systems: Kings Distributed Systems, founded in 2017, is a Canadian company building the Distributed Computer, the world's most powerful computing platform – not only powerful in terms of hardware, but powerful in the ability to democratize innovation and exploration. Kings Distributed Systems accelerates science, innovation and discovery by providing flexible cloud and edge computing configurations to industry and academia – a distributed supercomputer at everyone's fingertips.

About Saskatchewan Polytechnic: Saskatchewan Polytechnic serves students through applied learning opportunities at campuses in Moose Jaw, Prince Albert, Regina and Saskatoon, and through extensive distance education opportunities. Programs serve every economic and public service sector. As a polytechnic, the organization provides the depth of learning appropriate to employer and student need, including certificate, diploma and degree programs, and apprenticeship training. Saskatchewan Polytechnic engages in applied research, drawing on faculty expertise to support innovation by employers, and providing students the opportunity to develop critical thinking skills.