Sask Polytech eco-car receives global recognition
Saskatchewan Polytechnic has received another international award for one of its innovative eco-cars.
The student team behind the Sask Eco, Urban Concept —a 3D printed vehicle with a frame constructed of recycled carbon fibre hockey sticks that took a silver medal in a global competition in 2018—has won the 2020 Shell Eco-marathon Americas Off-Track Circular Economy Award.
The new award "recognizes the team that makes best continual use of resources and eliminates waste," said Norman Koch, general manager for the Shell Eco-marathon, when announcing the award in early May. Along with the prestige of being an award winner, the team receives a $3,000 US cash prize.
This is not the first time Sask Polytech has received international attention for the Sask Eco, Urban Concept. Two years ago, the car, which uses a soft drink bottle as part of its fuel system, finished second place at the Shell Eco-marathon Americas in Sonoma, California and second at the Drivers' World Championship in London, England—the first time a Canadian team earned a spot in the final competition.
The Shell Eco-marathon is a global competition that brings together teams of high school and post-secondary students who design and build ultra-energy efficient vehicles and compete regionally and around the world. In addition to focusing on cleaner and more efficient energy solutions, Shell says the eco-marathon gives students an opportunity "to think outside the box and experience the wonders of science and technology on a deeper level."
Thirty-four teams representing seven countries from across North, Central and South America submitted 65 entries for the Off-Track awards, which were held virtually because of the COVID-19 pandemic. The pandemic also forced Shell to cancel its Americas and international competitions for this year—competitions that Sask Polytech had planned to enter.
"We are extremely proud of our students who were preparing to compete in the 2020 Shell Eco-marathon," says Dr. Larry Rosia, president and CEO. "We know our students are disappointed that they were not able to compete on the racetrack this year due to the COVID-19 pandemic. The Off-Track Circular Economy Award is a testament to their dedication and hard work. Thank you to our incredible Saskatchewan Polytechnic faculty and staff who guided and supported the efforts of these innovative students."
"We were developing our drivetrain this year to integrate (gas/electric) hybrid technologies," according to Andrew Baerg, the designated faculty adviser for the team. "We had also selected a new, more efficient gasoline engine, and the electric motor and supercapacitor storage system improves our overall efficiency through regenerative braking. We also have found some engine management and driving strategies that look promising for good efficiency gains."
Sask Polytech has also been working on a new entry in the prototype category. Last year's prototype eco-car finished in sixth place at the Shell Eco-marathon Americas competition, achieving a remarkable 1,008 mpg US fuel efficiency. Baerg says the new prototype car, which was also 3D printed and uses recycled hockey sticks for the structural frame, is not only smaller but also has a more aerodynamic body shell than the previous car. This, he adds, should make it even more fuel efficient.
Sask Polytech students are looking forward to once again competing on an international stage.
"Receiving the Circular Economy award certainly gave our team some hope and inspiration to continue working and doing what we can during these strange times," says Jackson Junk, a first-year student in the CAD/Cam Engineering Technology program. "I cannot wait to see what we can achieve in the future."
Watch the 2020 Shell Eco-marathon virtual awards ceremony.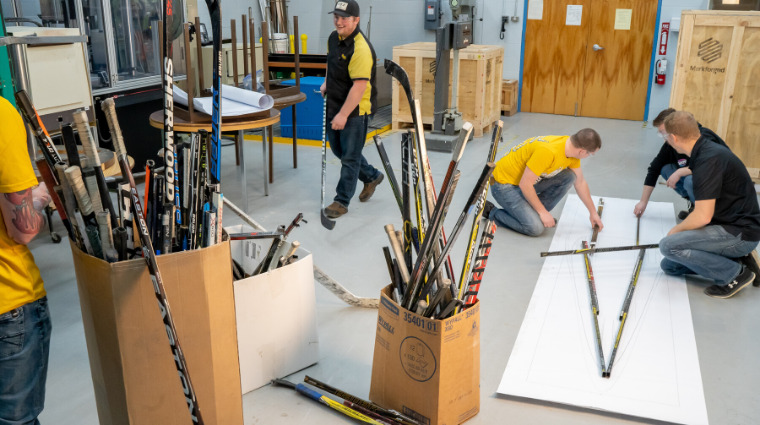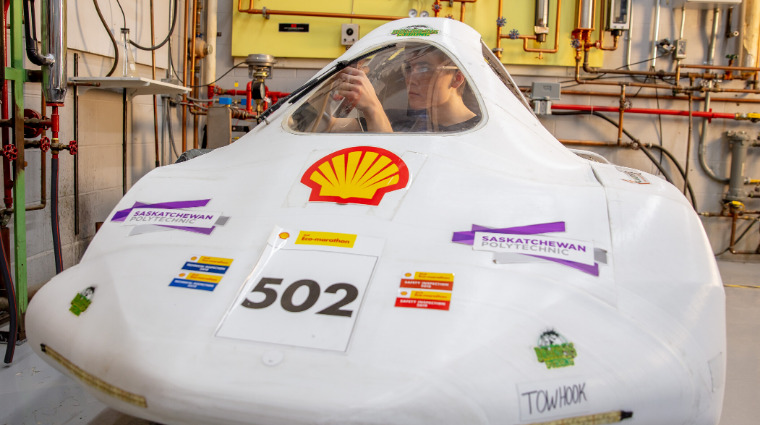 Published May 2020.