Saskatchewan Polytechnic is helping put Mac back on the map
Saskatchewan Polytechnic faculty and students are sharing their talents to help bring bragging rights back to Moose Jaw this summer. Volunteers from a variety of programs are offering their time and applying their expertise and training to ensure Mac the Moose reclaims his rightful title as the largest moose statue in the world.
Built in 1984 and standing 32-feet tall, Mac held the vaunted title until 2015, when he was unseated by Norway's Storelgen, a shiny, silver elk that towers almost 12 inches over Mac.
The transatlantic battle of the biggest moose began earlier this year, and soon went viral, gaining international media coverage in a variety of outlets including
The New York Times, The Washington Post
and
The Late Show with Stephen Colbe
rt.
Once it was decided that a new set of antlers would be the answer to ousting Storelgen, Earl Wingert, an instructor in the Engineering Design and Drafting Technology program, saw an excellent opportunity for his colleagues and students to get involved.
"I thought it would be a good fit," says Wingert. "It would allow us to bridge between multiple programs in the school. There's existing (construction), there's going to be new construction, and multi-disciplined trades are going to be used in this project so it's parallel to what we would see in industry. It gives the students a practical application of the skills they are learning."
Herve Lahamy, Geomatics and Surveying Engineering Technology program instructor, was tasked with 3D scanning both Mac's body and a set of real antlers provided by a local taxidermist. "We are going to take those two scanned images and combine them to create a conceptual prototype of what Mac could possibly look like with a new set of antlers," says Wingert. "From there, we are going to come up with concepts of what the structure would look like inside the antlers."
Students enrolled in the Engineering, Design, and Drafting Technology program will handle the 3D processing and design, and will then hand over their work to students enrolled in the Innovative Manufacturing program, who will create a 3D printed prototype of what Mac could potentially look like—albeit a scaled down version.
Rion White from Orion Taxidermy has volunteered to build the new antlers. They will add three feet to Mac's stature, and will be more anatomically correct than the old rack. "We'll work with (the taxidermist) to come up with some concepts and discuss how the rack will sit to make it realistic," says Wingert. "He has his expertise and we're going to use a little bit of technology to assist with his vision."
"It's really cool to see other people as excited about Mac as we are," says Jacki L'Heureux-Mason, executive director of Tourism Moose Jaw.
"My heart could not be any bigger to see these student volunteers get engaged and excited about their community, and someday hopefully take over our torches and be the future community leaders."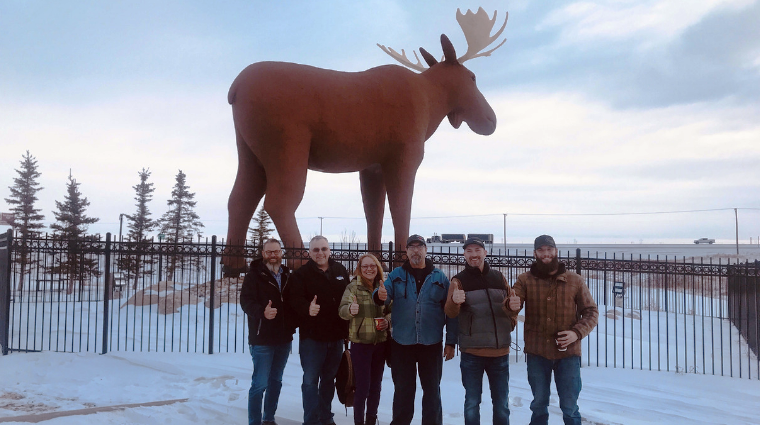 Published June 2019.