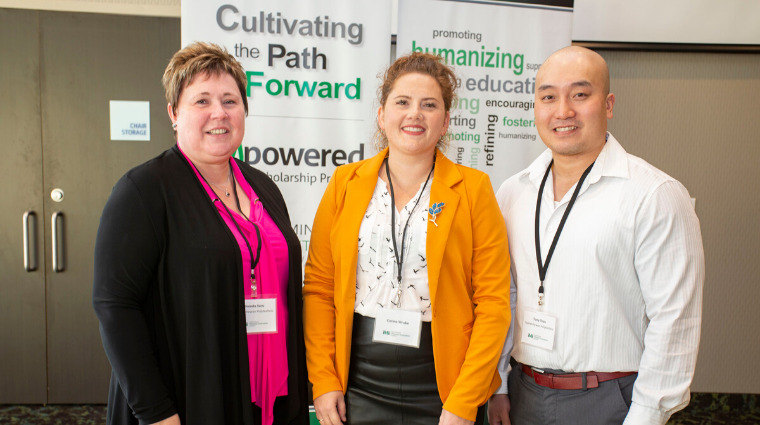 Corine Strube was one of two recipients of the inaugural International Minerals Innovation Institute (IMII) iMpowered Scholarship.

Corine Strube, studying chemical technology in the School of Mining, Energy and Manufacturing at Saskatchewan Polytechnic, was announced as a winner of a $25,000 International Minerals Innovation Institute (IMII) iMpowered scholarship this fall. The scholarship covers costs associated with efforts to attain post-secondary education including housing, books, childcare, tuition and transportation.
Strube applied for the scholarship after receiving an email from one of her instructors encouraging her to send in an application. As a women of Metis heritage, enrolled in a science program relevant to the mining industry, with strong academic achievements, she was a strong candidate for the award.
For Strube, a mature student with a young child, this funding provides stability and flexibility. "It gives me the freedom to concentrate on my studies and not worry about finances and debt," she says.
Not only are finances a challenge as a student and mother but so is time. Sask Polytech provided the flexibility to extend a two-year program over three years. This has allowed Strube to keep a balance between her studies and family. In addition, the accessibility of student services such as tutoring and career counselling has made her transition back to school much smoother. "There is a lot of support at Sask Polytech. They really want you to succeed," she says.
Prior to attending Sask Polytech, Strube was a journeyperson hairstylist. Her decision to change fields and return to school was motivated by her desire for career and financial stability.
Before enrolling at Sask Polytech, Strube met with a career counsellor. With an interest in lab work, experiential learning, a practicum and good job prospects, the Chemical Technology diploma program was great fit for Strube's career goals.
"Sask Polytech provides hands-on learning, which is important to me," she explains. "The course is challenging and the practicum experience is interesting and fun. The instructors are also wonderful and helpful."
She encourages others to pursue post-secondary education and achieve their education and career goals, "No matter what hurdles you have in life, going back to school is possible." Strube anticipates completing her education in 2021 after which she plans to work for a mining company.

About the iMpowered Scholarship
Two $25 000 iMpowered scholarships are given out each year. The scholarship's purpose is to support women and Indigenous students enrolled in science, technology, engineering, mathematics and computer science post-secondary education programs of relevance to Saskatchewan's minerals industry. 2019 was the inaugural year of the award.
IMII's minerals member companies – BHP, Cameco, K+S Potash, Mosaic and Nutrien, have committed to having a workforce that is representative of the communities in which it operates. This includes seeking new strategies to attract more women and Indigenous people into their workforces.


From left to right: Jackie Pilon, BHP; Corine Strube, iMpowered scholarship recipient; Mulaina Boissoneau, iMpowered scholarship recipient; Al Shpyth, IMII.
Published November 2019.