Saskatchewan Polytechnic alumnus named Canada's Paramedic of the Year
Jason Trask has been recognized as the 2019 Paramedic of the Year by the Paramedic Association of Canada
Jason Trask has dedicated 22 years to helping others and contributing to the betterment of the paramedic field, a career path he finds very rewarding. The Saskatchewan Polytechnic graduate's exceptional service was recently acknowledged by the Paramedic Association of Canada, which has named him Paramedic of the Year.
The award came as a surprise. "It was a pretty amazing honour, unexpected but appreciated," he says.
Trask was recognized for providing leadership as the emergency department commander during last year's Humboldt Broncos bus accident and his volunteer work with the Saskatchewan College of Paramedics. This included helping establish the Critical Care Paramedic License in Saskatchewan.
Sask Polytech programs provided the foundation for Trask to gain the opportunities and experience to build a successful and varied career. Since 1997, he has completed three paramedic programs including the Advanced Care Paramedic program in 2006; a program that offers advanced training, skill enhancement opportunities and positions graduates for leadership roles.
Trask started his career working in 911 service then worked with MD Ambulance (now Medavie Health Services West) for over a decade before transitioning to the Saskatchewan Health Authority. While at MD Ambulance he also worked in the intensive care unit, coronary care unit and emergency department. At the Saskatchewan Health Authority, Trask was the Saskatoon City Hospital (SCH) manager and then the Royal University Hospital (RUH) manager. For a period, Trask also taught both Primary and Advanced Care Paramedic programs at Saskatchewan Polytechnic.
Trask took every opportunity to learn and advance himself, something he encourages other paramedics and students to do. He also recommends, "Look for different opportunities. Complete your education early on and push yourself to be at the top of your game. And remember paramedicine is a rapidly changing field and careers aren't limited to an ambulance."
This past year Trask was responsible for the Adult Emergency Department transition from RUH to the new Jim Pattison Children's Hospital. In addition to his management role Trask serves as a flight paramedic for STARS Air Ambulance.
Trask's unique career path reflects his advice to Sask Polytech students. It's a journey he would gladly do all over again.
To register as a Sask Polytech alumnus please visit alumni.saskpolytech.ca.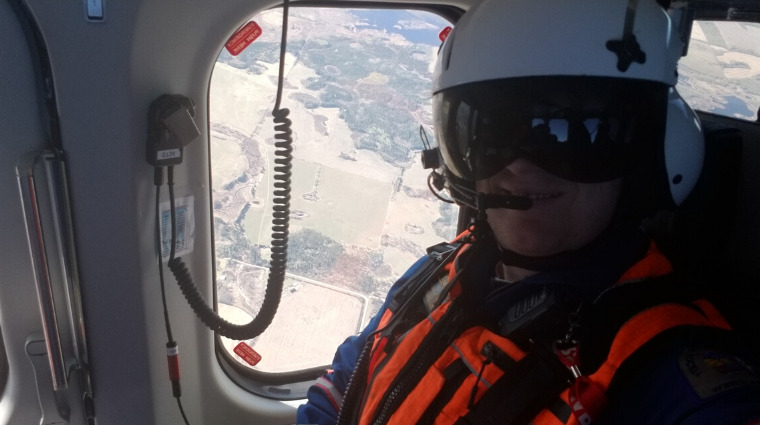 Published November 2019.