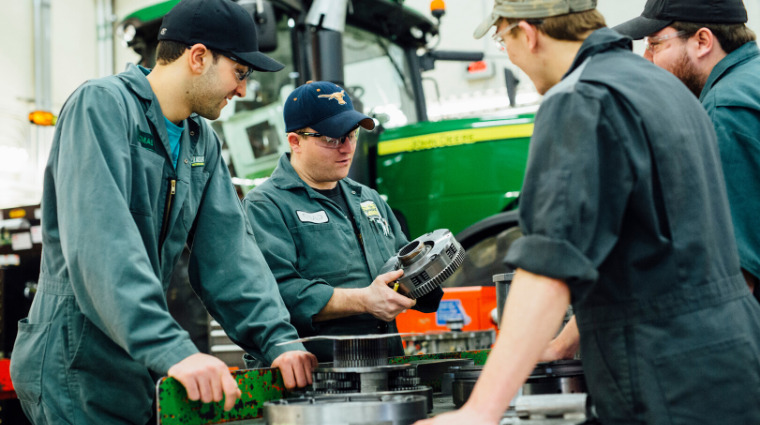 December 5, 2019 – Over 30 high school students from across Saskatchewan gathered for an exciting Agriculture boot camp hosted by Saskatchewan Polytechnic and Sun West Distance Learning Centre (DLC). These students are part of an Agricultural Equipment Technician (AET) course offered by the DLC in partnership with Canada Equipment Dealers Foundation, Sask Polytech, Sun West School Division and the Western Equipment Dealers Association. Demand for qualified Agricultural Equipment Technicians across the industry led to the partnership and is allowing students to experience this career first-hand.
"Boot camp is an important part of the AET courses," says Darren Gasper, superintendent of Education with Sun West School Division. "Students from across the province are getting an insider's view of AET training at the post-secondary level so that they are more comfortable with the training path of an AET and are in a better position to make a meaningful career choice after high school. Today's attendance speaks volumes about the interest in ag careers in our province."
At the boot camp, the students experienced first-hand the work that is carried out by Agricultural Equipment Technicians. This included hands-on work with hydraulics, engines, and electrical components. The students also participated in a Sask Polytech apprenticeship class and were mentored by apprenticeship students.
"Agriculture is a major contributor to Saskatchewan's economy and Sask Polytech is excited to encourage more high school students to pursue an agriculture career," says Chris Thomson, Sask Polytech Agricultural Equipment Technician program head. "This boot camp is an opportunity for students to learn more about a career in agriculture equipment and experience what we have to offer at Sask Polytech."
This fall, Sun West DLC launched AET 30L, building upon the 20-level course that was piloted last year across Saskatchewan. Both courses include 50 hours of online theory, 40 hours of practical work study at an agriculture dealership and a 10-hour boot camp at Sask Polytech. High school students are introduced to this in-demand career as an AET diagnosing, repairing, and servicing some of today's most technologically advanced machines—tractors, combines, cultivators, seeders and sprayers.
About Sask Polytech: Saskatchewan Polytechnic serves students through applied learning opportunities at campuses in Moose Jaw, Prince Albert, Regina and Saskatoon, and through extensive distance education opportunities. Programs serve every economic and public service sector. As a polytechnic, the organization provides the depth of learning appropriate to employer and student need, including certificate, diploma and degree programs, and apprenticeship training. Saskatchewan Polytechnic engages in applied research, drawing on faculty expertise to support innovation by employers, and providing students the opportunity to develop critical thinking skills.
About Sun West School Division & Sun West Distance Learning Centre (DLC): As Saskatchewan's largest online school, Sun West DLC supports more than 3,000 students across the province each year. Both home-based and in-school students take advantage of the opportunity to learn with the DLC at a pace, place and time that suits their individual learning needs. Students can earn credit in more than 160 online courses ranging from Kindergarten to Grade 12 including a suite of 13 agriculture courses and 18 trades-based courses. Visit us at www.sunwestdlc.ca