2019 Saskatchewan Polytechnic Employee Awards
Saskatchewan Polytechnic continues to be a key contributor to Saskatchewan's economic and social development because of our employees' tireless efforts and commitment. Each year, we celebrate our employees for going the extra mile to ensure that our institution, partners and students succeed.
"Our employee awards program recognizes exceptional contributions that support our vision and values," says Dr. Larry Rosia, president and CEO. "They highlight employee contributions that make Sask Polytech the great place it is to learn and to work."
Congratulations to the 2019 award recipients!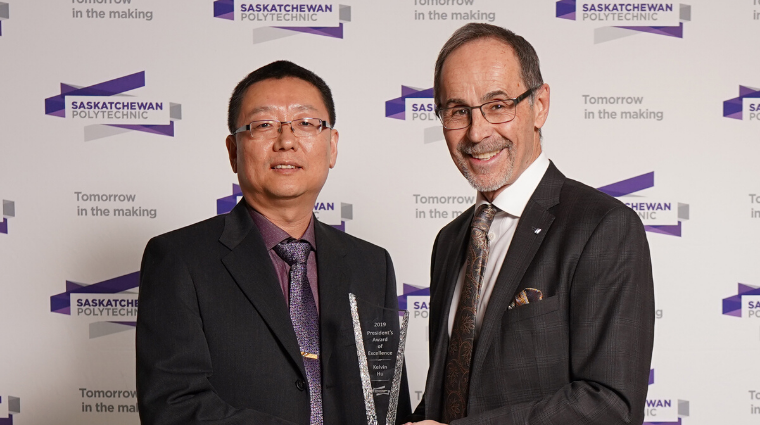 PRESIDENT'S AWARD OF EXCELLENCE
Kelvin Hu
Program Head, Learning Technology Training – Moose Jaw Campus
Kelvin is a sought-after resource across Sask Polytech for his knowledge and determination to find a solution. He instills confidence in faculty and staff through training and guidance. He is energetic, dedicated and enthusiastic about his roles and providing support that ultimately creates a more supportive learning environment for our students. Kelvin is committed to client satisfaction and providing top notch training. According to those who nominated him, he sets the standard by which all faculty trainers at Sask Polytech should strive to achieve.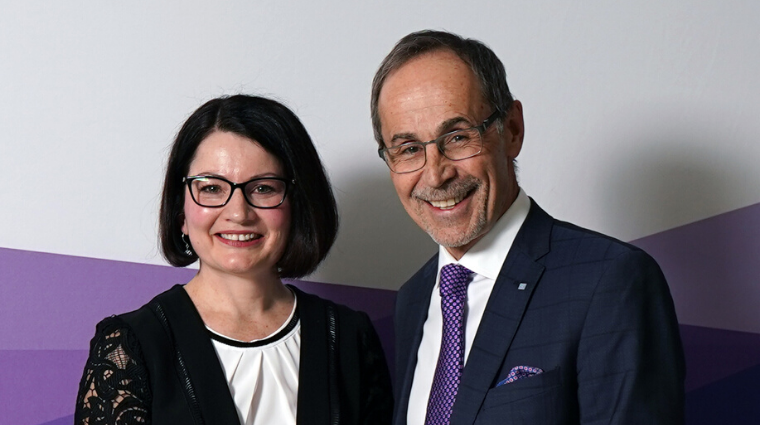 PRESIDENT'S AWARD OF EXCELLENCE
Stacy Hunt
Faculty, SCBScN, School of Nursing – Regina Campus
Stacy's commitment to excellence in nursing education is evident through her engaging lectures, labs and stories from her extensive nursing practice. She cultivates students' curiosity and the development of critical thinking skills. Student success and lifelong learning are of the utmost importance to her. Stacy serves as a mentor for new and experienced colleagues, sharing her clinical and educational expertise. She has also advanced the institution through her work and presentations at national and international nursing conferences. Stacy is widely appreciated and respected for her passion for nursing education and her ability to create positive, inclusive learning environments.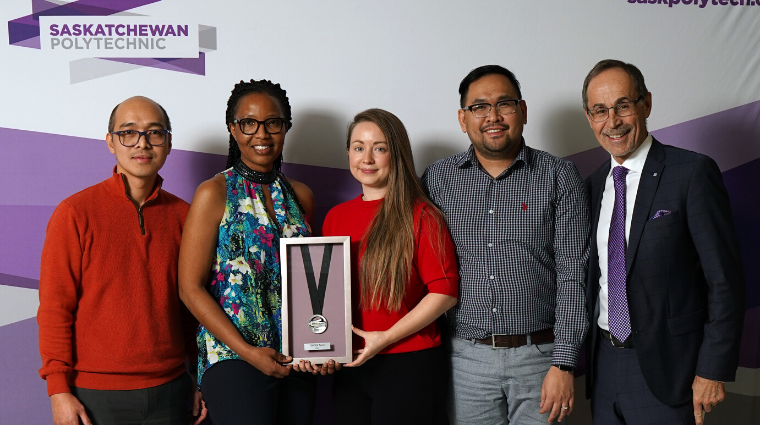 INNOVATION AWARD
The ONCIEN (Orientation to Nursing in Canada for Internationally Educated Nursing) Team, School of Nursing – Regina Campus
Kara Moore, Arnold Esguerra, Don Morales, Ferdinand Moraleja, Mariam Nganzo, Shaylene Whillans and Linda Sachkowski
ONCIEN is a program designed for internationally educated nurses to bridge into Canadian nursing practice and become registered nurses in Canada. The ONCIEN team developed four technological innovations focused on advancing student interests and enhancing the student experience. The innovations include:
safeMedicate, a web-based virtual environment aiming to help students improve their medication dosage calculation skills.
Photovoice, a tool that allows participants to document and reflect their reality through photography.
A 360-degree online virtual reality tour for home assessments, which allow students into clients' homes remotely to conduct community health nurse home assessments.
Synchronous virtual physical assessment objective structured clinical examinations with instructors, which allow students to complete assessments in the comfort of their home community.
Thank you to the ONCIEN team for helping internationally educated nurses gain the knowledge and skills needed to work as a registered nurse (RN) in Canada.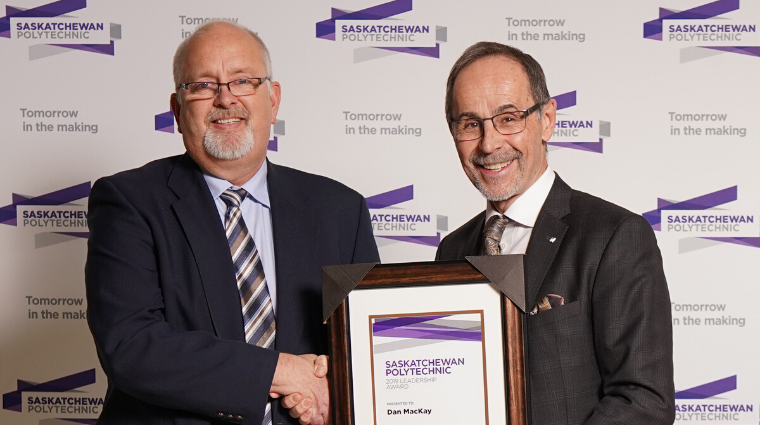 LEADERSHIP AWARD
Dan MacKay
Vice-President, Advancement & International (Acting) – Moose Jaw Campus
Dan, a strategic and forward thinking leader, understands the impact Sask Polytech has on the lives of our graduates, communities and province. He has contributed his knowledge, experience and ability to build relationships that have helped push our institution to the forefront. Dan's career with Sask Polytech spans decades; he has served as an instructor, program head, dean, interim associate vice-president, special advisor to the provost, interim provost, vice-president academic and currently acting vice-president, Advancement and International. Dan's genuine leadership style and passion for education are just a couple of reasons why he is so well-respected by his colleagues. They describe him as empathetic, honest and respectful, and an authentic leader who instills trust and confidence.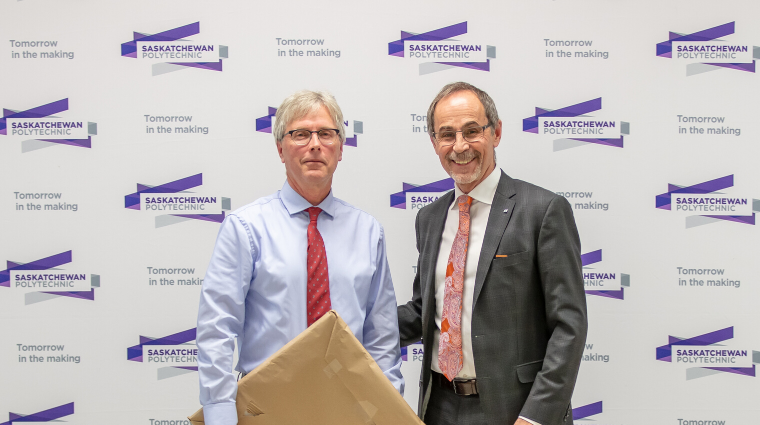 OUTSTANDING SERVICE AWARD – MOOSE JAW CAMPUS
Neil Lynch
Data Services Team Lead, Information Technology Services
Neil leads the Data Services team that looks after Banner, databases, applications and integrations. Known for his calm, logical approach to challenges, Neil remains unflustered when faced with complex problems. For decades, Neil has coordinated weekend maintenance, completed system upgrades over long weekends and routinely worked extra time to support his colleagues when critical issues arised. His unwavering dedication to service excellence and the success of all faculty, staff and students who rely on IT services is commendable. After two years of preparation, Neil's planning and leadership led to a successful Banner 9 upgrade. His exemplary performance, technical aptitude and team spirit are just a few of the reasons why he is deserving of this recognition.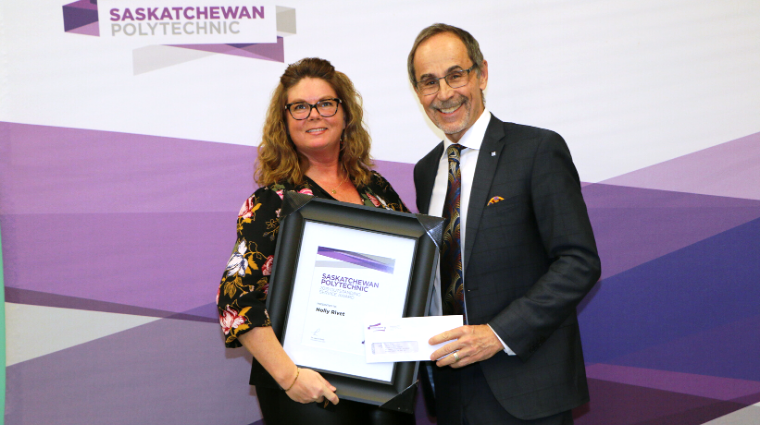 OUTSTANDING SERVICE AWARD – PRINCE ALBERT CAMPUS
Holly Rivet
Program Head/Instructor, Learning Services, Student Services
On a daily basis, Holly contributes to improving the experiences of everyone who works and studies with her. She works diligently to accomplish the needs of students and is always willing to listen to suggestions and concerns of colleagues. For the past several years, Holly has coordinated Intercultural Week activities on campus, bringing the Sask Polytech Prince Albert community together through activities that honour and celebrate cultural diversity, increase understanding and enhance intercultural awareness. She is also a regular volunteer at the Indigenous Students' Centre and every year she contributes significantly to Welcome Week activities, making them fun and memorable for students.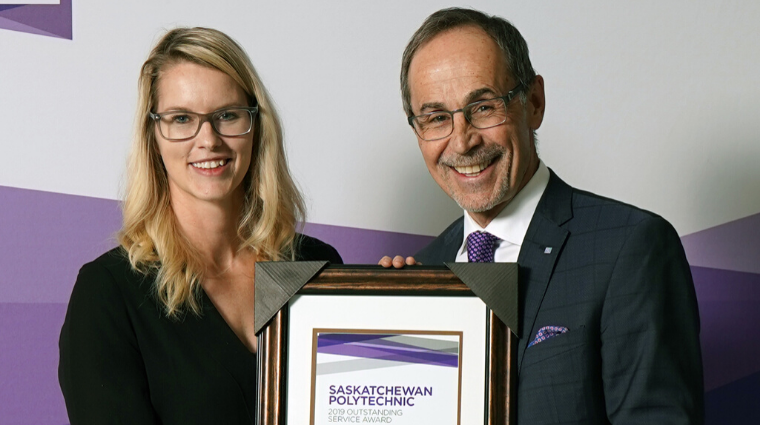 OUTSTANDING SERVICE AWARD – REGINA CAMPUS
Jacquelynn Brown
Research Support Coordinator, Applied Research & Innovation
Jacquelynn is a key part of the applied research activities at Sask Polytech. She acts as the financial manager for externally funded research projects awarded to the institution. As a part of this, she is responsible for working with researchers to ensure they have the people, funds and equipment that they need to do their work. As those who nominated her for this award put it, she "gets people what they need, when they need it." Jacquelynn manages the internal research funding department and guides the student research scholarship process. She also has been one of the leaders in the development of the Student Applied Research Showcase. Jacquelynn's highly developed service attitude is very appreciated by the Applied Research team.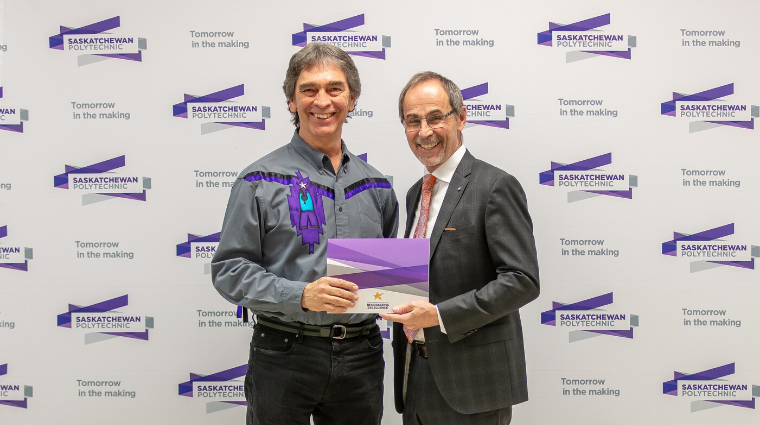 OUTSTANDING SERVICE AWARD – SASKATOON CAMPUS
Brian Gallagher
Indigenous Student Advisor, Indigenous Strategy
Brian is widely respected by faculty, staff and students. With his many invaluable years of experience, he is the go-to person, welcoming questions and discussion on the issues that impact the success of our students. In addition to his duties as an Indigenous student advisor, Brian has taken it upon himself to teach Indigenous Studies to the Indigenous Police Prep program and share his knowledge with other Sask Polytech programs. Through service excellence and dedication, Brian puts into action the advancement of our mission: To educate students and provide skilled and successful graduates. Brian promotes our priority of miyo wahkohtowin—good relations within the institution and the community. He consistently works to improve relations by building and strengthening relationships internally and externally. Brian is committed to educating staff and students about Indigenous culture and is known to have a constant flow of faculty and staff in his office to ask questions and seek counsel.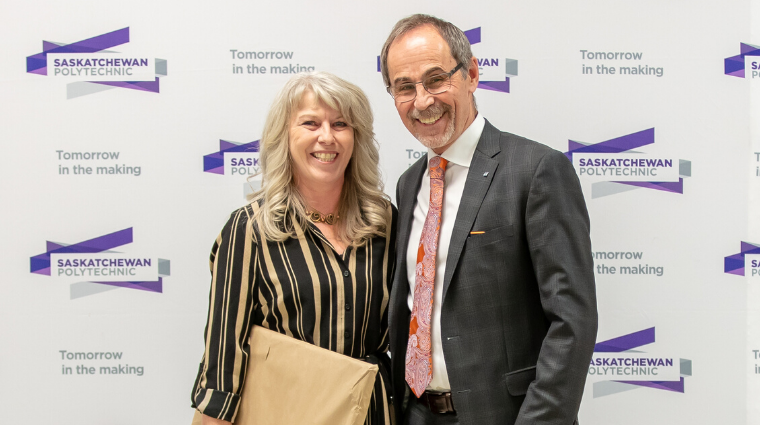 OUTSTANDING SERVICE AWARD – SPAO
Joyce Arnold
Reception, Strategic Enrolment Management, Student Services
Often referred to as the director of first impressions, Joyce delivers positivity and charm to every visitor. Joyce is not only welcoming, she's also always willing to lend a helping hand. She regularly volunteers at the fall professional development events for employee, conferences and advancement events. For many years she has volunteered her own time to help with Saskatoon convocation and in the past few years, has taken on the additional responsibility of helping coordinate convocation in all four campus cities. Joyce's contributions to Sask Polytech, student success and making everyone feel welcome are incredibly valuable. It's no wonder colleagues describe Joyce as "an inspiration and wonderful to work with."
Published December 2019.