Sask Polytech alum show off their skills in new docu-series
On any given night, paramedics across Saskatoon encounter a variety of real-life emergency situations and care for people in a time of great need. Now you can see first-hand what those paramedics, many of whom are Sask Polytech grads, experience every night on a new televised docu-series called Paramedics: Emergency Response.
"Having a documentary series like this helps show the public what life is really like as a paramedic," says Troy Davies, director of public relations for Medavie Health Services West. "People get to see the different types of emergency calls our staff respond to, the advanced tools we use to improve patient outcome and see how effectively we work with police and fire."
Produced by Saskatoon-based Fahrenheit Films, the series follows a handful of Saskatoon paramedics as they respond to real calls to 9-1-1 and real-time emergency events.
Brett Hart, a 2000 Advanced Care Paramedic graduate and Paramedics: Emergency Response cast member, says the training he got at Sask Polytech gave him the direction he needed to do his job as best as he can.
"I learned how to deal with stressful situations calmly, which also helps me deal with the emergency with a camera in my face," says Hart. "This is an opportunity to share with the public what we do and promote paramedicine as a career choice."
Davies hopes the docu-series will help inspire people to become paramedics.
"There are a lot of fire/police shows out there that give audiences an understanding of what it would be like to go into those professions. We wanted to offer that same experience for those who are thinking about becoming a paramedic," says Davies. "I would love to hear someone say that they became a paramedic because of what they saw on our program."
Paramedics: Emergency Response airs on Thursday nights on CityTV Saskatchewan. Learn more about our Advanced Care Paramedics program.
Paramedics: Emergency Response, Episode 102 " A Long Night" - Publicity Clip 1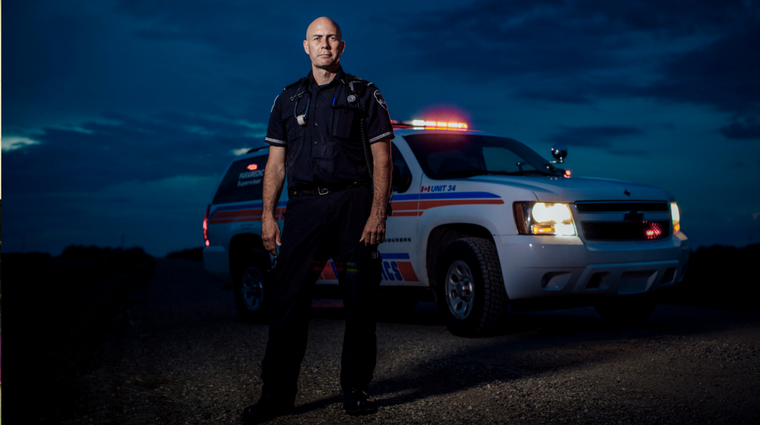 Photo of Tom Barbier, senior primary care paramedic and Sask Polytech graduate.
Published April 2018.