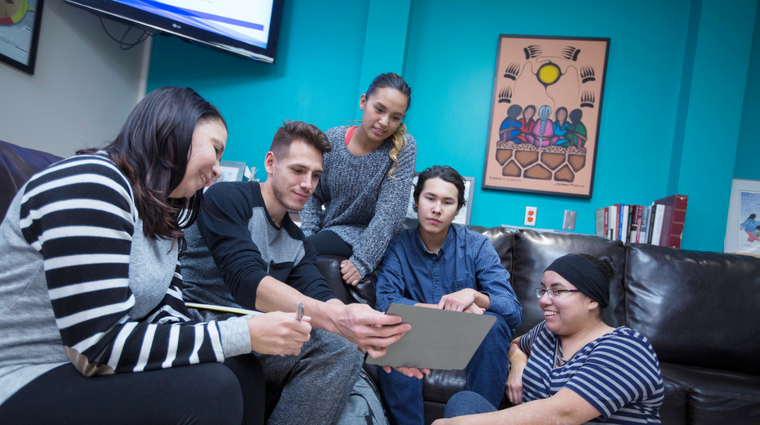 Partnership provides online and video conference training to Indigenous students in northern British Columbia
June 6, 2018 –Northwest Community College (NWCC) and Saskatchewan Polytechnic instructors are working together to deliver the Warehouse Worker program through a blended classroom that includes two-way video conferencing and online training to Indigenous students in Prince Rupert. Students will be required to complete training activities online outside of the virtual classroom.
"We are always looking at new and innovative ways to deliver training to our students and we are pleased to have this agreement with Saskatchewan Polytechnic," says Ken Burt, NWCC president.
NWCC and Sask Polytech signed a contract to deliver the program to 12 Indigenous students. Training takes place over a 24-week period, starting in April and ending in September.
"This partnership with NWCC is an exciting opportunity," says Dr. Larry Rosia, Sask Polytech president and CEO. "Delivering training through two-way video conferencing and online curriculum is a first for NWCC and Sask Polytech. We are known for our online learning programs, and this blended classroom builds on that expertise in an innovative way."
This partnership opens doors to training for Indigenous students that is nationally accredited, providing content and learning approaches of the highest quality and providing the option of labour mobility for completers. This kind of learning also sets students up to be lifelong learners since many of these skills are applicable in every-day life.
Northwest Community College (NWCC) is an accredited post-secondary institution that serves the rich and diverse communities and learners of BC's beautiful northwest region. NWCC offers quality and affordable education and a wide variety of certificates, diplomas, and associate degrees. Where applicable, NWCC promotes experiential learning scenarios for its students that highlight the region's unique cultural heritages that connect them to community and provide interaction with the region's spectacular and rugged environment.
Saskatchewan Polytechnic serves 28,000 distinct students through applied learning opportunities at campuses in Moose Jaw, Prince Albert, Regina and Saskatoon, and through extensive distance education opportunities. Programs serve every economic and public service sector. As a polytechnic, the organization provides the depth of learning appropriate to employer and student needs, including certificate, diploma and degree programs, and apprenticeship training. Saskatchewan Polytechnic engages in applied research, drawing on faculty expertise to support innovation by employers, and providing students the opportunity to develop critical thinking skills.