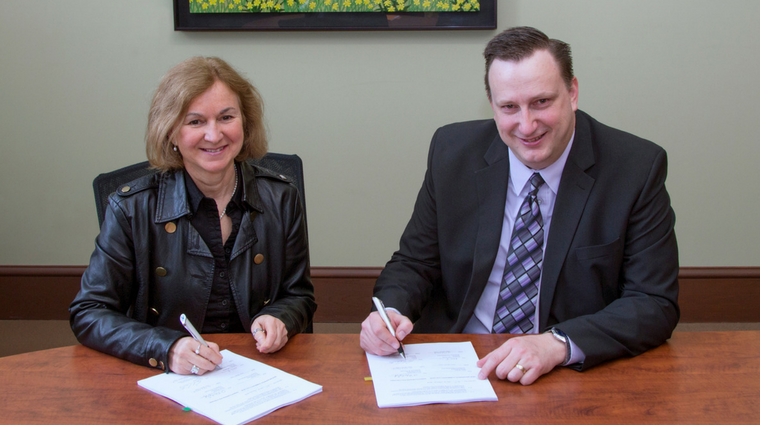 Partnership improves flexibility and convenience for students interested in online learning
May 2, 2018 –New Brunswick Community College (NBCC) and Saskatchewan Polytechnic have signed a five-year agreement to offer online training for construction and transportation courses in New Brunswick. The agreement will enable shared delivery of the Parts Management Technician certificate, Warehouse Worker certificate, Leadership Skills certificate and possibly some apprenticeship courses.
"As NBCC seeks to welcome more learners, we are committed to providing more flexible learning options," said Heather Hathaway, NBCC director for Business Development. "This new partnership with Sask Polytech provides an opportunity to provide new opportunities for learners to develop their skills on their schedules,"
NBCC and Sask Polytech agree an online learning environment provides lots of benefits for students, allowing people to retrain while employed or consider pathways to new professions. Saskatchewan Polytechnic has been a pioneer in developing highly-interactive online learning environments where students can excel individually and as part of a learning team led by talented instructors.
"This partnership with NBCC is a win-win partnership," says Dr. Larry Rosia, Sask Polytech president and CEO. "Sask Polytech is known for our online learning programs and the training we offer will give students the opportunity to pursue rewarding careers in fields with competitive wages. NBCC will be a local resource for students and provide them with their credential upon completion of the program."
With six campuses across New Brunswick, New Brunswick Community College (NBCC) is a provincially-recognized, public post-secondary institution recognized for producing skilled, knowledgeable graduates who are contributing to the province's socio-economic prosperity. NBCC offers students one- and two-year certificate and diploma programs as well as apprenticeship, customized and specialized training.
Saskatchewan Polytechnic serves 28,000 distinct students through applied learning opportunities at campuses in Moose Jaw, Prince Albert, Regina and Saskatoon, and through extensive distance education opportunities. Programs serve every economic and public service sector. As a polytechnic, the organization provides the depth of learning appropriate to employer and student needs, including certificate, diploma and degree programs, and apprenticeship training. Saskatchewan Polytechnic engages in applied research, drawing on faculty expertise to support innovation by employers, and providing students the opportunity to develop critical thinking skills.