Key services and scholarship provide life-changing support
From the time Caitlin Chometa began her journey with Saskatchewan Polytechnic it's put her on a positive path.
"It's changing my life," she said.
Caitlin was taking a year off after high school with plans to begin her post-secondary education when the sudden loss of the father figure in her life altered her direction.
"I was very close to him and when he passed away it made me think of what I really wanted to do with my life."
Caitlin began researching options and arrived at Sask Polytech where Student Services introduced her to a wide array of possibilities.
"Sask Polytech has amazing programs," she said. "They told me about programs that I didn't even know existed."
Student Services assisted her in making the decision to enroll in the two-year Library and Information Technology diploma program, making sure the program was the right fit for her. Student Services also assisted Caitlin in filling out forms, accessing grants and getting settled into student life.
Caitlin is hearing impaired and contacted Accessibility Services for support. Accessibility Services is committed to ensuring that equal access for students with disabilities is provided at Sask Polytech. Accessibility Services assisted Caitlin with accessing grant funding for technology that aids in her learning. She has also been impressed by the mental health supports provided to students. The passion and enthusiasm of her instructors also impresses Caitlin.
"Everyone I've encountered is so happy and positive about their jobs," she commented. "It makes me excited to be here and it makes me want to work harder."
Caitlin was this year's recipient of the Viterra scholarship. This award is for a registered Sask Polytech student with a permanent disability. She shared her Sask Polytech experiences at the Saskatoon Business & Industry Dinner.
"I didn't know how I was going to be able to pay for school. This scholarship has made the world of difference to me," she said. In addition to the funding aspect, the award has been a big boost to Caitlin in intangible ways.
"It has given me more confidence and reassures me that I'm going in the right direction."
Caitlin can't say enough about Student Services and the support she has been given.
"They really have gone above and beyond to help me."
Learn more about Sask Polytech programs, Student Services and Accessibility Services.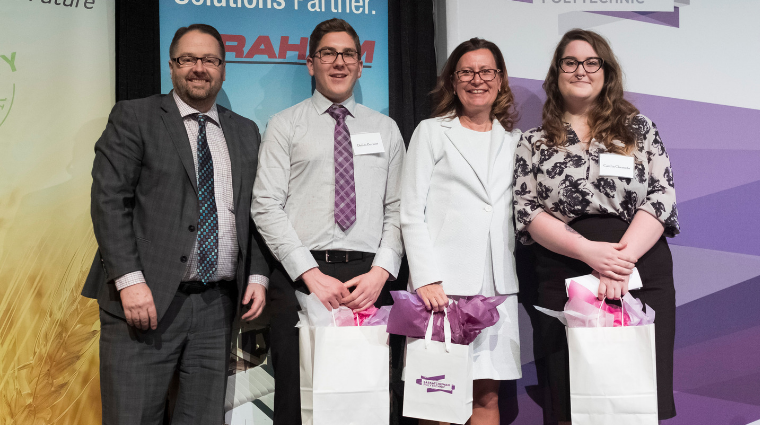 Caitlin at the Saskatoon Business & Industry Dinner. From left to right: Dr. Dennis Johnson, Sask Polytech's vice-president of Strategy and Business Development, and provost and vice-president, Academic (interim); Dallas Burnett, Recreation and Community Development program student; Melinda Parks, partner at Borden Ladner Gervais and the event's keynote speaker; and Caitlin Chometa, Library and Information Technology program student.
Published December 2018.