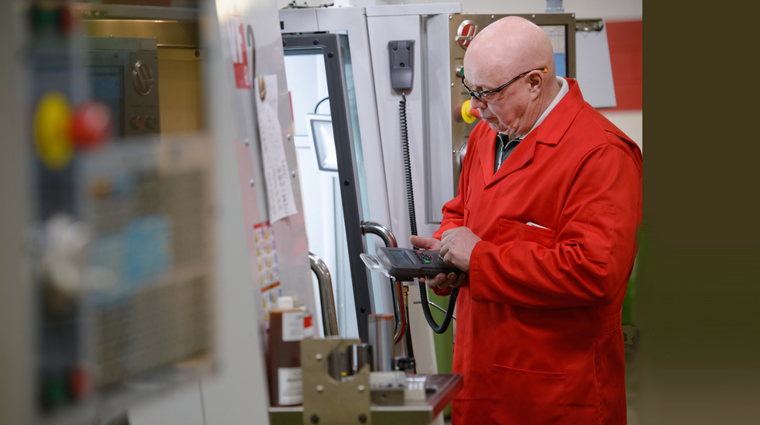 The Government of Canada invests $1.56 million in Sask Polytech's Innovative Manufacturing Centre through Western Economic Diversification
April 30, 2018 – A federal investment of $1.56 million for Saskatchewan Polytech's Innovative Manufacturing Centre will cultivate innovation in biomaterials testing, research, additive manufacturing and prototyping.
"This major investment will enhance our capacity to assist business and industry as they solve manufacturing challenges and bring ideas and products to market," says Dr. Susan Blum, associate vice-president of Applied Research and Innovation. "The opportunities ahead in manufacturing, using bio-materials and 3D-printing, also known as additive manufacturing, are very exciting."
The funding from Western Economic Diversification Canada was announced by Canada's Public Safety and Emergency Preparedness Minister Ralph Goodale in Regina last week.
The Innovative Manufacturing Centre's biomaterials testing and prototyping facility at Regina Campus focuses on certified testing and custom prototype production.
"Working alongside industry, this facility will allow Sask Polytech to partner with multiple manufacturing sectors as an incubator for testing and prototyping of plant and bio-based materials, which will result in a greener tomorrow," says Dr. Larry Rosia, president and CEO. "We are grateful for the Government of Canada's investment, and the ability for growth and innovation across Saskatchewan."
The research, additive manufacturing and prototyping facility at Saskatoon Campus features a wide spectrum of leading-edge technology such as 3D-printers, water and laser-jet cutters and computer numerical control (CNC) machines.
"This facility offers the capability to rapidly produce prototypes and parts with plastic and carbon fibre composites. Soon the facility will include the ability to print with metal and resin," says Jamie Hilts, dean of the School of Mining, Energy and Manufacturing and School of Natural Resources and Built Environment. "This manufacturing equipment will assist research partners with the capital-intensive components of the product development process."
Western Economic Diversification Canada's investment in Sask Polytech will benefit Applied Research and Innovation partners. Business and industry will continue to have access to exceptional facilitates with new equipment in our growing Innovative Manufacturing Centre. By partnering with Sask Polytech in applied research, innovation and development, companies are enabled to capture new opportunities, solve everyday problems and contribute to economic growth and job creation in Saskatchewan.
Saskatchewan Polytechnic serves 28,000 distinct students through applied learning opportunities at campuses in Moose Jaw, Prince Albert, Regina and Saskatoon, and through extensive distance education opportunities. Programs serve every economic and public service sector. As a polytechnic, the organization provides the depth of learning appropriate to employer and student need, including certificate, diploma and degree programs, and apprenticeship training. Saskatchewan Polytechnic engages in applied research, drawing on faculty expertise to support innovation by employers, and providing students the opportunity to develop critical thinking skills.