2018 Saskatchewan Polytechnic Employee Awards
Saskatchewan Polytechnic's employee awards program recognizes the exceptional dedication and commitment of our employees. These awards highlight employee contributions that make Sask Polytech the high-performing organization it is today.
"Every year, Sask Polytech celebrates the outstanding achievements and leadership of our faculty and staff who have continuously gone above and beyond in their work," says Dr. Larry Rosia, president and CEO. "These employees are a very important part of the success of our students, our institution and ultimately, the economic growth of Saskatchewan. Thank you for making a real difference."
Congratulations to the 2018 Sask Polytech Employee Awards recipients!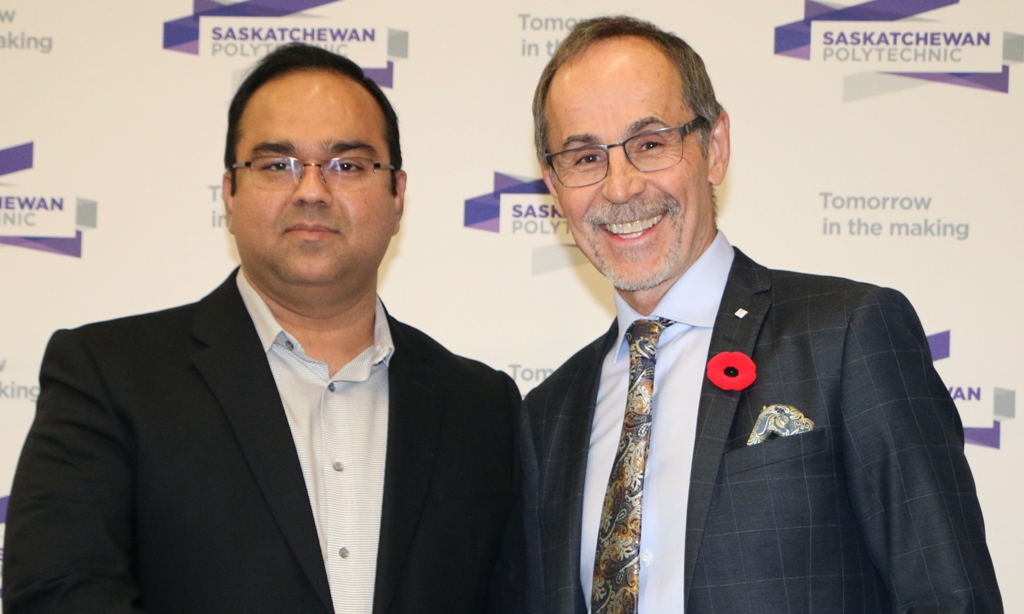 BILAL SIDDIQUI
Outstanding Service Award - Prince Albert Campus
Solutions architect and supervisor, Learning Technologies
Bilal and his team are responsible for the successful operation of the learning management system, Brightspace, and the associated technologies that include integrations with Banner, Kaltura and numerous vendor specific applications. Those who nominated Bilal for this award say he continuously goes far beyond what is expected in order to ensure technology runs smoothly. Bilal considers it his job and personal mission to ensure that students, faculty and staff have superior support and access to the courses and information they need.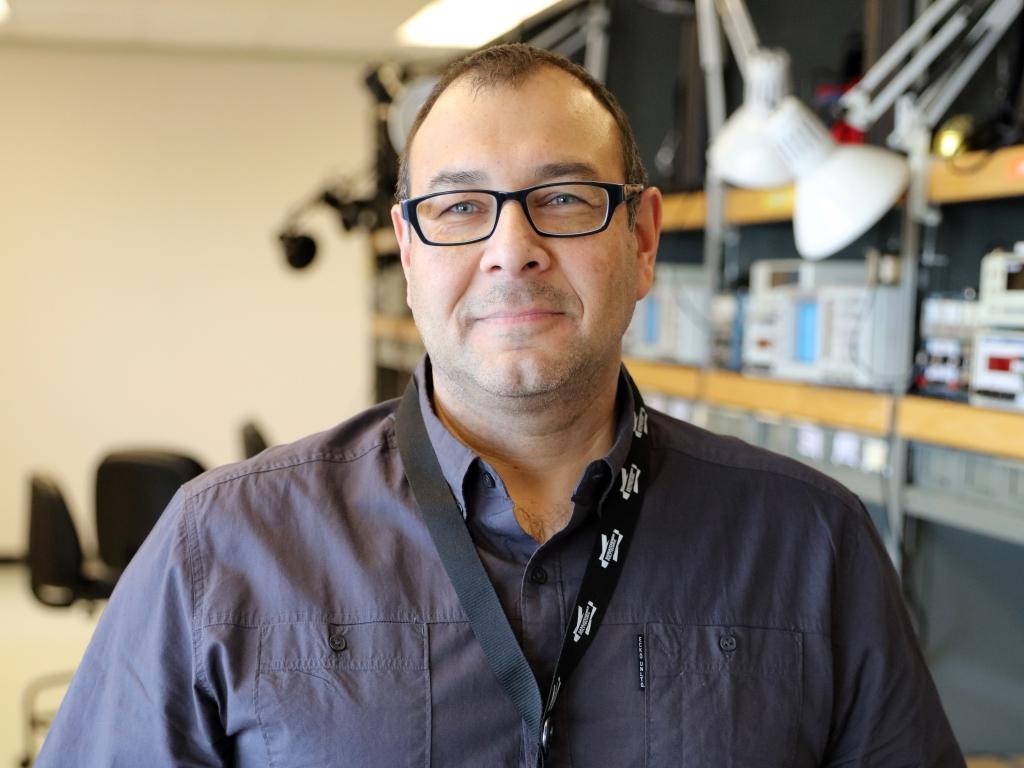 JEFF BUBYN
Outstanding Service Award - Regina Campus
Lab technician, Computer Networking Technician & Telecomm Networking Technical programs
Jeff supports extremely technical programs that require constant hardware updates, equipment repairs and maintenance of classroom networks, including the inventory and maintenance of 200 computers. Jeff's nominators share that he performs miracles by restoring the functionality of aging equipment so students can complete lab assignments on time. His steady hands, knowledge, work ethic, interpersonal skills and outstanding technical abilities are a tremendous help to all the students and instructors in CNT and TNT programs.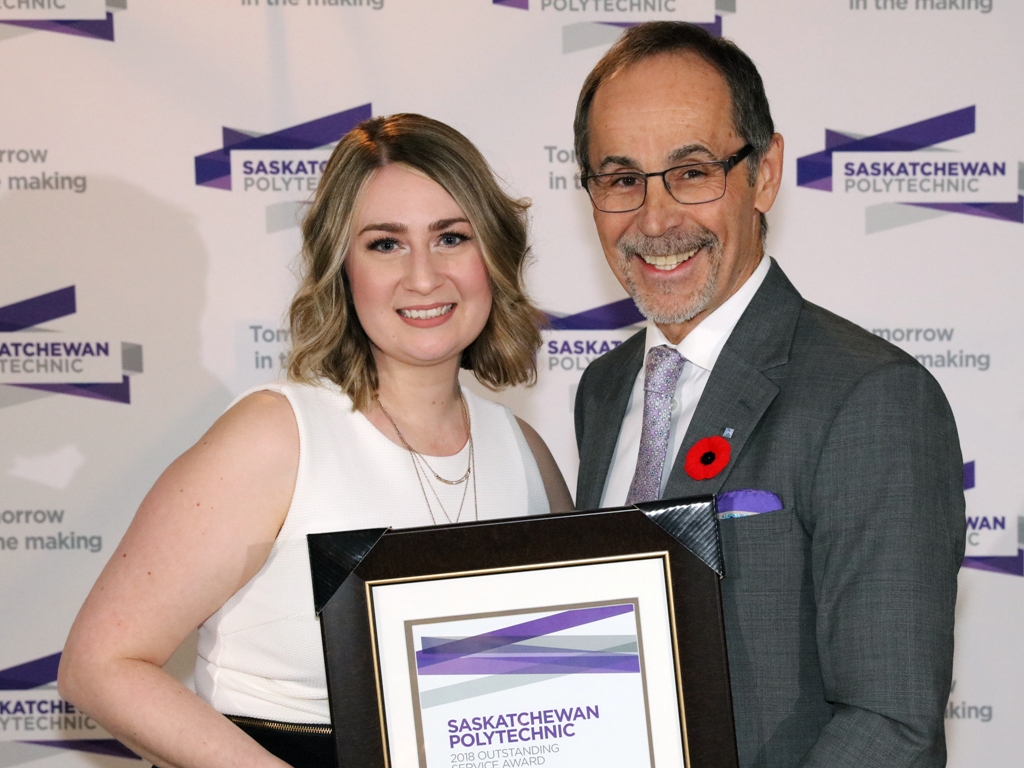 ANGELA LEADER
Outstanding Service Award - Regina Campus
Office assistant, Schools of Mining, Energy and Manufacturing and Natural Resources and Built Environment
Angela provides support and promotes a culture of engagement and innovation for the program development consultant, program heads, and academic chairs for the Schools of Mining, Energy and Manufacturing and Natural Resources and Built Environment. A pilot Angela conducted of an online survey tool resulted in the reduction of manual errors, decreased paper usage and decreased costs for the Program Planning and Development Office. Angela also played a key role in the Upcycle Challenge inaugural silent auction, an initiative that raised almost $800 to cover costs for children to attend summer camp. Employees were encouraged to sign up to receive an item or piece of furniture previously marked for salvage from the Facilities department and then to upcycle it and make it useful again. The initiative won a RCE Saskatchewan Education for Sustainable Development award.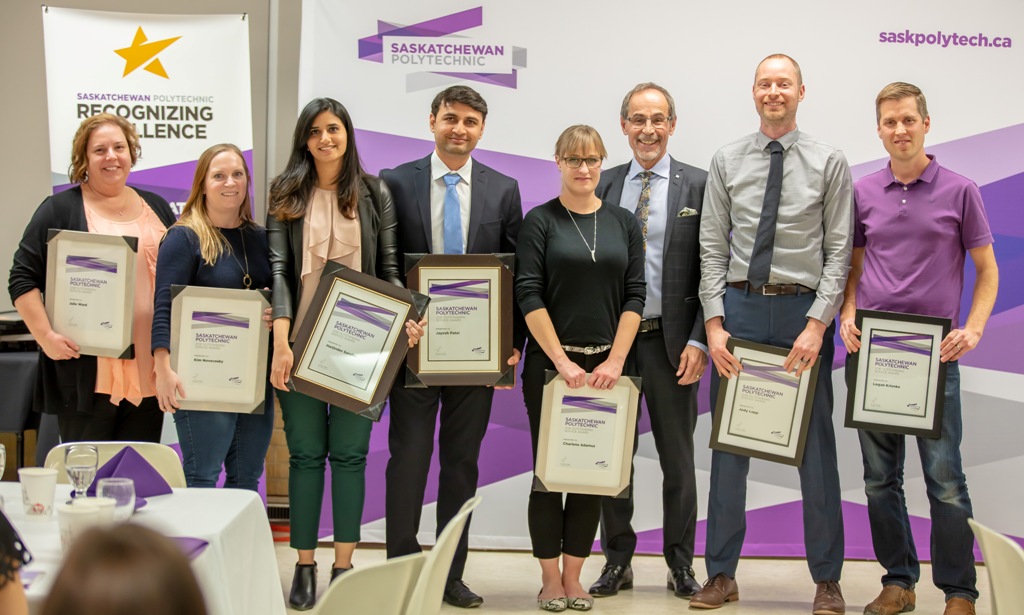 TEM2 IMPLEMENTATION TEAM
Outstanding Service Award - Saskatoon Campus
In 2017, the TEM2 Implementation Team began to implement an expense claim system by Chrome River. A dedicated project manager led the implementation team and a project charter was developed with objectives, timelines, risks, roles and responsibilities. The first expense claim was submitted six months after implementation began. The project was completed on time and on budget. Thanks to the TEM2 Team, Sask Polytech now has a best-in-class, electronic expense claim system available to all employees. The TEM2 Team includes: Harjinder Sandhu, Stewart Howe, Jayesh Patel, Sheron Sudhan, Char Adamus, Jody Lepp, Derrick Gagnon, Logan Krienke, Sanjay Sthankiya, Julie Ward, Kim Novecosky, Sara Mak, Meghan Beierle, Irina Zholudeva, Catherine Wahl and Jeremy Jorgenson.
KIM NOVECOSKY (photo not available)
Outstanding Service Award - Sask Polytech Admin Office
Executive assistant, Financial Services
Kim's nominators describe her as positive, approachable, responsive, trust-worthy, thoughtful and kind. Kim is a natural leader who shares her knowledge and expertise to help other's shine brightly. With a focus on people, leadership and growth, Kim actively works to improve communications in the Finance Division and beyond. Kim continually seeks ways to make documents and information more accessible. She has great attention to detail, and nothing leaves her desk without a final review. Kim always comes to work with a smile, and has a positive attitude. She is quick to celebrate successes and goes above and beyond to provide service to her team.
MARCY RAMAGE
Outstanding Service Award - Moose Jaw Campus
Media production specialist, Audio Visual Services
Marcy was instrumental in the modernization of Sask Polytech's media production workflows. Working with the Learning Technology training team, she developed and refined digital systems for AV tech reports, media production tech reports and a new online request system for clients to request media production work. Marcy also played an important role in the conversion from tape-based to file-based media and the transition from televised to streaming media. She is now a team lead for the operation and design of the cloud-based enterprise video management system. Marcy is always the first up to answer phones and promptly responds to emails, reassuring clients that they have contacted the right person and there is someone available to assist.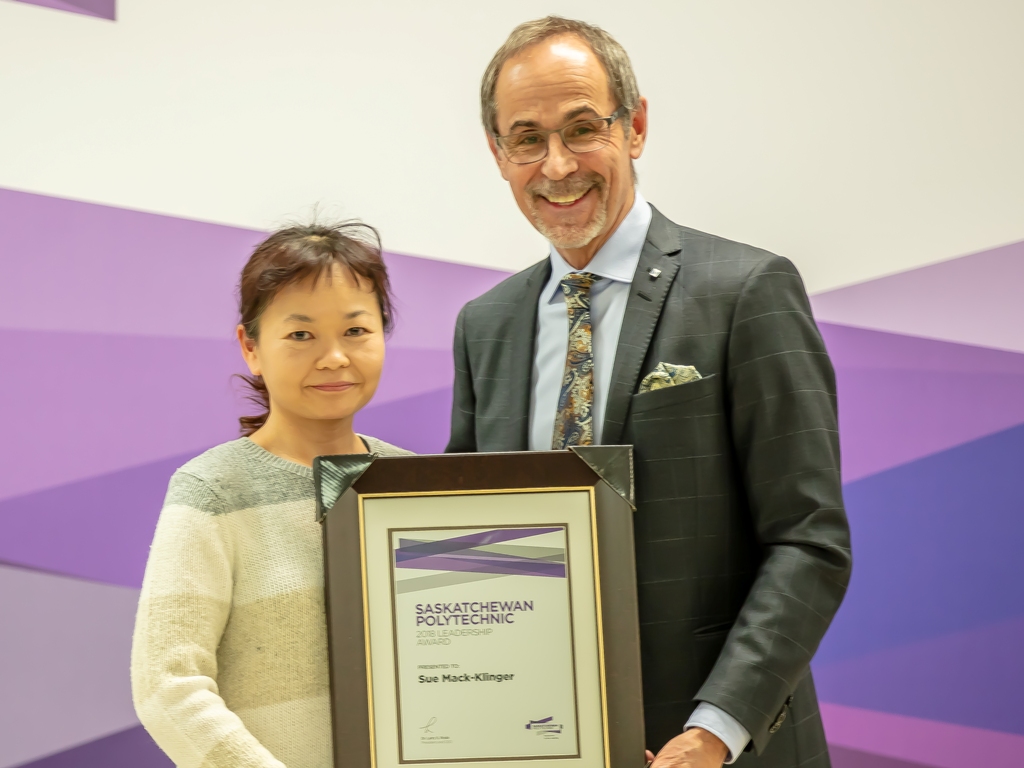 SUE MACK-KLINGER
Leadership Award - Saskatoon Campus
Program head, Pharmacy Technician Program
Sue is an active leader in furthering the development of pharmacy technicians in Saskatchewan and across the country. She is a mentor to instructors and is admired by students. Her years of experience as a pharmacy manager, which requires a high degree of interpersonal skills, enable her to give clear, timely feedback in a positive manner. Sue serves on many professional committees and is held in high regard by her peers across the country. Sue is the chief administrator for the Pharmacy Examination Board of Canada. Her other professional associations include: the Saskatchewan College of Pharmacy Professionals, the Canadian Pharmacy Technician Educator's Association, and COMPASS, a new medication safety program for Saskatchewan. Sue also worked tirelessly to expand Sask Polytech's Pharmacy Technician certificate into a diploma.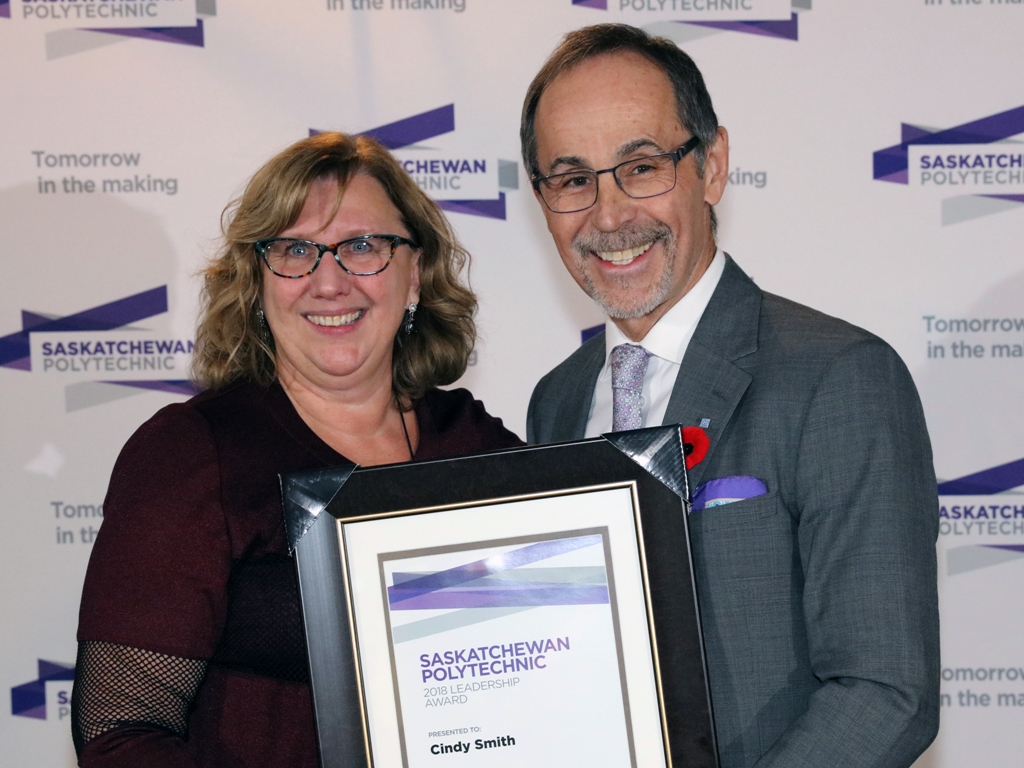 CINDY SMITH
Leadership Award - Regina Campus
Associate dean, Schools of Nursing and Health Sciences
Cindy has been instrumental in the on-boarding, development and mentorship of the first group of academic chairs for the Schools of Nursing and Health Sciences. She has worked closely with each of the new chairs to build leadership and a culture of excellence. Cindy is a leader in advancing research, advocating for resources and mentoring others in the work she leads with partner institutions, including the Saskatchewan Collaborative Bachelor of Science in Nursing delivered jointly with the University of Regina, and the Practical Nursing program offered through our regional colleges. She leads innovative curriculum design and ensures the integration of innovative teaching and learning strategies. Cindy was influential in the establishment of the state-of-the-art simulation learning centers and facilitated the integration of simulation learning into nursing curricula.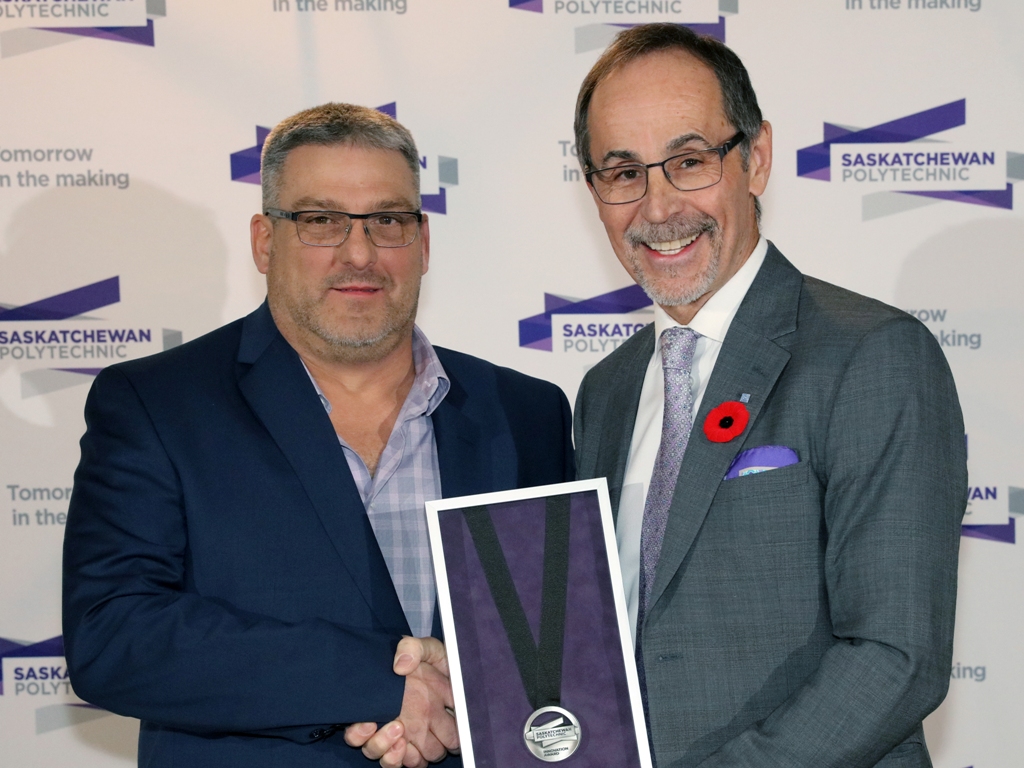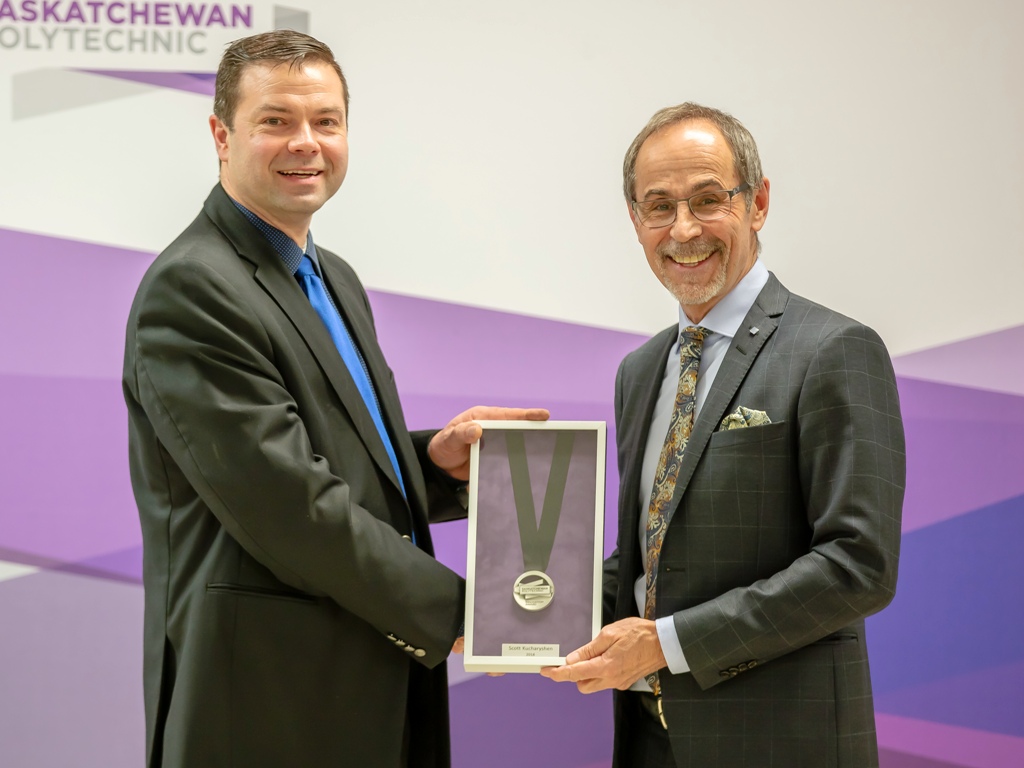 DALE HAWKINS & SCOTT KUCHARYSHEN
Innovation Award - Saskatoon Campus and Regina Campus
Program Heads, Auto Body Technician Program
Thanks to Dale and Scott, Sask Polytech is the first and only post-secondary institution recognized as a Certified Collision Care Provider in North America. Certified Collision Care recognizes our Auto Body Technician programs as market leaders that train students to repair vehicles to auto manufacturer specifications. They are also responsible for our innovative relationship with SGI. For 15 years, SGI has supplied vehicles to Automotive Service Technician and Auto Body Technician certificate programs. Since then, over 250 vehicles have been repaired by Automotive Service and Auto Body Technician certificate students. By using total-loss vehicles from SGI, students get to work on current model vehicles that the industry repairs on a daily basis.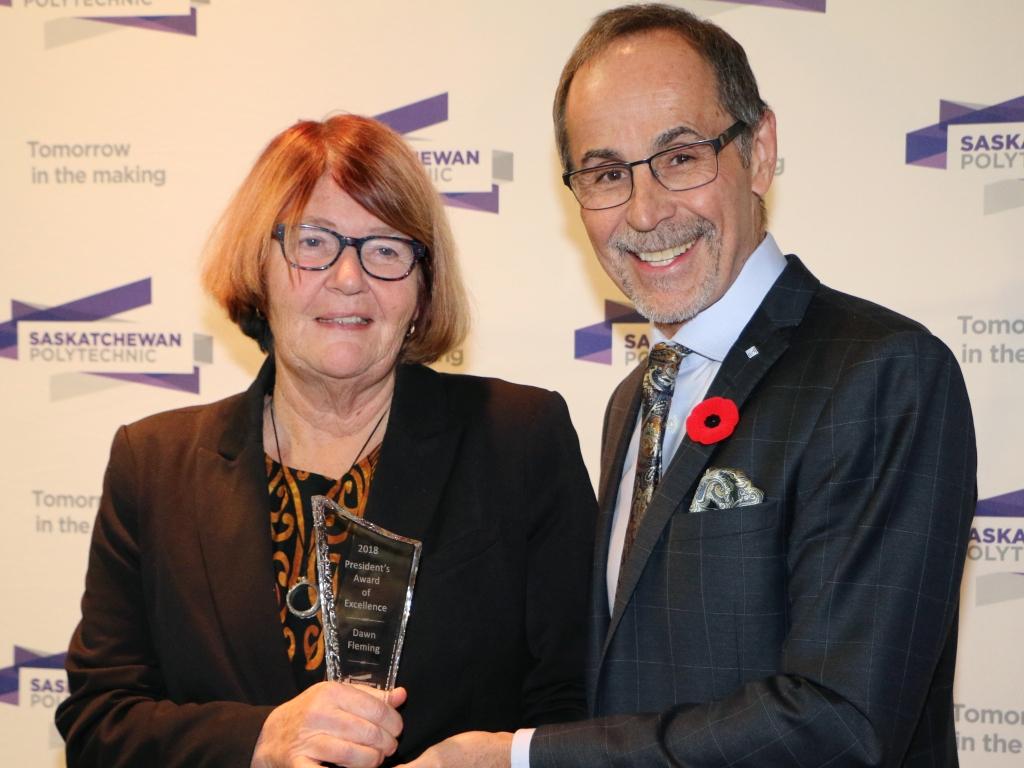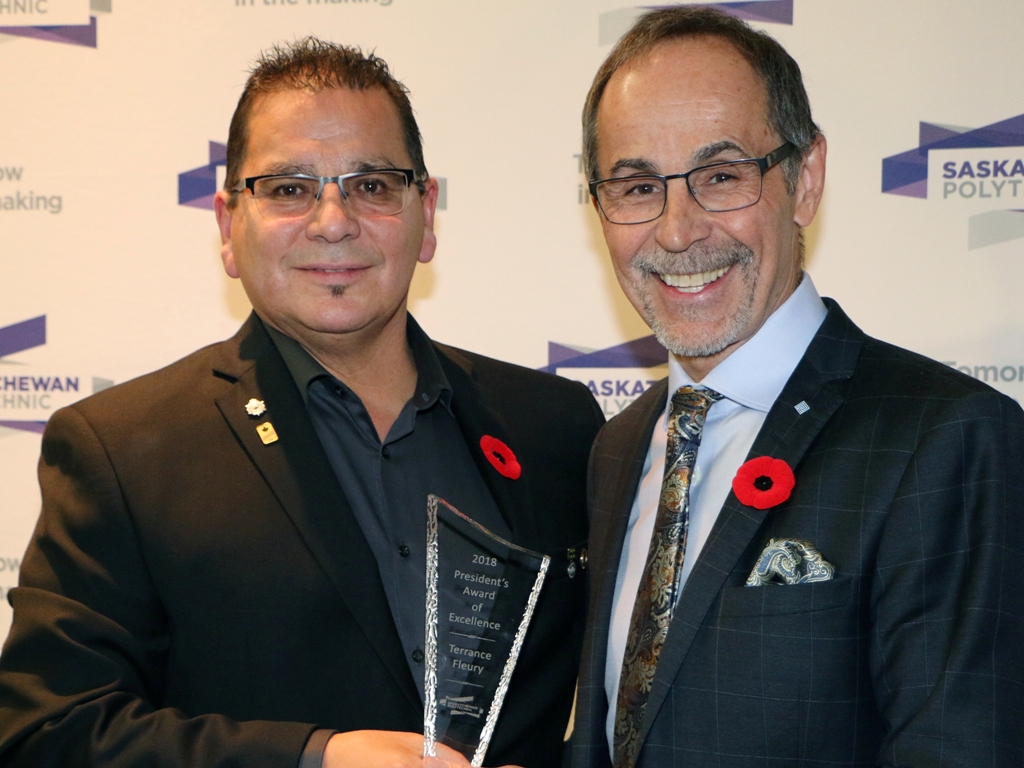 DAWN FLEMING & TERRY FLEURY
President's Award of Excellence - Prince Albert campus
Instructors, Correctional Studies and Justice programs
Dawn and Terry work closely with law enforcement to develop partnerships which open doors and create opportunities for industry to interact with Indigenous students. They have incorporated Indigenous concepts into the Correctional Studies and Justice programs and have worked hard to address gaps that were preventing Indigenous recruits from entering careers in law enforcement. Dawn and Terry are known for having an open door policy, students can walk in anytime for guidance or just to chat. They are continuously looking for new way to support students and help them succeed. Every Holiday season Terry celebrates with his students by cooking a turkey dinner for 60+ people!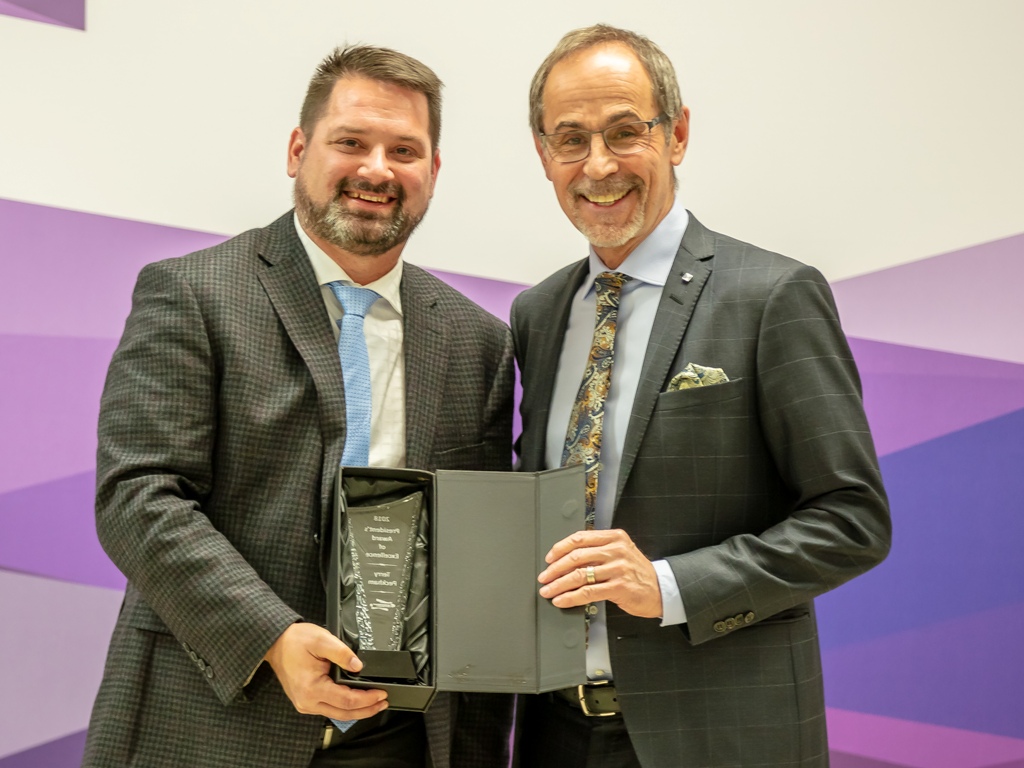 DR. TERRY PECKHAM
President's Award of Excellence - Saskatoon Campus
Senior research associate, Digital Integration Centre of Excellence (DICE)
Digital Integration Centre of Excellence (DICE) is the result of Terry's tireless enthusiasm for student and faculty opportunities in Applied Research. Terry's interdisciplinary approach, and willingness to engage with industry, faculty and students has led to many exciting projects, partnerships and opportunities. DICE works directly with industry partners on the Internet of Things (IoT) integration, to bring innovative sensor systems to market and integrate new sensor technology into existing business models. Terry has grown DICE to include three senior researchers, working on five projects, and employing seven students. Thanks to Terry, Sask Polytech is the first polytechnic recipient of Mitacs research funding—funding that was previously only available to universities. Our two Mitacs project partners include the Restorative Action Program (RAP) and Glacier FarmMedia.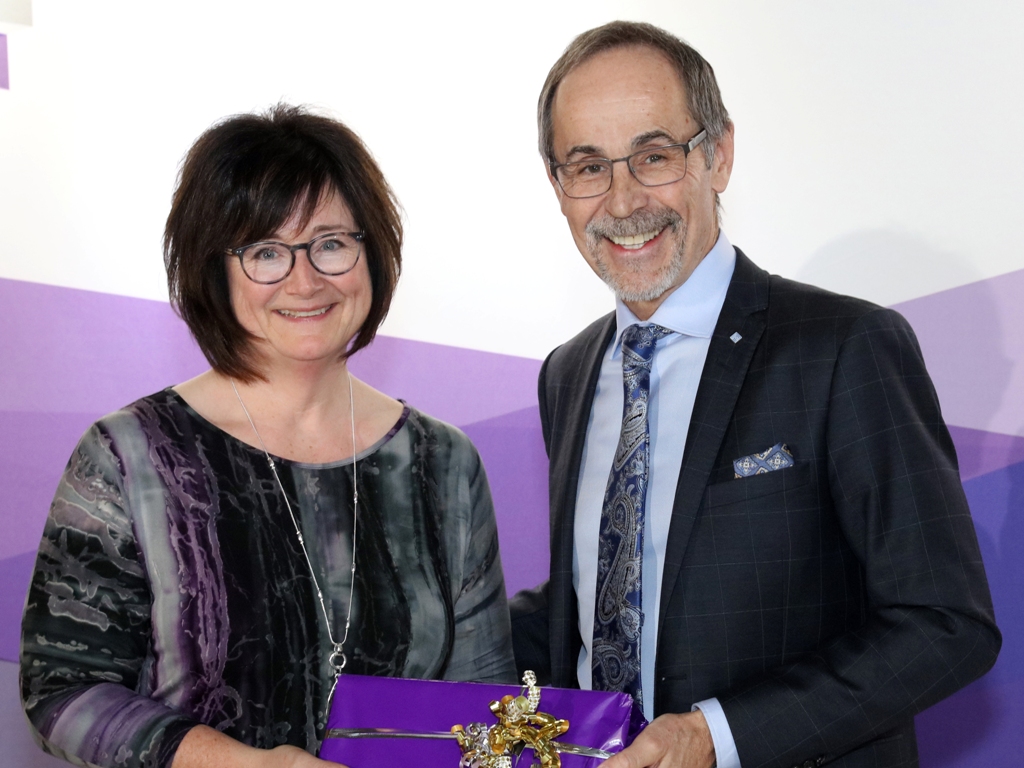 TWYLA VERHELST
President's Award of Excellence - Moose Jaw Campus
Instructor, School of Business
Twyla consistently exemplifies what it means for an instructor to go above and beyond the responsibilities of the position. Twyla demonstrates her commitment to students by being an early adopter of new learning technologies and instructional strategies. Before the use of Brightspace was mandatory for on-campus courses, Twyla took on the challenge of learning the new instructional platform by meeting with the trainer multiple times and spending a significant amount of time learning on her own. These efforts resulted in students having access to a blended learning environment and the benefits that accompany it before it was an expectation of Sask Polytech instructors. Through her tireless work ethic, expertise in instructional strategies, industry knowledge and practice, as well as her deep-seated passion for student success, Twyla is an exceptional instructor.