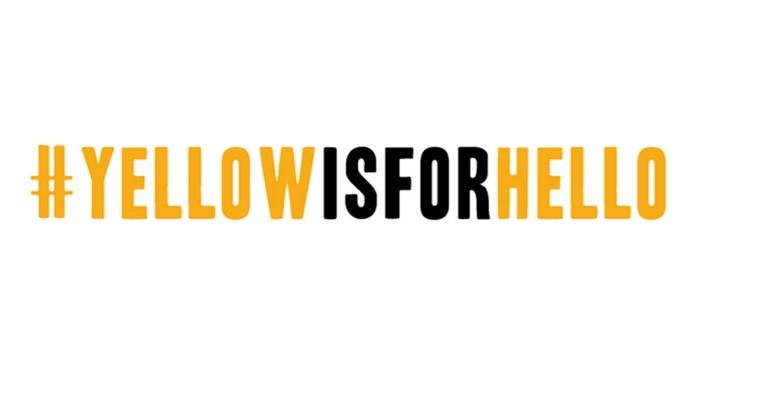 This is the first friendship bench to be installed at a post-secondary institution in Saskatchewan.

May 3, 2017 – It's bright, it's yellow and it has a very specific purpose. The new yellow friendship bench installed on the Regina campus is set to help encourage conversations about mental health amongst peers and colleagues.
"We are always looking for new ways to promote the health and wellness of our students, faculty and staff," says Dr. Anne Neufeld, Sask Polytech provost and vice-president, Academic. "By cultivating an atmosphere of trust and acceptance, we hope initiatives such as the yellow bench will help to encourage students, faculty and staff to find the support they need to be successful in achieving their educational and career goals."
Marking mental health week, May 1-7, and as part of the national #YellowIsForHello campaign, Sask Polytech's yellow bench is one of 27 installed across Canada over the past two years. The Friendship Bench, founded by Sam Fiorella, has set out to install the yellow benches across the country to:
Encourage peer-to-peer conversation about mental health among students in order to drive greater awareness of the disease and greater recognition of the symptoms, knowledge of prevention and support services available.
Connect students to available on-campus and in-community mental health resources.
Educate students and parents about the causes and signs of the various forms of mental illness so students may be more aware of their own mental health and that of their friends.
Tragically, Fiorella was inspired to found The Friendship Bench initiative after the loss of his son, Lucas, in 2014. At the time, Lucas was in his second year of university and Fiorella and his family were utterly unaware that Lucas was suffering with depression. The shock and overwhelming loss shook Fiorella to his core and, in Lucas' memory, he is determined to help others open up before it's too late.
"As a parent, learning that your child is suffering alone – when if you only knew, you could have helped, is your worst fear," says Fiorella. "You can't rewrite the past but you can certainly change the future. Suicide is second leading cause of death among Canadians aged 15 to 34. No parent should find out their child is suffering when it's too late to do anything about it."
The Friendship Bench hopes to end the stigma about mental health and encourage more students to seek help, including peer-to-peer conversations by placing yellow benches across Canadian campuses. Sask Polytech's yellow bench is a combined effort between Student Services, the School of Nursing, Regina campus and The Friendship Bench.
"Mental illness may have no visible, outward signs, but it affects many of our students" says Neufeld. "We want to encourage everyone to speak openly about mental health -- we have a lot of services on campus that can, and will, help."
The Friendship Bench provides an actionable program that encourages student-to-student conversations about mental health, facilitates peer-to-peer support networks, and funds on-campus mental health programs with the installation of yellow benches. To learn more about The Friendship Bench, visit www.thefrienshipbench.org.
Saskatchewan Polytechnic serves 28,000 distinct students through applied learning opportunities at campuses in Moose Jaw, Prince Albert, Regina and Saskatoon, and through extensive distance education opportunities. Programs serve every economic and public service sector. As a polytechnic, the organization provides the depth of learning appropriate to employer and student need, including certificate, diploma and degree programs, and apprenticeship training. Saskatchewan Polytechnic engages in applied research, drawing on faculty expertise to support innovation by employers, and providing students the opportunity to develop critical thinking skills.