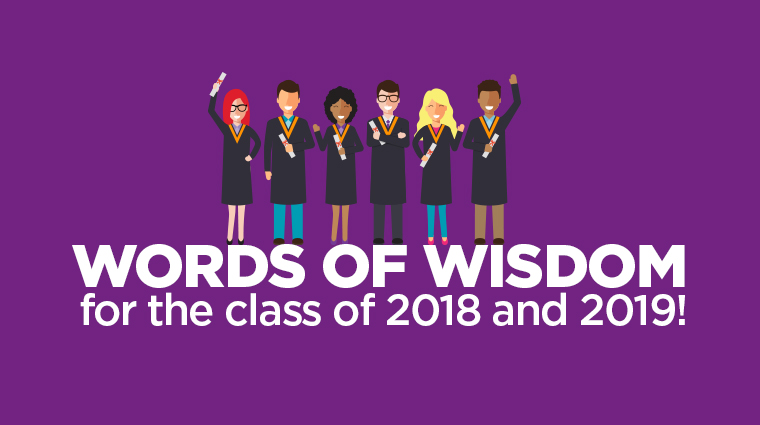 Starting school can be a one part thrilling and one part scary. But many people have been right where you are before and survived it. We went and asked some of Sask Polytech's faculty, alumni and leadership team for their words of wisdom on how to survive school, here's what they had to say:

---
"Always do 'what is right' even if it is the harder path or without reward."

Brad Nelson
Business Graduate, Moose Jaw campus (1975)
---
"Don't be a back row student. If you truly want to be engaged sit at the front of the class. The same thing applies to campus activities; you don't have to do everything, but be aware of what's going on and be sure to take part in activities that are of interest."

David Halstead
Instructor and Senior Researcher, Natural Resources Technology
---
"I want to encourage you all by saying that in no other time in history is technology more pervasive, impactful and evident. You will be able to attain knowledge that will revolutionize humankind and will frame a response for all of humanity. As you professionally develop, never forget your responsibilities and leadership that will impact the human spirit."

Bob Woolsey
Industrial Instrumentation Graduate, Moose Jaw campus (1987)
---
"I returned to school when I was thirty. I remember wondering if I could do it - after so many years out of school, surrounded by younger people. I found that my experiences in life prepared me for the challenges that school presented. I wanted to learn, I was used to hard work, and I wanted to succeed - to achieve my goals. It worked out well for me, and it will work out well for you! Use the support services! We want you to do well. Talk to your instructors. If you don't understand the course material, ask questions! Make learning a priority. You're investing in your future!"

Susan McDonald
Instructor, Communication Arts
---
"I once heard it said that opportunity is like a ship. It doesn't always come to the dock to meet you. Sometimes you must be willing to swim out to meet it. There is great truth in those words."
Dr. Larry Rosia
President & CEO
---
Published September 2017.