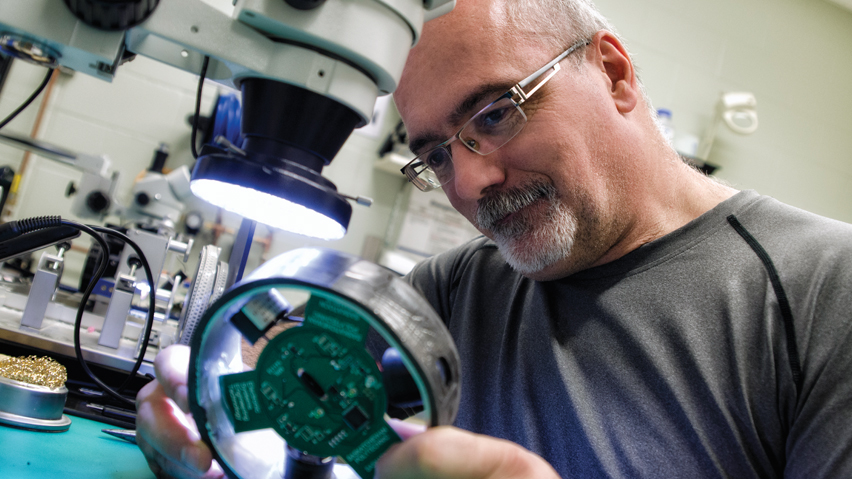 By Dr. Larry Rosia, president and CEO
It is impossible to predict the future. There are; however, certain facts that cannot be overlooked.
One obvious fact is that the population of planet Earth continues to grow. In 2015, the United Nations projected that 8.5 billion people will inhabit earth by 2030, up from more than 7.3 billion today. That number is expected to increase another 1.2 billion by 2050.
Let's step back and put these numbers into context. In 1990, the global population was 5.3 billion—meaning we have witnessed a 38 percent rise since then.
These are substantial increases.
It is important to note where people reside. Sixty percent of the world's population lives in Asia. Another 16 percent inhabits Africa.
There is little question that the increasing population will continue to put pressure on the world's limited natural resources. It will also be important for global food production to keep pace—in a sustainable way.
Developing countries in particular will require new sources for agricultural products. This presents an opportunity for Canada—and Saskatchewan, in particular.
First, there is the opportunity to diversify what is grown here. Saskatchewan is no stranger to crop diversification. Just a few decades ago canola production was virtually non-existent. More recently Saskatchewan has become a top producer of pulse crops—lentils, peas and beans. Pulses are an important source of protein in countries such as India, which has become a top export destination for Saskatchewan farmers.
Crop diversification represents only one opportunity, however. Technology companies recognize that they can play a key role in helping farmers increase food production and reach new markets.
Cutting-edge geographic information system (GIS) technologies, sensors, web and mobile applications and other advancements have exploded over the past two decades as companies race to gather data for agricultural producers and companies. While the accumulation of data has grown, so has the gap between it and data analysis.
Farming is changing. A new era of Intelligent, or Smart, Agriculture is upon us. #Agriculture #SmartAg This is a new term that encompasses two things. First, the technologies needed for practical and efficient application of data in ag production, and second, how the data collected is used in a practical way.
In my last LinkedIn article, I shared news of a Memorandum of Understanding (MOU) signing on March 10, 2017 between Olds College and Saskatchewan Polytechnic that opens the door for the two institutions to explore the demand for new collaborative programming and applied research into this emerging area.
I am excited that we are working together on this project. Olds College is, and has been a leader in agriculture education for more than a century. It has an excellent reputation not only in Alberta, but across western Canada, for hands-on training, applied research and innovative learning.
Olds College's focus on applied research is important because applied research is a leading differentiator for Sask Polytech, too. The emphasis of applied research is on delivering practical solutions to everyday problems. Applied research often involves testing new products before they're brought to market, proving a concept or assessing a need.
Applied research also allows us to maintain closes alliances with industry, while providing students with work-integrated learning opportunities. Students are at the centre of all we do. It is imperative that our graduates have the right skills to meet the demands of a changing economy.
Applied research is a key way in which we support economic growth in this province.
Saskatchewan Polytechnic's collaboration with Olds College offers an opportunity to be at the forefront of training agricultural students on the most recent and emerging trends, where future demand for jobs exists.
The result will be a stronger—and more competitive—Saskatchewan.
Published August 2017.