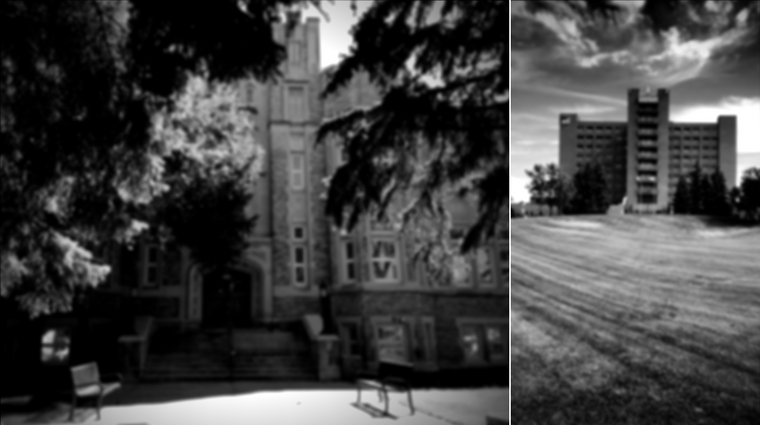 Sask Polytech buildings may be home to more than just students
There is a lot of history in some of Sask Polytech's buildings and in a few of them, a creepy past has led to some weird and unexplained things taking place in the present. Here are just a few stories about Sask Polytech's creepiest places.
Hello? Anyone there?
The E.A. Davies Building in Saskatoon is known to be one of the most haunted places in the city. Formally known as the Saskatoon Normal School, where people would go to train to be teachers between 1922 and 1964, the building was also used as a training facility by the Royal Canadian Air Force during the Second World War. With such a rich history, it's not surprising that multiple people have several stories about a few spirits that roam the halls.
One of the more prominent ghosts at the Davies Building is known as the "Lady in the long dress at the end of the hallway." Reportedly dressed in clothing similar to what women wore in the 1930s, the "woman in white" often appears in hallways (and occasionally the auditorium) and is not known to cause trouble, usually ignoring people who try to talk to her. Other stories include hearing typewriter noises in otherwise empty spaces, overhearing faint conversations when no one else is in the building and, since the most recent remodeling, a ghostly young man in a dark suit wandering the hallways.
Stirring up spirits
Between 1973 and 1995 the main Regina campus was the Plains Health Centre, which also housed a morgue. The old morgue is now the recreation department. When the building was being redeveloped in 1998 and 1999, there were multiple tradesmen who claim they saw something out of the ordinary. One fellow even left the worksite, never to return because he claims he saw an apparition.
After Sask Polytech moved in, one employee mentioned seeing a spirit, and another employee had a situation where she was waiting for an elevator but when the doors opened, there was no elevator car - just an empty shaft!
Have you had a spooky encounter at Sask Polytech? We'd love to hear it! Tell us your story!
Published October 2017.
Republished October 2018.