Students warm up winter with top prize in soup competition
The Warm Your Heart Soup Competition is part of the annual WinterShines Festival in Saskatoon
Soup is one of those comfort foods that conjures up images of all things cosy. For Lindsey Cooke, a second year Saskatchewan Polytechnic student in the Culinary Arts program, soup also conjures up a win at the
Warm Your Heart Soup Competition
, which raises funds for the Heart and Stroke Foundation.
"This is a great opportunity to showcase my talent and to get my name out into the culinary community while supporting a worthy cause," says Cooke.
Cooke, who won the novice soup competition on January 29 was invited to compete against some of Saskatoon's best chef's in the professional soup competition on February 1. She won the people's choice award in the senior soup competition with her Late Harvest "Popped" Corn soup.
"I entered the novice soup cook off to showcase my skills in making a first class soup worthy of winning both categories," says Cooke.
Cooke was also joined by five other Sask Polytech students, all of whom had an opportunity to participate. Adrianna Remlinger won third place in the novice competition and says she likes participating because it is a good way learn and meet new people.
"Competitions really push me to hone my skills and this is a good opportunity because it allows me to make new contacts and gain exposure," says Remlinger.
Cooke won the novice competition with soup inspired by the classic couch food, popcorn. Here's her Late Harvest "Popped" Corn soup recipe:
Ingredients:

Method:

4 Pkg Fresh Corn (15-16 Cobs) - Take niblets off of the cobs and reserve cobs for broth

2 Medium Potatoes Peeled and Diced

1 Medium Yellow Onion Diced and Roasted

1/2 Spaghetti Squash Roasted and Scooped Out

1 Bulb Garlic Roasted

3 Liter Vegetable Broth

4 Tbsp Canola Oil

Heat Canola Oil over medium heat, add corn niblets and saute without coloring for a few minutes.

Add the roasted onions and roasted garlic cloves and stir well.

Next add the potatoes, spaghetti squash ad the vegetable broth.

Simmer for approximately 1 hour.

First blend with an immersion blender (Hand blender) to break down the larger pieces.

Then transfer to a Vita Mix blender and puree until smooth.

Season to taste and pass through a fine sieve.
Add a bit of garnish with crème fraiche, caramelized diced onions, corn salsa, parsley oil and/or fresh popped popcorn seasoned with dehydrated corn powder and maldon salt.
Check out Cooke sharing her recipe on CTV Morning Live!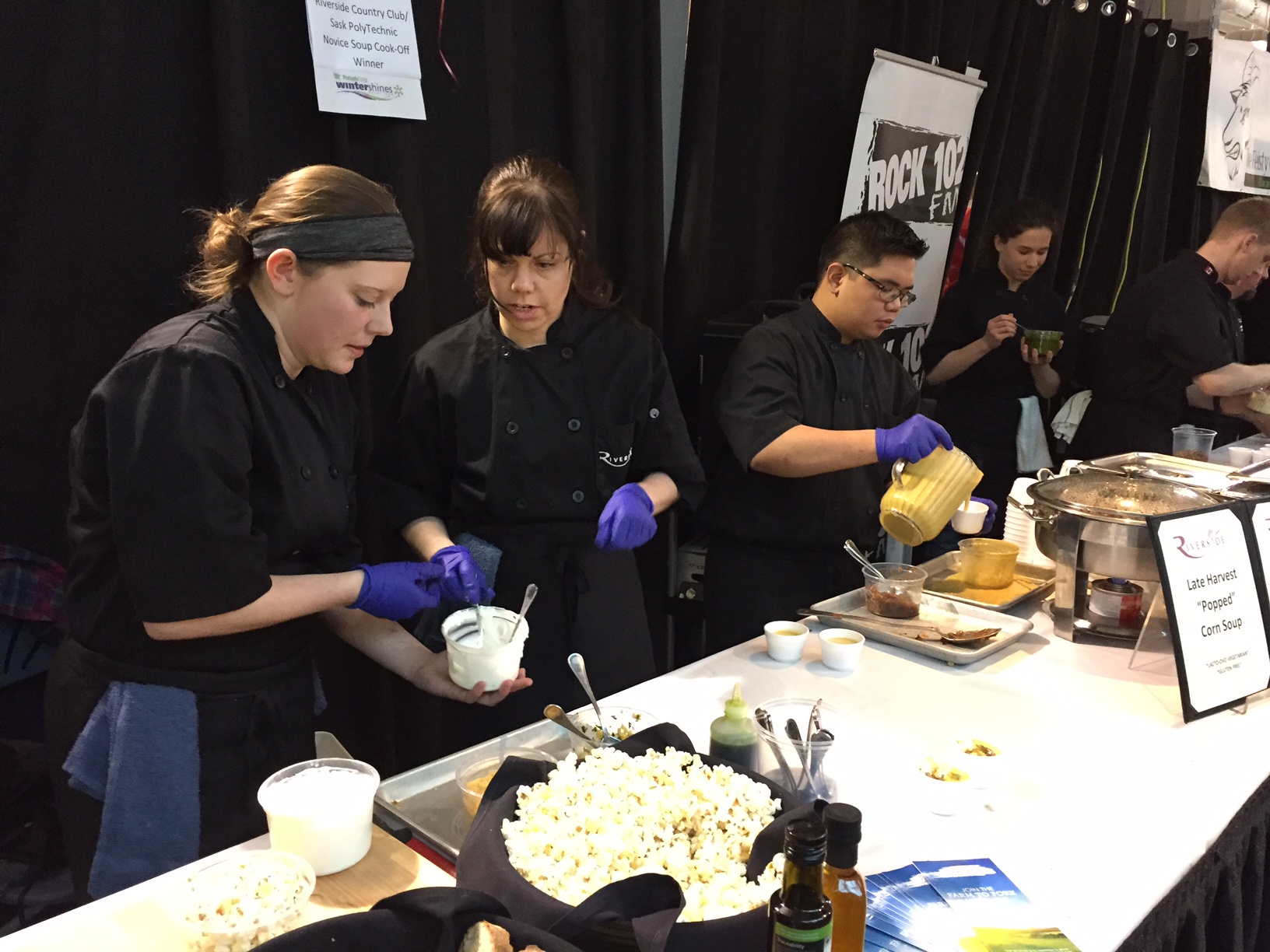 Learn more about the Culinary Arts program.
Published February 2017.