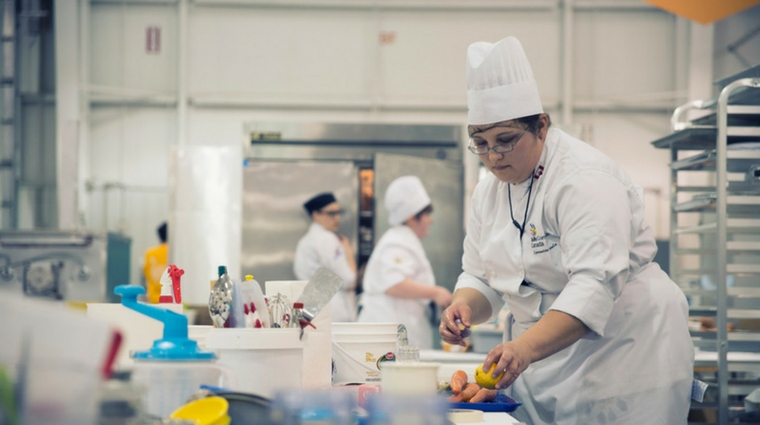 Saskatchewan's national notoriety for good eats has been steadily growing over the past few years. With master chefs looking to call the prairie province home, it seems appropriate that Saskatchewan Polytechnic is home to an important training ground for the next generation culinary masters.
The Culinary Arts program is led by long-time chef Derek Cotton and teaches students a little bit of everything in the culinary world.
"Our program is designed to prepare students with the core knowledge they need to work in the hospitality industry," says Cotton. "Once they're done their training with us, they're ready to 'be shaped' by an experienced chef."
With 150-200 would-be chefs applying for just 36 spots every year, the Culinary Arts diploma is a popular program at Sask Polytech. Cotton has a theory on why that may be.
"I believe it's because food is such an integral part of our lives," says Cotton. "Food is a social thing. We catch up with our families over a meal at the end of day. We celebrate life's milestones with a meal. We embrace one another during a hard time with a meal. It's just part of the human condition."
One of the unique parts of the program is the hands-on experience students get working in the community. Cotton is a believer in putting students 'in the field' to get a taste of what it is actually like to work in the industry. Throughout the year, students are part of many food events around Saskatoon.
"For the past three years, we have been part of the Gold Medal Plates competition," says Cotton. Gold Medal Plates, an annual fundraiser for the Canadian Olympic Foundation, brings chefs together to compete for a spot in the Canadian Culinary Championships.
"Our students support the Gold Medal Plates competition by creating the dessert for all event guests," says Cotton. "They also get to work alongside some of the best culinary teams in the city, and make connections in the industry." The event also provides fantastic experience for students off-site, getting practice in the catering field.
Students also spend time working at the Wintershines Warm your Heart Soup Cook-off. The event, partnered with the Heart and Stroke Foundation, pits local chefs and media professionals together to make a delicious and heart-healthy soup. "The public tries the soups on offer, and the proceeds go to charity," says Cotton. "Again, it's a great way for students to hone their skills and make connections."
Cotton also gets his aspiring chefs into the Skills Canada Saskatchewan competition and SAPUTO National Junior Culinary Challenge. Both events give young chefs the chance to show off their talents and be judged by culinary professionals. Winners move on to national competitions and face off against the top novice chefs in the country.
Cotton doesn't see the Culinary Arts program losing its popularity any time soon. "Food and cooking is just part of our lives," says Cotton. "It's a rewarding career with plenty of opportunity in so many parts of our community." There are opportunities in everything from running a kitchen for a mining operation, to working as a test kitchen chef for a food manufacturer, to catering events or owning your restaurant. With the experience and knowledge provided the Sask Polytech program, the possibilities are endless for Saskatchewan's aspiring culinary stars.
Many dining events designed by faculty and students are hosted at the Saskatoon Campus. Their classrooms include the Bistro, Corner Café and Cafeteria. With your support, our students are able to fulfill their education in these live environments. To get a taste of our Culinary Arts student's talent, email Gail Podhorodecki at gail.podhorodecki@saskpolytech.ca for a list of upcoming events!
Visit the Food Services website for more information!
Published September 2017.