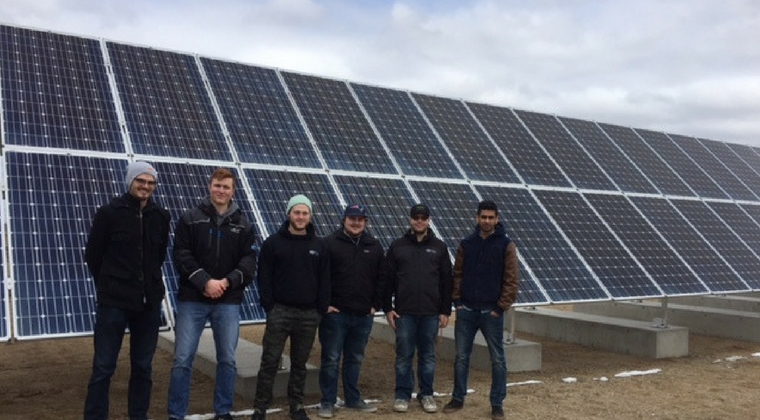 Saskatoon Light and Power (SL&P), in partnership with the Saskatchewan Environmental Society Cooperative/Solar Co-Op Ltd. (SES-SESSC) and Saskatchewan Polytechnic have created one of the province's first power generation co-operatives at the Solar Photovoltaic (PV) Demonstration Site, part of the Landfill Gas Collection and Power Generation System.
"This project is designed to develop a practical understanding of the actual operational characteristics of solar power panels in Saskatoon's climate," says Mayor Charlie Clark. "This is a great opportunity to increase awareness of alternative forms of electrical generation, such as solar power, while fostering relationships between industry and schools in our city."
The City has set a target to produce or generate 10 per cent of its annual energy requirement from local, renewal resources. Currently, approximately 1.5 per cent is generated through the multi-partner Solar PV Demonstration Site and Landfill Gas Collection and Power Generation system. The City anticipates a much larger solar project will be built in the future. The proposed Hydropower plant at the Saskatoon Weir could generate another 3.5 per cent.
SL&P has been working collaboratively with faculty and students from the Saskatchewan Polytechnic Mechanical Engineering Technology (MET) diploma program. Kurt Soucy, P. Eng. MET instructor, identified the opportunity and played an integral role in developing the partnership with SL&P. Recently, 21 MET students visited the array site and performed a comprehensive survey, which included predicting annual performance (electrical generation), as well as determining the optimal dates for adjusting one of the "fixed" arrays.
"The Solar Demonstration Project is a great example of an applied research project that brings students and industry together to find a solution to a real-world problem," says Dr. Larry Rosia, Sask Polytech president and CEO. "The result is a hands-on experience for students in the field of green energy. Developing a better understanding of the operational characteristics of solar power panels will lead to wider adoption of renewable technologies and practices for industry in Saskatchewan. This is an exciting applied research project for all of those involved."
A typical PV system employs solar panels comprised of a number of solar cells, which then generate electrical power. Solar trackers can be used to help the panels to follow the sun across the sky.
"This project was perfect for the SES Solar Co-op and its members." says Peter Prebble, President of the SES Solar Co-op Board of Directors. "For those who wanted to invest in solar power, but didn't have the means to install solar panels on their house or apartment, this provided an ideal opportunity. This gave us the chance to contribute to greenhouse gas reduction research and to demonstrate the viability of solar power in our community."
For more information visit City of Saskatoon news or the Solar Power Demonstration Site website.