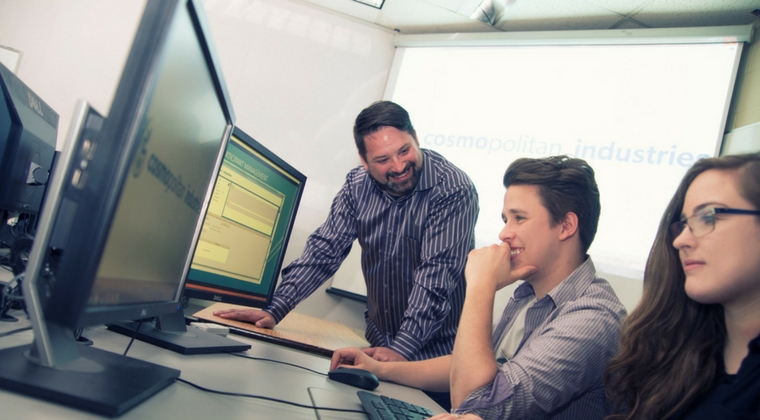 Government of Canada supports applied research with entrepreneurs and small business

April 5, 2017 – Saskatchewan Polytechnic's $200,000 in funding from the National Research Council of Canada Industrial Research Assistance Program (NRC-IRAP) will provide financial support to qualified small and medium-sized enterprises to advance innovation through applied research. This award builds on the success of the program in 2016-2017.
"The Office of Applied Research and Innovation is very excited to be awarded up to $200,000 from IRAP," says Dr. Susan Blum, associate vice-president, Applied Research and Innovation. "Through this funding Sask Polytech will be able to partner with industry on approximately 20 applied research projects a year for the next two years. This is a win-win situation for Sask Polytech and small businesses across the province."
Those interested in funding will also have access to the support and guidance of IRAP's industrial technology advisors available at both Regina and Saskatoon campuses for consultation eight hours a week.
Sask Polytech's IRAP funding has been extended to March 31, 2019. In order to be considered for funding the industry partner must:
be a small and medium-sized enterprise in Canada, incorporated and profit-oriented;
have less than 500 full-time equivalent employees; and
have the objective to grow and generate profits through development and commercialization of innovative, technology-driven new or improved products, services, or processes in Canada.
Businesses interested in an IRAP partnership typically see up to $5,000 in funding provided by the program to Saskatchewan Polytechnic for use in relation to the approved project. Industry interested in collaborating on an applied research project are encouraged to contact the Office of Applied Research and Innovation at applied.research@saskpolytech.ca.
Saskatchewan Polytechnic serves 28,000 distinct students through applied learning opportunities at campuses in Moose Jaw, Prince Albert, Regina and Saskatoon, and through extensive distance education opportunities. Programs serve every economic and public service sector. As a polytechnic, the organization provides the depth of learning appropriate to employer and student need, including certificate, diploma and degree programs, and apprenticeship training. Saskatchewan Polytechnic engages in applied research, drawing on faculty expertise to support innovation by employers, and providing students the opportunity to develop critical thinking skills.
-30-