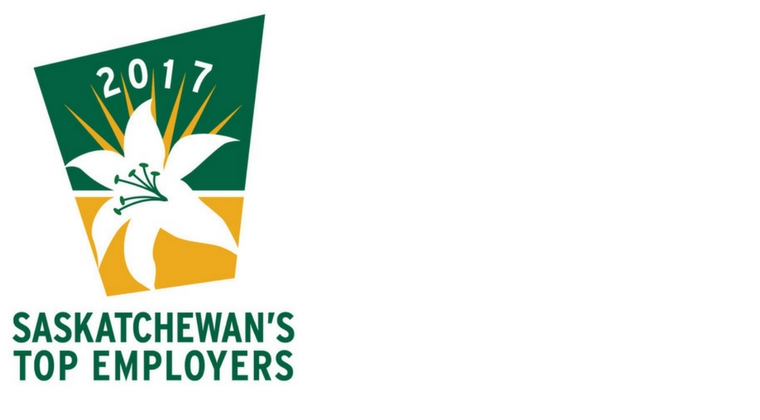 Mediacorp Canada Inc. announces winners of Saskatchewan's Top Employers competition

April 12, 2017 – Now in its twelfth year, Saskatchewan's Top Employers is a special designation that recognizes Saskatchewan employers that lead their industries in offering exceptional places to work. Today Mediacorp Canada named Saskatchewan Polytechnic as one of these employers.
"I'm extremely proud Saskatchewan Polytechnic is being recognized as a top employer in Saskatchewan," says Dr. Larry Rosia, president and CEO. "We strive to be an employer of choice. This confirms that we are an institution that attracts and retains the best people, and that our faculty and staff are proud of where they work and the work they do."
Employers throughout Saskatchewan were evaluated by the editors at Canada's Top 100 Employers using the same criteria as the national competition: (1) Physical Workplace; (2) Work Atmosphere & Social; (3) Health, Financial & Family Benefits; (4) Vacation & Time Off; (5) Employee Communications; (6) Performance Management; (7) Training & Skills Development; and (8) Community Involvement. Employers are compared to other organizations in their field to determine which offer the most progressive and forward thinking programs. The annual competition is open to any employer with its head office in Saskatchewan; employers of any size may apply, whether private or public sector.
"A powerful reason why people join an organization is a desire to make a difference in their community," says Richard Yerema, managing editor of the Canada's Top 100 Employers project. "This is something that winners of this year's Saskatchewan's Top Employers competition understand deeply. They model their workplace culture with the goal of building a community, resulting in engaged and motivated employees."
Saskatchewan Polytechnic serves 28,000 distinct students through applied learning opportunities at campuses in Moose Jaw, Prince Albert, Regina and Saskatoon, and through extensive distance education opportunities. Programs serve every economic and public service sector. As a polytechnic, the organization provides the depth of learning appropriate to employer and student need, including certificate, diploma and degree programs, and apprenticeship training. Saskatchewan Polytechnic engages in applied research, drawing on faculty expertise to support innovation by employers, and providing students the opportunity to develop critical thinking skills.