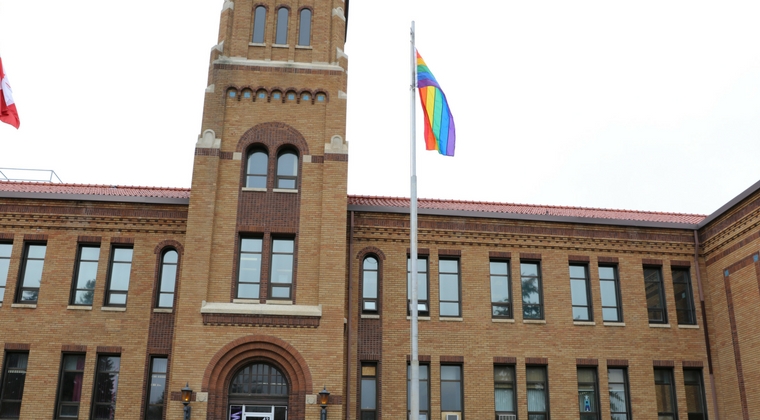 PRIDE events take place in each of our home communities each spring

May 1, 2017 – This May and June, the rainbow pride flag will be seen at our four main campuses to recognize Pride Week and to show our support for our LGBTQ students, their allies and communities.
"We are pleased to be a polytechnic that advocates respect for all, where everyone feels welcome, and all are invited to study and work in harmony. We work to create an environment that encourages new ideas and perspectives," says Dr. Larry Rosia, president and CEO. "Pride Week is an opportunity for Sask Polytech to remind our LGBTQ community that we are committed to eliminate all forms of discrimination, and we continue to foster an atmosphere where students, faculty and staff learn and work in dignity, equality and peace."
Pride Week is taking place across Saskatchewan during the months of May and June:
• Moose Jaw Pride Week: May 1-7
• Prince Albert Pride Week: June 4-11
• Saskatoon Pride Week: June 12-18
• Regina Pride Week: June 9-18
During Pride Week in each city, Saskatchewan Polytechnic will raise the pride flag to support our LGBT students and their allies.
Saskatchewan Polytechnic serves 28,000 distinct students through applied learning opportunities at campuses in Moose Jaw, Prince Albert, Regina and Saskatoon, and through extensive distance education opportunities. Programs serve every economic and public service sector. As a polytechnic, the organization provides the depth of learning appropriate to employer and student need, including certificate, diploma and degree programs, and apprenticeship training. Saskatchewan Polytechnic engages in applied research, drawing on faculty expertise to support innovation by employers, and providing students the opportunity to develop critical thinking skills.