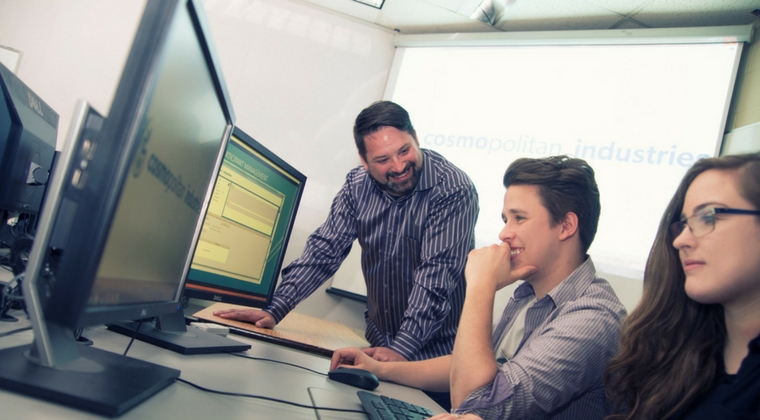 By Dr. Larry Rosia, president and CEO
In our rapidly changing world, innovation has taken on greater urgency in the quest towards progress. Innovation is a regular topic of discussion in business and, not surprisingly, by our elected leaders—and for good reason.
Innovation is an advantage.
Those of us in post-secondary education understand this all too well. As a result, we place great value on the support we receive from government to push innovation to the forefront and make our innovation expertise available to companies that need this support.
In April, the National Research Council of Canada Industrial Research Assistance Program (IRAP) awarded $200,000 to Saskatchewan Polytechnic to help small and medium-sized enterprises (SMEs) advance innovation through applied research.
This funding will allow Saskatchewan Polytechnic to partner with companies on approximately 20 applied research projects a year for the next two years. It is anticipated up to 20 companies a year will benefit from IRAP funding.
Applied research is different than basic research, which is carried out in universities. While basic research, which is driven by curiosity and the quest for knowledge, is valuable, it may not result in commercial applications. Applied research, on the other hand, delivers real solutions to everyday problems that industry face and is heavily reliant on collaboration.
At Saskatchewan Polytechnic, we believe that applied research is one of our greatest strengths.
Applied research is a key way our institution supports economic growth in this province. Not only do applied research projects give students practical learning experience and make them more employable—which is particularly attractive in an economic slowdown—they also enable Saskatchewan Polytechnic to help companies more competitive and turn their innovative products and ideas into ones that generate revenue and thus spur further innovation.
Using IRAP funding, Saskatchewan Polytechnic and Saskatoon-based Draganfly Innovations recently finished the initial phase of a project to develop a special marker to aid crime scene investigators using aerial drones to locate evidence.
One of the attractive features of the IRAP program is that businesses will have access to support and guidance of IRAP's industrial technology advisors at both Regina and Saskatoon campuses for consultation eight hours a week.
Businesses interested in an IRAP partnership typically see up to $5,000 in funding provided by the program to Saskatchewan Polytechnic for use in relation to the approved project. Saskatchewan Polytechnic has expertise in a number of areas, especially manufacturing, digital technology and natural resources.
Yes, there are stipulations. To be considered for funding, potential industry partners must:
Be a small and medium-sized enterprise in Canada, incorporated and profit-oriented.
Have fewer than 500 full-time equivalent employees.
Want to grow and generate profits through development and commercialization of innovative, technology-driven new or improved products, services, or processes in Canada.
To learn more or to see if your small to medium-sized business could benefit, visit saskpolytech.ca/research.
Published August 2017.