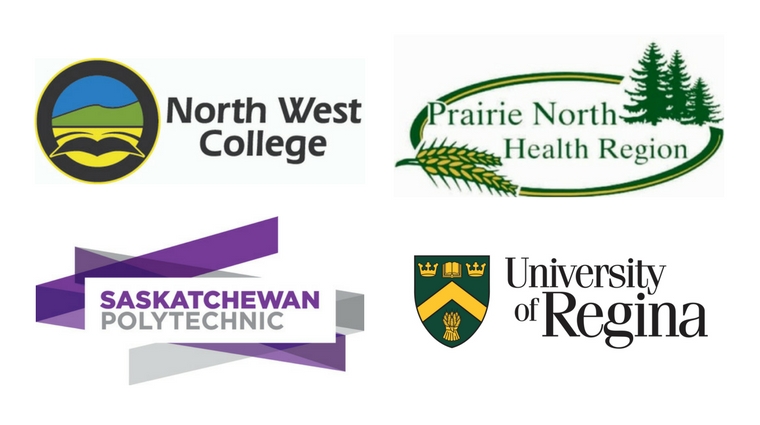 Saskatchewan Polytechnic and the University of Regina are committed to educating nursing students across the province
October 25, 2017 – A partnership between North West College, Prairie North Health Region, Saskatchewan Polytechnic and the University of Regina has resulted in the expansion of the Saskatchewan Collaborative Bachelor of Science in Nursing (SCBScN) program to North Battleford.
"This partnership builds on Sask Polytech's long-standing commitment to meeting the needs of both students and employers," says Dr. Netha Dyck, dean of the School of Nursing and School of Health Sciences at Saskatchewan Polytechnic. "The opportunity to study nursing and take part in clinical placements close to home improves access for North Battleford area students, which in turn will ultimately benefit the Prairie North Health Region and local health care providers."
"We know that about 55 per cent of SCBScN graduates find employment in the nursing units where they completed their practicum in year four," says Dr. david Gregory, dean of the Faculty of Nursing, University of Regina. "Providing the fourth year of the degree program in North Battleford ensures SCBScN graduates are well positioned to find employment in the Prairie North Health Region."
Beginning in September 2018, up to 16 students from the North Battleford area entering year one of the SCBScN program will take their first three years in Saskatoon and complete their fourth year in North Battleford. Recruiting local students from their home community will enable the Collaborative Nursing program to meet local labour market needs.
"North West has been advocating for a local Registered Nurse program delivery for quite some time and is pleased to see this opportunity for our local residents," says Tavia Laliberte, president and CEO of North West College. "This delivery model strategically aligns with our College and bring us closer to meeting the needs of our communities."
"Prairie North Health Region looks forward to hosting the fourth year nursing students in their senior practicum. We are pleased to support this opportunity for local students and are optimistic many will choose to seek employment with Prairie North after graduation," says David Fan, CEO of Prairie North. "The graduates-to-be will be mentored by our staff in the values and skills of the nursing profession so that compassionate, competent care is provided to those who use our health services. The students will be welcome additions to our teams."
The development of this program is the culmination of a successful pilot project the partners undertook in the fall of 2016 and will serve as a model that can be used in other communities across Saskatchewan.
About North West College
North West College is a member of the Saskatchewan regional college system with a catchment area of over 44,000 km2 in the province's northwest. A provincial leader in rural education, North West College annually offers programs in approximately 25 communities including 15 First Nations. All programs are brokered through accrediting partners such as the University of Regina and Saskatchewan Polytechnic and administered from the Meadow Lake and Battlefords campuses. North West College ensures students can access a vast array of education training while reaping the rewards of remaining in their home communities – increasing student success, providing a labour force for regional businesses while strengthening the rural economy.
About Prairie North Health Region
Prairie North Health Region plans, organizes and delivers health services within its geographic area of northwest central Saskatchewan, consistent with the provincial health system strategic direction and goals. Prairie North's team of over 3,500 health care professionals and approximately 130 general practice and specialist physicians are committed to the provision of patient-focused, safe, quality care and service that is timely, effective, appropriate, and continually improving.
About Saskatchewan Polytechnic
Saskatchewan Polytechnic serves 28,000 distinct students through applied learning opportunities at campuses in Moose Jaw, Prince Albert, Regina and Saskatoon, and through extensive distance education opportunities. Programs serve every economic and public service sector. As a polytechnic, the organization provides the depth of learning appropriate to employer and student need, including certificate, diploma and degree programs, and apprenticeship training. Saskatchewan Polytechnic engages in applied research, drawing on faculty expertise to support innovation by employers, and providing students the opportunity to develop critical thinking skills.
About University of Regina
The University of Regina—located on Treaty 4 and Treaty 6 territories, the ancestral lands of the Cree, Saulteaux, Dakota, and Lakota nations and the homeland of the Métis—is a comprehensive, mid-sized university that traces its roots back to the creation of Regina College in 1911. Today, more than 15,000 students study within the University's 10 faculties. The University has an established reputation for excellence and innovative programs that lead to undergraduate, graduate, and doctoral degrees. In 2017, the University of Regina was ranked in the Top 200 Best Young Universities in the world by Times Higher Education.