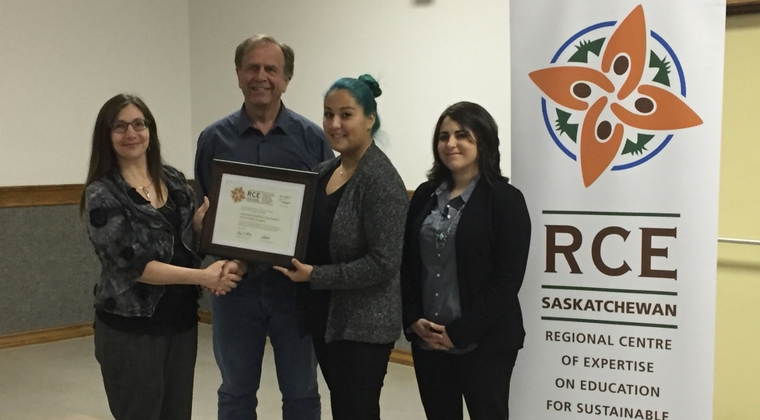 Two Saskatchewan Polytechnic projects receive awards for sustainable development
May 10, 2017 – This spring two Saskatchewan Polytechnic projects received awards from the Regional Centre of Expertise (RCE) Saskatchewan on Education for Sustainable Development. RCE Saskatchewan celebrated 25 projects at their 9th annual recognition awards.
RCE Saskatchewan provides recognition to innovative research, projects and activities that promote Education for Sustainable Development in the prairie region. The Solar Power Demonstration Site project and Shoreline Health Assessment project, two applied research projects that relied on skills and dedication of Sask Polytech faculty and students, received RCE Saskatchewan awards.
The Solar Power Demonstration Site is a partnership between Saskatoon Light and Power, the Saskatchewan Environmental Society Cooperative/Solar Co-Op Ltd. and Saskatchewan Polytechnic. The Solar Power Demonstration Site is one of the province's first power generation co-operatives. Kurt Soucy, P. Eng. Mechanical Engineering Technology instructor, identified the opportunity and played an integral role in developing the partnership with Saskatoon Light and Power.
"This facility provides not only Mechanical Engineering Technology students, but all Saskatchewan Polytechnic students, with an opportunity to examine the annual performance of a large scale Solar Power installation," says Soucy. "As these types of structures become more common in our province, Sask Polytech students will be effectively positioned to support, promote and assess the technical and economic feasibility of similar systems and technology."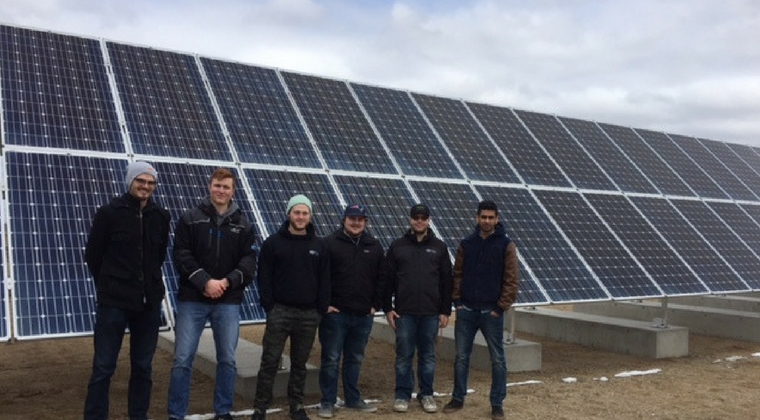 The Shoreline Health Assessments project examines the sediment, vegetation and other features of various shorelines to assess current environmental states and provides a report to property owners. Assessments are typically completed by boat, however Natural Resource Technology student Blossom Lamalice and her instructor Dave Halstead have recently begun to use an Unmanned Aerial Vehicle to assess hard-to-access shorelines.
"The drones help assess everything on the shoreline that we wouldn't be able to do by foot," says Lamalice. "It also provides data that you can reference back to at a later date."