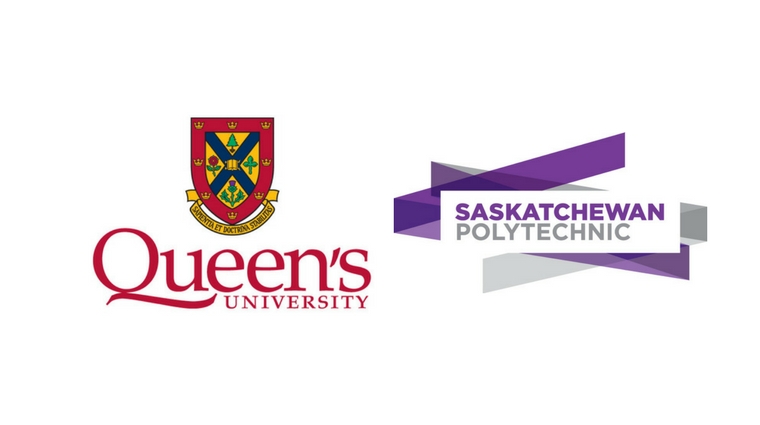 Queen's partnership with Saskatchewan Polytechnic enables students to complete diploma and degree within five years
December 7, 2017 – Recently Queen's University and Saskatchewan Polytechnic signed their first transfer credit agreement allowing students from 11 different School of Mining, Energy and Manufacturing diploma programs to advance their education at Queen's University.
After completing one of the 11 approved School of Mining, Energy and Manufacturing diploma programs at Sask Polytech, graduates who meet entry requirements will have the opportunity to transfer into Queen's online Bachelor of Mining Engineering Technology (BTech) program. As a result, students would be able to graduate with both a Sask Polytech diploma and a Queen's University degree after only five years of study.
"By formalizing this partnership, we've identified the eligible transfer credits and courses these students will have to take during their studies at Queen's. Candidates from Sask Polytech will have the advantage of knowing exactly what it will take to earn a Queen's BTech degree," explains David Yokom, Queen's University BTech program manager. "We've seen early success from graduates of Sask Polytech who have enrolled in the BTech program. I have been very impressed with their foundational science knowledge – they've clearly been well prepared!"
Eligible Sask Polytech diploma programs from the School of Mining, Energy and Manufacturing include: Chemical Technology, Computer Engineering Technology, CAD/CAM Engineering Technology, Electrical Engineering Technology, Electronic Systems Engineering Technology, Engineering Design and Drafting Technology, Geomatics and Surveying Engineering Technology, Instrumentation Engineering Technology, Mechanical Engineering Technology, Mining Engineering Technology and Power Engineering Technology. After completing their diploma students can transfer into Queen's BTech program. This program is a unique blend of online learning, team assignments and on-site field training allowing students to study full- or part-time from anywhere in the world.
"This is an exciting partnership for Sask Polytech and will open doors for our School of Mining, Energy and Manufacturing diploma graduates," says Dr. Larry Rosia, Saskatchewan Polytechnic President and CEO. "Mining is an integral part of Saskatchewan's economy. This new learning pathway with Queen's University is advantageous to our students and to Saskatchewan companies."
For more information on the 11 approved School of Mining, Energy and Manufacturing diploma programs visit our website.
About Queen's
Queen's University is a community, 175 years of tradition, academic excellence, research, and beautiful waterfront campus made of limestone buildings and modern facilities. Queen's is one of Canada's oldest degree-granting institutions, and has influenced Canadian higher education since 1841 when it was established by Royal Charter of Queen Victoria. Located in Kingston, Ontario, Canada, it is a mid-sized university with several faculties and schools, as well as the Bader International Study Centre located in Herstmonceux, East Sussex, United Kingdom.
About Saskatchewan Polytechnic
Saskatchewan Polytechnic serves 28,000 distinct students through applied learning opportunities at campuses in Moose Jaw, Prince Albert, Regina and Saskatoon, and through extensive distance education opportunities. Programs serve every economic and public service sector. As a polytechnic, the organization provides the depth of learning appropriate to employer and student need, including certificate, diploma and degree programs, and apprenticeship training. Saskatchewan Polytechnic engages in applied research, drawing on faculty expertise to support innovation by employers, and providing students the opportunity to develop critical thinking skills.