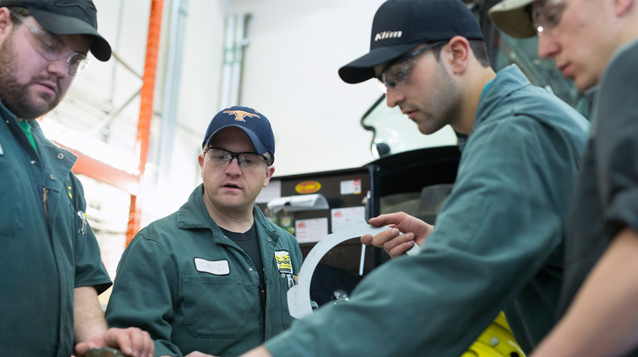 MOU sets framework for increased collaboration and opportunities to advance training, applied research and commercialization in Western Canada.

March 10, 2017 – Olds College and Saskatchewan Polytechnic signed a Memorandum of Understanding (MOU) today that will explore the demand for new collaborative programming and applied research into smart/intelligent agriculture. Specifically both parties will work together to provide a foundation of collaboration that will advance agricultural training, applied research and commercialization in Western Canada.
"By agreeing to work together, both Sask Polytech and Olds College can provide students with enhanced learning experiences in intelligent agriculture, while providing industry with new applied research opportunities," says Dr. Larry Rosia, Sask Polytech president and CEO. "Together, along with agricultural employers, we can develop solutions to real-world, everyday agricultural challenges."
Smart/intelligent agriculture encompasses two things. First, the technologies needed for practical and efficient application of data in agricultural production. And second, how the data collected is used in a practical way. The agriculture sector is well placed to leverage big-data technology and many companies are now contributing to its success.
"Through our partnership with Sask Polytech we will create dynamic learning opportunities for our students, while working with industry and community partners to create innovative solutions through applied research," says Dr. Tom Thompson, Olds College President. "The agreement with Sask Polytech will leverage each institutions strengths for the benefit of Western Canada."
One of the outcomes of the MOU is for Sask Polytech and Olds College to collaborate with other post-secondary institutions to discover news ways to enable employers and industry to meet the challenge of becoming a leader in the developing field of smart/intelligent agriculture.
Olds College is the premier Canadian integrated learning and applied research community specializing in agriculture, horticulture, land and environmental management. Olds College first opened its doors in November of 1913, and now includes programming that covers Animal Sciences, Horticulture, Land & Water, Fashion, Business, Hospitality & Tourism, and Trades & Apprenticeships.
Saskatchewan Polytechnic serves 27,000 distinct students through applied learning opportunities at campuses in Moose Jaw, Prince Albert, Regina and Saskatoon, and through extensive distance education opportunities. Programs serve every economic and public service sector. As a polytechnic, the organization provides the depth of learning appropriate to employer and student needs, including certificate, diploma and degree programs, and apprenticeship training. Saskatchewan Polytechnic engages in applied research, drawing on faculty expertise to support innovation by employers, and providing students the opportunity to develop critical thinking skills.
-30-