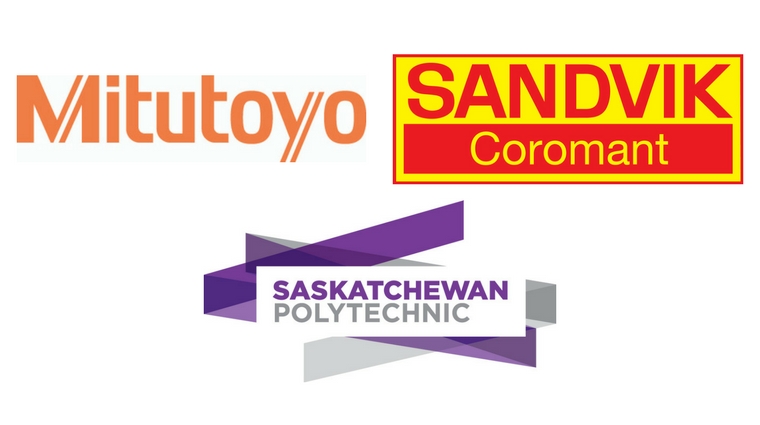 Generous donation strengthens manufacturing innovation at Saskatchewan Polytechnic
November 15, 2017 – Thanks to an $82,133 donation from Mitutoyo Canada Inc. and a $75,000 donation from Sandvik Coromant Canada, Saskatchewan Polytechnic is able to take a step in supporting Saskatchewan's manufacturing sector through new equipment and student awards.
"These two gifts directly impact the heart of Sask Polytech's mission to educate students and provide skilled and successful graduates," says Dr. Anne Neufeld, provost and vice-president, Academic. "These gifts by Mitutoyo Canada and Sandvik Coromant Canada are investments in our students, the workforce of tomorrow and Saskatchewan's manufacturing sector."
In recognition of the partnership, the Mitutoyo Canada Metrology Lab will be established in the Innovative Manufacturing program area at Regina campus. This lab will provide an opportunity for students to learn on equipment that is used predominantly in the manufacturing industry. Mitutoyo Canada has an interest in supporting the Saskatchewan Polytechnic Innovative Manufacturing program in advancing new technologies by ensuring that the most current Mitutoyo Canada products are available for the program, and technical information and support is readily available.
The Sandvik Coromant Canada donation will provide support directly to students in the Innovative Manufacturing and the Machining programs at the Regina and Saskatoon campuses through student awards and enhanced training opportunities for faculty and alumni. Sandvik Coromant Canada's donation of carbide tooling will ensure programs have the resources required to efficiently operate the program labs.
Saskatchewan Polytechnic serves 28,000 distinct students through applied learning opportunities at campuses in Moose Jaw, Prince Albert, Regina and Saskatoon, and through extensive distance education opportunities. Programs serve every economic and public service sector. As a polytechnic, the organization provides the depth of learning appropriate to employer and student need, including certificate, diploma and degree programs, and apprenticeship training. Saskatchewan Polytechnic engages in applied research, drawing on faculty expertise to support innovation by employers, and providing students the opportunity to develop critical thinking skills.