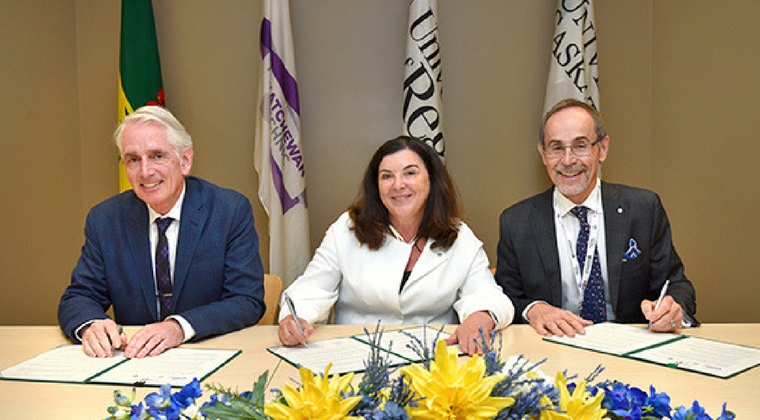 The University of Regina, University of Saskatchewan and Saskatchewan Polytechnic have signed a Memorandum of Understanding to create SASK Alliance, an initiative to collaborate on the internationalization of higher education within the province.
"This agreement recognizes the mutual interests our institutions have in supporting the internationalization of higher education in the province," says University of Regina President and Vice-Chancellor, Dr. Vianne Timmons. "International students and scholars bring diversity and expose our students to broader ways of understanding issues locally and globally, something all higher education institutions should strive to achieve."
"This alliance will forge stronger connections between our institutions and advance the internationalization of higher education in our province," said Dr. Peter Stoicheff, University of Saskatchewan President and Vice-Chancellor. "It will build upon the longstanding connections we already have and foster relationships with our international communities, while extending Saskatchewan's post-secondary reach around the globe, proving that we are always stronger together."
"Saskatchewan Polytechnic is proud to join the University of Regina and the University of Saskatchewan in the formation of the Sask Alliance," said Dr. Larry Rosia, president and CEO of Saskatchewan Polytechnic. "Each institution brings a unique set of strengths to the Alliance that will ultimately lead to greater educational opportunities for international students. I am excited about the opportunities this collaboration will create."
The Alliance will work to:
enhance recognition of Saskatchewan as a high quality education destination for international students;
create a recognizable Saskatchewan education brand;
increase awareness of Saskatchewan post-secondary programs;
highlight the research, scholarly and artistic work of Saskatchewan institutions; and
establish and foster relations and partnerships with governments, institutions, and funding agencies abroad.
Engaging in activities such as joint marketing efforts for recruitment, student mobility, and research and development will expand the reach of each organization and create efficiencies.
The University of Regina is a comprehensive, mid-sized university that traces its roots back to the creation of Regina College in 1911. Today, nearly 15,000 students, 14 percent of whom are international students, study within the University's 10 faculties. The University's has an established reputation for excellence and innovative programs that lead to undergraduate, graduate and doctoral degrees. In 2017, the University of Regina was ranked in the Top 200 Best Young Universities by Times Higher Education, a global ranking.
The University of Saskatchewan is grounded in the character of a dynamic, forward-looking province. We have a well-deserved reputation for creativity, collaboration, and achievement. Supported by an innovative, energetic faculty, staff, student, and alumni community, and by a research infrastructure unique in Canada, we deliver across Saskatchewan and beyond one of Canada's widest arrays of academic and professional programs.
Saskatchewan Polytechnic serves 28,000 distinct students through applied learning opportunities at campuses in Moose Jaw, Prince Albert, Regina and Saskatoon, and through extensive distance education opportunities. Programs serve every economic and public service sector. As a polytechnic, the organization provides the depth of learning appropriate to employer and student need, including certificate, diploma and degree programs, and apprenticeship training. Saskatchewan Polytechnic engages in applied research, drawing on faculty expertise to support innovation by employers, and providing students the opportunity to develop critical thinking skills.
Published June 2017.