Innovative Manufacturing Centre, where industry visions become reality
Saskatchewan has produced some of the most advanced technology in the world, a status Sask Polytech aims to continue to support through applied research at its new Innovative Manufacturing Centre (IMC) at the Regina and Saskatoon campuses.
"By working together on applied research partnerships, we can help ensure that Saskatchewan's manufacturing sector is able to adapt to the technological advancements and rapidly changing innovations of industry," says Jamie Hilts, Sask Polytech's dean of the School of Mining, Energy and Manufacturing and the School of Natural Resources and Built Environment.
"By doing so, we will allow for it to be competitive and productive on a local, national, and international scale."
After a significant overhaul and additions to the available facilities, the IMC is positioned as the most well-equipped machining and manufacturing facility in the province, which includes a full testing, prototyping and certification centre.
The IMC in Saskatoon also features a mature additive manufacturing (3D printing) program and facilities. These facilities offer the capability to rapidly produce prototypes and parts with plastic and carbon fibre composites. Soon, the facility will also be home to a 3D printer that can create products and items with metal.
For industry, the IMC is a resource like no other, available to start-ups, small- to medium-sized businesses and large manufacturers serving international markets.
Agricultural equipment manufacturers, for example, can access the latest tools, equipment and expertise to improve production methods and test new ideas, such as experimenting with bioplastics to make lighter, stronger, more environmentally friendly components for their products.
"Right now, prototyping, testing and certification are services that are difficult to find and extremely expensive," says
Dr. Satya Panigrahi, who holds the Sask Polytech research chair, Innovative Manufacturing. "We can make these services available to businesses that otherwise would not have had the ability to access them."
In addition to a PhD in Chemical Engineering, Panigrahi holds extensive experience and expertise in bioprocess engineering, with a special interest in bioplastics and biocomposites research and development in both academic and industrial settings. Bioplastics, which are a combination of plastics and natural fibres, exemplify the opportunities at the IMC to create value-added products.
The IMC benefits from significant industry donations, including $453,000 from the Gene Haas Foundation to establish the Gene Haas Manufacturing Technology Lab in Regina. Other donors include Skinner Thomas & Son Ltd, Sandvik Coromant Canada and Mitutoyo Canada Inc.
Across the hall from the Haas Lab is the Biomaterials Testing and Prototyping (B-TAP) facility, which focuses on custom prototype production. Its development will offer bioplastic production and expertise, including both injection and rotational molding plus testing capacity. This last is essential to determine strength and fitness of products to complete pre-sale certification – work that is now done mostly out of province or even out of Canada.
Panigrahi and his colleagues are currently working to find new purposes for used, recyclable grain bags by combining them with flax fibre, a largely under-utilized resource. Flax is a popular crop and the fibre from the plants is extremely tough and durable, but it often goes unused.
"By putting these grain bags and flax fibre into use in bio-plastics, we are recycling and reducing waste, while developing the capacity for jobs in Saskatchewan," Panigrahi says. "At this point we have two companies who will be doing projects that involve recycled grain bags being combined with flax fibre to create new products."
The IMC is the physical hub of the new Innovative Manufacturing program, the result of a collaboration among Sask Polytech, industry and employers. It is geared toward providing students with broad knowledge and skills ranging from mechanical and CAD/CAM engineering, welding, machining, fibre, bio-plastic and composites experience, to project management, industrial design, quality control and assurance. Graduates will go on to manufacturing jobs in sectors such as industrial, agricultural, mining, textile, forestry and food processing. The program accepted its first students in fall 2017.
Partnering with Sask Polytech on applied research projects gives industry access to faculty expertise as well as opportunities for funding through federal agencies.
"Through collaboration everyone involved succeeds — our industry partners, our students and the future of manufacturing in Saskatchewan," says Dr. Susan Blum, associate vice-president of Applied Research and Innovation.
For more information visit: saskpolytech.ca/research.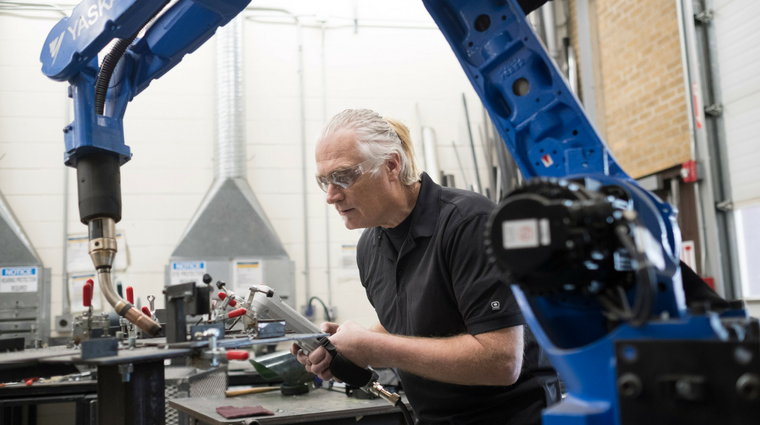 Published March 2018.