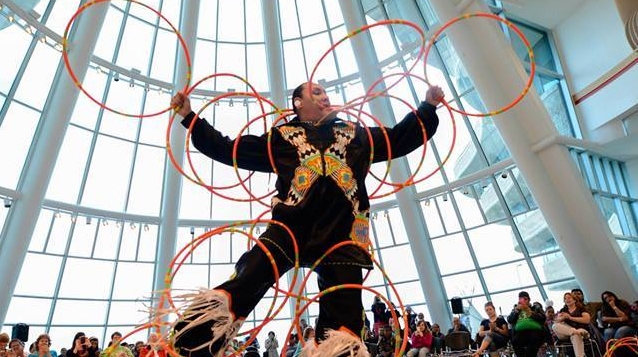 Events will be taking place in Moose Jaw between March 21 and 24, 2017

This year marks the second Intercultural Week at Saskatchewan Polytechnic. The annual event seeks to celebrate diversity, foster understanding, facilitate the transfer of cultural knowledge and experiences, and foster safe learning spaces in which diversity is honoured and respected.
In Moose Jaw, events include film festivals and special lunches. On March 22 renowned grass and hoop dancer Terrence Littletent will join the celebrations with his keynote address.
Born in Regina, Littletent is from the Kawacatoose Cree Nation where he inherited much of his traditional teachings through family and elders, singers and dancers, storytellers and academics. Terrance has traveled across Canada, the United States, and overseas, sharing his gift of song, dance, and narrative, in humble way. At the age of six, Terrance had already been introduced to the traditional techniques and movement skills used to create his own dance choreography. By the age of eight, Terrance's uncle, Kirby Littletent, presented him with the gift of the hoop, which inspired Terrance to continue his uncle's legacy of sharing the ways of their people. Eleven years later, Terrance was recognized as a World Renowned Hoop Dancer. As an educator, producer, and performer, Terrance continues to find ways to bridge traditional and contemporary dance.
To find out more about Littletent's keynote address or more about other events happening during Intercultural week, please visit: saskpolytech.ca/intercultural-week.


Published March 2017.