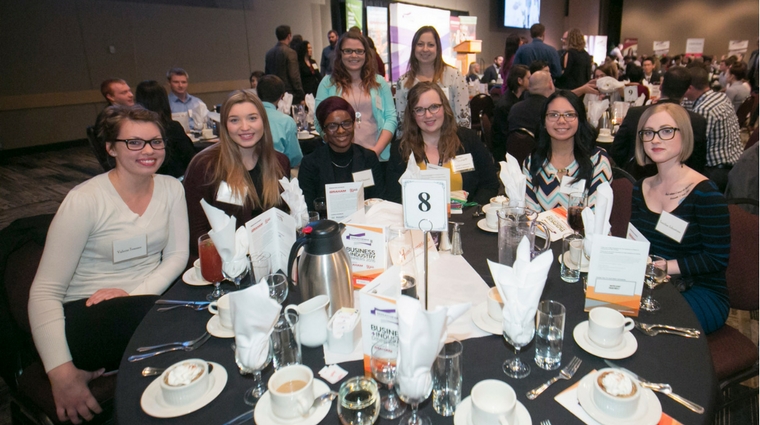 Annual business and industry dinner develops students networking skills and raises funds for financial assistance programs
November 15, 2017 – Saskatchewan Polytechnic Business and Industry Dinners presented by Graham provide a valuable applied learning opportunity for students to build networks for their future careers. Employers in attendance are provided the opportunity to meet with potential future hires. This year's keynote speaker is Sask Polytech Business Administration, alumnus Kim Ulmer.
Ulmer is the RBC regional president for Manitoba, Saskatchewan, and North Western Ontario. She leads and is inspired by a talented workforce of over 2,600 employees. Ulmer is passionate about youth and mentorship and has invited business certificate student, Kelly McIntyre, to shadow her on November 16 prior to the dinner to learn about leadership and a career in financial services.
Proceeds from the Business and Industry Dinners help fund Sask Polytech's student awards program and provide more students with access to financial assistance. To date, the value of scholarships and bursaries supported by the event and given to students totals more than $2 million.
"Our Business and Industry Dinners are an excellent way for businesses to interact directly with our incredible students," says Dr. Larry Rosia, president and CEO, Saskatchewan Polytechnic. "It is also a way for our students to network directly with top Saskatchewan employers, while recognizing the accomplishments of our alumni. We are proud to showcase our strong partnerships with the business community, our emphasis on applied research, and the Work Integrated Learning that enriches our students and industry alike."
The presenting sponsor for the 2017 Business and Industry Dinners series is Graham.
Graham has been providing construction services to every sector of the Saskatchewan economy for more than 90 years. Saskatchewan Polytechnic graduates have been part of Graham's delivery teams for a long time. Graham delivers projects to the buildings, infrastructure, mining, power, and energy sectors to a long list of clients.
Graham believes in Saskatchewan Polytechnic and its strong connections with industry. Saskatchewan Polytechnic is uniquely positioned to go forward and continue to grow and produce graduates that contribute to the success of our economy.
Media are invited to attend.
Date:
Thursday, November 16, 2017
Location:
TCU Place
35 – 22nd St E, Saskatoon
Reception:
5:30 p.m.
Dinner:
6:30 p.m.
Presenting sponsor:
Graham Group Ltd.
Campus sponsor:
PotashCorp
Saskatchewan Polytechnic serves 28,000 distinct students through applied learning opportunities at campuses in Moose Jaw, Prince Albert, Regina and Saskatoon, and through extensive distance education opportunities. Programs serve every economic and public service sector. As a polytechnic, the organization provides the depth of learning appropriate to employer and student need, including certificate, diploma and degree programs, and apprenticeship training. Saskatchewan Polytechnic engages in applied research, drawing on faculty expertise to support innovation by employers, and providing students the opportunity to develop critical thinking skills.