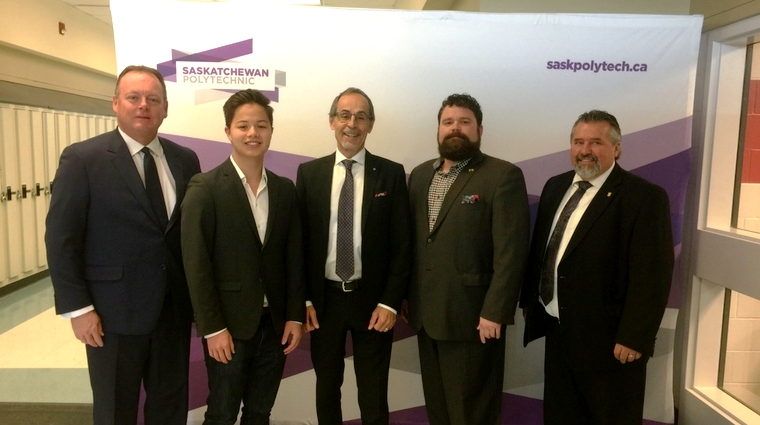 Bachelor of Construction Management students to begin in September 2018
September 20, 2017 – Today Saskatchewan Polytechnic celebrates the launch of its new degree program, the Bachelor of Construction Management. This is the second stand-alone degree developed in direct response to labour market demand.
"Congratulations to Saskatchewan Polytechnic on the launch of their second degree program," says Advanced Education Minister Kevin Doherty. "Our Government values post-secondary education and understands that it should be responsive to labour market and student needs. Graduates of the Bachelor of Construction Management program will be trained with the skills necessary to plan, execute and lead construction projects in our province."
"Sask Polytech graduates are the driving the economic workforce in this province," says Dr. Larry Rosia, president and CEO. "Through collaborating with employers we know the new Bachelor of Construction Management will provide our students with the best applied education and will provide employers with graduates who have multi-faceted skills and who are ready to work on day one."
The Bachelor of Construction Management program is unique in Saskatchewan and offers students the opportunity to earn an after-diploma baccalaureate degree with only an additional two years of study. The program was developed in response to global trends and needs for trained professionals in the construction industry. The program combines practical multi-faceted skills with theoretical knowledge and technical training.
"Bachelor of Construction Management graduates will be prepared for leadership roles in the heavy industrial, commercial, engineering and construction industries," says Jamie Hilts, Sask Polytech's dean of the School of Mining, Energy and Manufacturing as well as the school of Natural Resources and Built Environment. "This is the first and only construction management degree program in the province of Saskatchewan."
Admission requirements include completion of the Sask Polytech Architectural Technologies diploma or a Civil Engineering Technologies diploma. The curriculum includes a comprehensive spectrum of construction management topics including: scheduling, estimating, safety, contract law, cost control, tendering and project management. In their last year students will receive work-integrated-learning through an industry-supported capstone project.
Saskatchewan Polytechnic serves 28,000 distinct students through applied learning opportunities at campuses in Moose Jaw, Prince Albert, Regina and Saskatoon, and through extensive distance education opportunities. Programs serve every economic and public service sector. As a polytechnic, the organization provides the depth of learning appropriate to employer and student need, including certificate, diploma and degree programs, and apprenticeship training. Saskatchewan Polytechnic engages in applied research, drawing on faculty expertise to support innovation by employers, and providing students the opportunity to develop critical thinking skills.