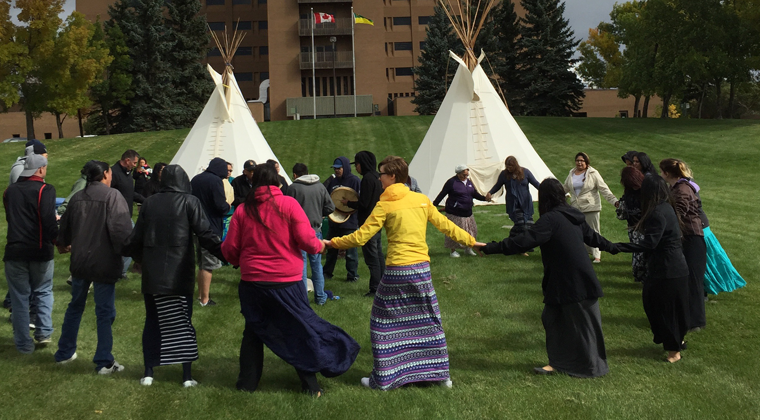 Celebrating Indigenous traditions and history builds campus culture and fosters success for Indigenous students.
June 21, 2017 - Saskatchewan Polytechnic is proud to support our Indigenous students, faculty and staff as we celebrate Indigenous culture on National Aboriginal Day.
"National Aboriginal Day is an important event for Saskatchewan Polytechnic," says Dr. Larry Rosia, president and CEO. "Approximately 18 percent of our student population counts itself as having Indigenous ancestry. Taking time to observe and celebrate our Indigenous culture enriches the institution's diversity, which is one of our greatest strengths."
This year, Sask Polytech will be honouring National Aboriginal Day with a number of events taking place at each of our home campuses across the province. Events include: tipi raisings, pipe ceremonies, food and dance performances.
"Teaching Indigenous languages, history and culture is important," says Jason Seright, director of Indigenous Strategy. "At Sask Polytech, we are aware of the importance of truth and reconciliation and what we need to do. Reconciliation has reminded us how important our role is in educating society on First Nations' history, language and culture.
Now in its 21st year, National Aboriginal Day honours the culture and contributions of First Nations, Métis and Inuit people across Canada.
Sask Polytech has more Indigenous students than any other post-secondary institution in the province. The Aboriginal Student Achievement Plan (ASAP) supports Indigenous students as they work towards achieving their educational and career goals. ASAP aims to remove barriers to success and incorporate Indigenous ways of thinking and learning into everyday life at Sask Polytech. Enrolment for Indigenous students has increased 31 per cent since 2011-12. In 2014-15, the employment rate for Sask Polytech's Indigenous graduates was 84%.
Saskatchewan Polytechnic serves 28,000 distinct students through applied learning opportunities at campuses in Moose Jaw, Prince Albert, Regina and Saskatoon, and through extensive distance education opportunities. Programs serve every economic and public service sector. As a polytechnic, the organization provides the depth of learning appropriate to employer and student need, including certificate, diploma and degree programs, and apprenticeship training. Saskatchewan Polytechnic engages in applied research, drawing on faculty expertise to support innovation by employers, and providing students the opportunity to develop critical thinking skills.
For a complete listing of events, please visit: saskpolytech.ca/events/national-aboriginal-day.aspx