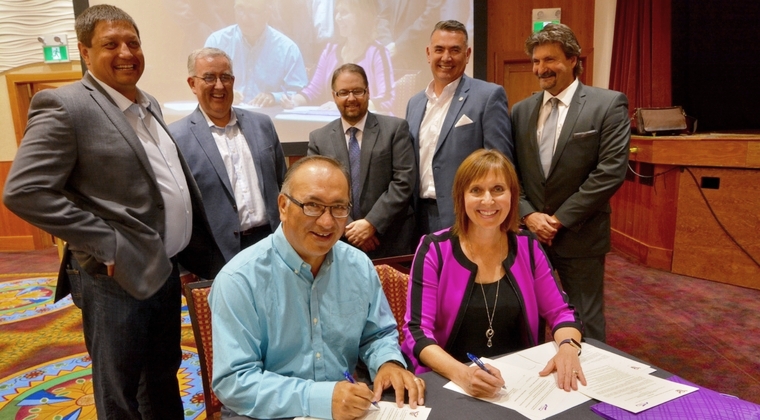 A Memorandum of Understanding sets the framework for applied research collaborations in the areas of Indigenous food sovereignty through community-based food production systems and traditional plant species.
September 1, 2017 – Saskatchewan Polytechnic and Saskatoon Tribal Council (STC) signed a five-year Memorandum of Understanding (MOU) yesterday that will enhance training and applied research for Indigenous food sovereignty, research the potential for new horticulture programs, and identify key industrial and funding partners to support the initiative.
"Partnering with STC on this important food sovereignty project demonstrates our commitment to the Indigenous communities we serve," says Dr. Anne Neufeld, Sask Polytech provost and vice president, Academic. "Working together on this initiative will enable us to provide students with enhanced learning and applied research opportunities that will result in innovative, sustainable models for Indigenous food sovereignty."
Projects could include new programs that provide certification for students interested in rural and urban horticulture systems. Other opportunities include training in the design, construction and operation of horticultural facilities or development of community-based food production systems using Indigenous plant species.
"This MOU is an example of how our on-going partnerships provide the initial steps to creating and engaging in new opportunities for our community and members," says Tribal Chief Felix Thomas, Saskatoon Tribal Council. "This MOU is the first step in engaging our membership in new vocations and roles that they otherwise would have over-looked."
Established in 1982, the Saskatoon Tribal Council has transcended from a two-person operation into a successful tribal region located in the treaty six territory. STC has grown into a major employment contributor within Saskatoon and surrounding area with over 250 employees. As per AANDC funding, Tribal Council administration includes advisory services in the following areas: economic development; financial management; community planning; technical services; and band governance.