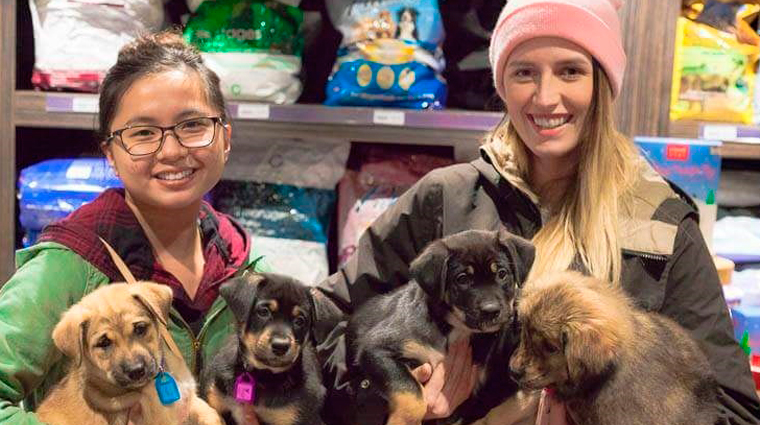 Combining principles of gamification, Saskatchewan Polytechnic instructor inspires students to fundraise for charities

For Theresa (Therri) Papp, an instructor in the Department of Communications, part of the secret to effective teaching is to motivate your students to not give up. Through her work as a PhD candidate at the University of Saskatchewan, Therri brings innovative principles of gamification into her Communications class in the Business Certificate program. She says that by turning learning into a game by assigning points to different aspects she can enhance the overall educational experience.
"It's not just me assigning points," says Papp. "When they work in groups, they have to evaluate each other. This helps to keep them motivated and helps them support one another."
And support each other they did. In the few weeks leading up to the holiday break, a total of twelve groups, each consisting of five-to-six students from three class sections, were tasked with the challenge to develop and execute fundraising activities for a local charity of their choice. The result is more than $15,700 raised in just under a month.
"This project gives the students practical experience and helps prepare them for their future careers," says Papp. "This is the third year I've been doing this, and every year I see students really putting their hearts in to their work."
This activity lets students learn and practice how to make persuasive presentations, compose informative messages, and how to conduct and record meetings. Since she launched the activity a few years ago the collective total, including this year's, is more than $32,000 for local charities.
"I've been doing this for a few years now and it's been really fantastic," says Papp. "Anything the students raise and present to their charities is a good thing."
Blending good work with a good education
Choosing the charities is a group task, with individual students building and presenting pitches outlining why their charity of choice should be one of the twelve the students work with. In the end, the selection of charities were diverse and covered a variety of focus areas.
"I didn't know much about the Lighthouse before this project," says Chris Cruz, whose group raised more than $2,600 for the Saskatoon charity that supports the homeless. "Now that I have this experience, I know and understand the work they do for those who need it most."
Each group was allowed to be as creative as need be with their fundraising efforts — some groups approached other businesses and asked for donations while others hit the pavement and collected bottles. Every step along the way was an opportunity to practice a new skill and apply their education in real life situations.
"It was an awesome activity. I really got to know how to do things like write a professional email," says Jazmin Baker, whose group raised $2,250 for New Hope Dog Rescue. "It's cool that we learned how to do this in such a hands on way — it's kind of nerve wracking."
Some students even got to try out their media relations skills when Global Saskatoon showed up to their BBQ to fundraise for Egadz, a Saskatoon not-for-profit that aims to help children and youth. All together, the group raised more than $1,500 for the charity.
"It was nice to get recognized and share what we are doing," says Crystal Erickson. "This was a really good project and I really enjoyed working with the people at Egadz."
Published January 2017.