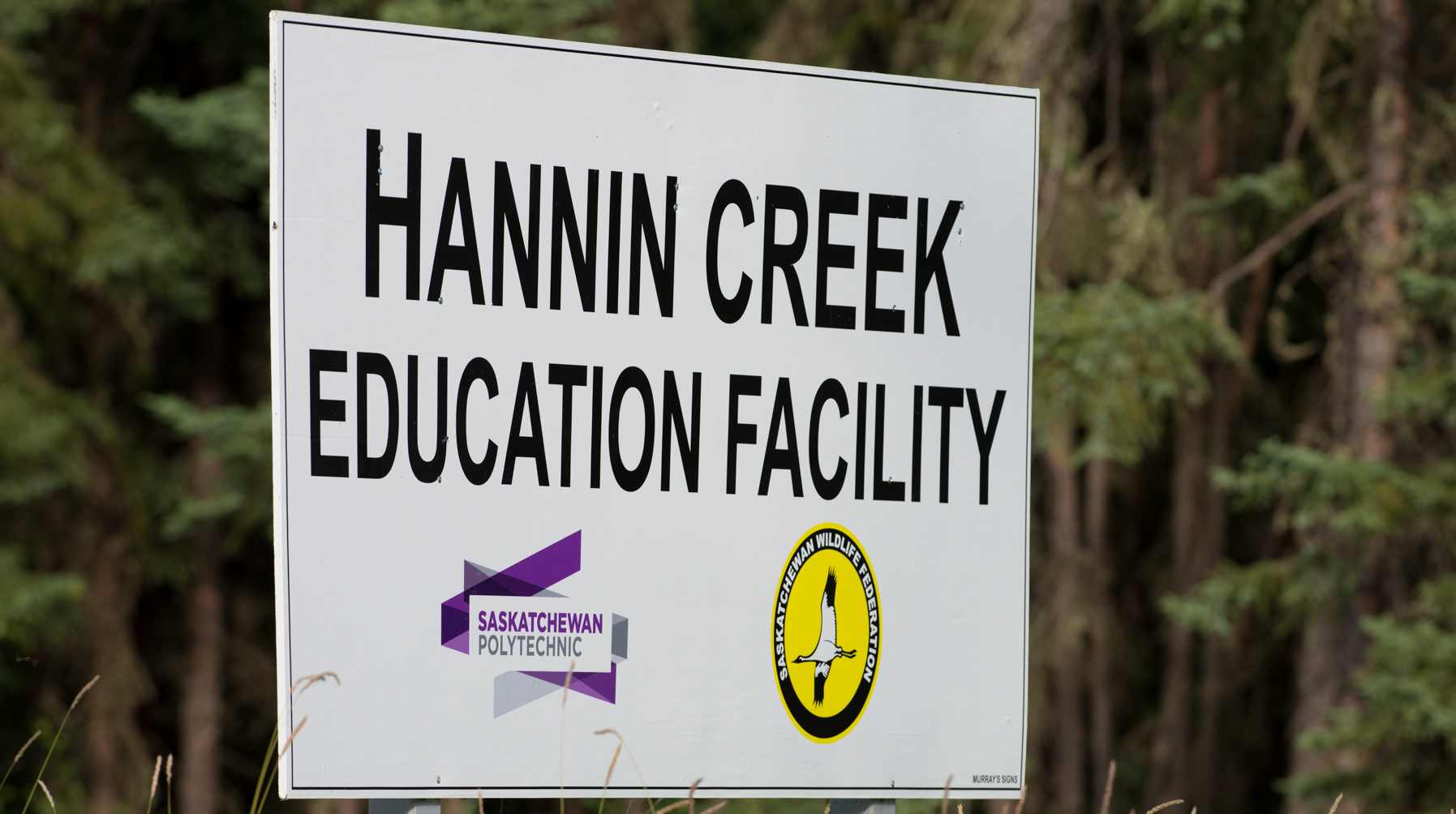 Saskatchewan Polytechnic and the Saskatchewan Wildlife Federation honoured with international award that celebrates educational programming and innovative partnerships.

July 2016 - It is a relationship that began through a shared desire to maintain and build upon the educational, applied research and conservation efforts at the Hannin Creek Educational Facility, located north of Prince Albert. Now it's an award-winning partnership.
The Saskatchewan Polytechnic and Saskatchewan Wildlife Federation (SWF) partnership behind Hannin Creek won a silver medal in the IPN-Global Best competition, sponsored by the Conference Board of Canada and the International Education Business Partnership Network.
"This is quite an honour," says Hamilton Greenwood, Sask Polytech Natural Resources instructor. "This partnership means we can provide our students, and other organizations in Saskatchewan, with a unique opportunity to experience the natural world and all the plants and animals that call this place home."
Sask Polytech and the SWF came together six years ago to renovate and expand the site, creating applied learning opportunities for students in a number of programs including forestry, fisheries, wildlife, conservation law, and environmental, civil and water resources engineering technology. It also means the SWF can ensure an important ecological landscape within Saskatchewan remains protected.
"This partnership enables us to offer enhanced learning opportunities at Hannin Creek, with better resources and facilities that allow access to the outdoors," says Darrell Crabbe, SWF executive director. "It is a great place to help teach the values of conservation to ensure this landscape is preserved for generations."
According to Crabbe, the facility provides users with exceptional opportunities to learn more about themselves and the world around them.
"They learn practical skills like hunting and fishing, they discover a self-confidence they never knew they had, and they gain an appreciation of how diverse our natural world is," says Crabbe.
The partnership has allowed both Sask Polytech and SWF to develop key activities and foster partnerships with other organizations. Some of the regular activities include, forest fire management training with the Saskatchewan Ministry of Environment and the Saskatchewan Co-operative Youth Program through the Saskatchewan Co-operative Association.
"The partnership brings a lot of value to both the SWF and Sask Polytech - ideally situated in the heart of the boreal forest the facility provides an optimal environment for education, training and applied research to occur under the stewardship of both SWF and Sask Polytech," says Jamie Hilts, Sask Polytech's dean of the School of Mining, Energy and Manufacturing as well as the school of Natural Resources and Built Environment.
Hilts says that winning the award is important because it highlights how marrying two entities through a shared vision of a need to focus on conservation also provides exceptional hands-on learning and practical opportunities for people and organizations across the province.
"The facility is a shining example of Saskatchewan Polytechnic's 50 plus year record of education and training excellence in the natural resource management," says Hilts. "This international award provides another strong indicator that Sask Poly is positioning itself very well to be recognized for it being a leading organization by 2020 in applied learning and research."
The Saskatchewan Wildlife Federation is a non-profit, non-government, charitable organization of over 33,000 members in 122 branches across Saskatchewan representing every walk of life. Per capita, we are the largest wildlife conservation organization of its kind in the world. Established in 1929, the SWF has become an acknowledged leader in the conservation field.
Saskatchewan Polytechnic serves 27,000 distinct students through applied learning opportunities at campuses in Moose Jaw, Prince Albert, Regina and Saskatoon, and through extensive distance education opportunities. Programs serve every economic and public service sector. As a polytechnic, the organization provides the depth of learning appropriate to employer and student needs, including certificate, diploma and degree programs, and apprenticeship training. Saskatchewan Polytechnic engages in applied research, drawing on faculty expertise to support innovation by employers, and providing students the opportunity to develop critical thinking skills.

-30-