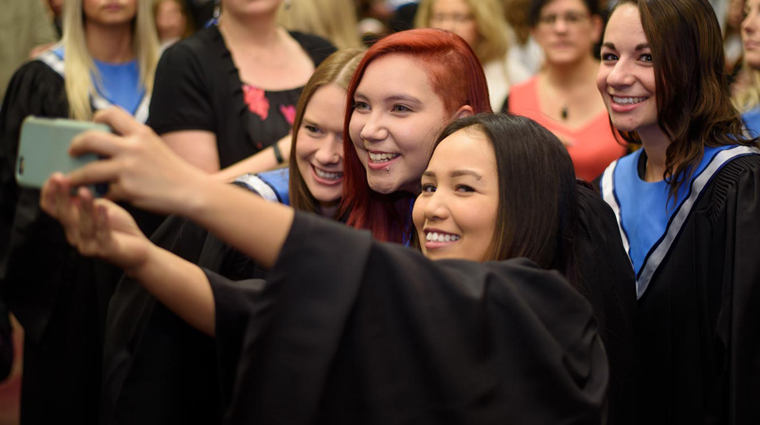 Saskatchewan Polytechnic celebrates excellence at convocation
Students, faculty and an industry leader honoured at the Prince Albert campus convocation
June 9, 2016 - Tomorrow Saskatchewan Polytechnic will celebrate the accomplishments of over 212 graduates along with award recipients at the Prince Albert campus convocations.
"We attract hard-working, resourceful and innovative students. Our graduates are exceptional," says Dr. Larry Rosia, president and CEO. "Convocation is a chance to look back on accomplishments and celebrate achievements. I'm proud of this year's graduates and award recipients."
Graduates will be recognized for outstanding achievements and contributions to their communities. The Outstanding Citizenship Award will be given to graduate Thomas Hugo from the Carpentry certificate program for being a strong and positive leader and role model for international students.
Sask Polytech will also be awarding an honorary diploma to Gord Broda from the locally owned and industry-leading construction firm the Broda Group. Broda has made a positive impact on Prince Albert and the people who live and work there through numerous contributions. He actively looks to foster success in others and his company continually supports Saskatchewan Polytechnic grads through exceptionally hands-on learning opportunities, practicum placement and job opportunities.
Media are encouraged to attend the convocation ceremony.
Date: Friday, June 10, 2016
Time: 9 a.m. ceremony; 1:30 p.m. ceremony
Location: E.A. Rawlinson Centre for the Arts, 14212th St W, Prince Albert, SK
Saskatchewan Polytechnic serves 27,000 distinct students through applied learning opportunities at campuses in Moose Jaw, Prince Albert, Regina and Saskatoon, and through extensive distance education opportunities. Programs serve every economic and public service sector. As a polytechnic, the organization provides the depth of learning appropriate to employer and student need, including certificate, diploma and degree programs, and apprenticeship training. Saskatchewan Polytechnic engages in applied research, drawing on faculty expertise to support innovation by employers, and providing students the opportunity to develop critical thinking skills.
-30-