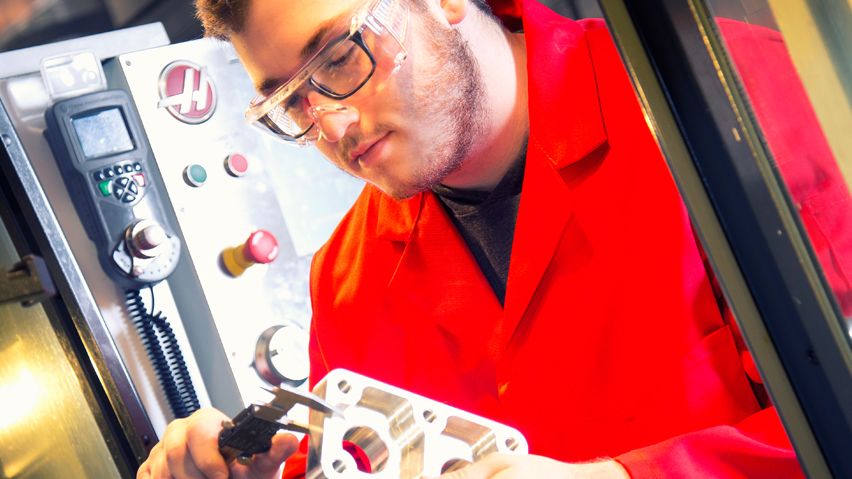 Industry identifies need for cross-disciplined workers in Saskatchewan manufacturing sector
November 30, 2016 – As of this month Saskatchewan Polytechnic is offering 12 seats in its new Innovative Manufacturing program. Beginning September 2017 the two-year diploma program will be delivered at the Regina campus.
Saskatchewan's manufacturing sector identified the need for multi-skilled workers. The cross-discipline design of the proposed program provides students with a breadth of knowledge and skills, ranging from mechanical and CAD/CAM engineering technologies, welding and machining disciplines to project management, industrial design and quality control/quality assurance strategies.
"Our new Innovative Manufacturing Diploma program will produce cross-disciplined graduates, with the 21 century skills needed to work in Saskatchewan's manufacturing sector," says Dr. Larry Rosia, president and CEO. "Working with employers, Sask Polytech is building a curriculum to meet their evolving needs."
During the two-year program, students will practice skills and complete projects using industry-standard tools and equipment. The program also offers a wide range of skill-based and hands-on training with technologies and computer programs. As part of their studies, students will have an opportunity to participate in a two-week, industry-based work placement.
"At Sask Polytech, we're constantly reviewing and updating our programming to meet the needs of employers," says Jamie Hilts, dean of the School of Mining, Energy and Manufacturing as well as the school of Natural Resources and Built Environment. "This new program is a way to respond to Saskatchewan's evolving needs and ensure we are providing the skills-based training required to help support economic growth across the province."
The Innovative Manufacturing diploma program is aligned to the National Occupation Classification (NOC) 2233 Industrial Engineering and Manufacturing Technologist. According to this classification, graduates may find employment in various manufacturing sectors including, but not limited to, industrial, agricultural, mining, textile, forestry and food processing. Sample job titles include, Industrial Engineering Technologist, Quality Assurance Technologist, Computer Numerical Control (CNC)/Numerical Control (NC) Programmer, CAD/CAM Programmer and Planning/Plant Layout Technician to name a few.
Saskatchewan Polytechnic will be undertaking extensive renovations and equipment enhancements to establish the new Innovative Manufacturing Centre at Regina campus and will be partnering with industry to fund the project.
Saskatchewan Polytechnic serves 27,000 distinct students through applied learning opportunities at campuses in Moose Jaw, Prince Albert, Regina and Saskatoon, and through extensive distance education opportunities. Programs serve every economic and public service sector. As a polytechnic, the organization provides the depth of learning appropriate to employer and student need, including certificate, diploma and degree programs, and apprenticeship training. Saskatchewan Polytechnic engages in applied research, drawing on faculty expertise to support innovation by employers, and providing students the opportunity to develop critical thinking skills.
-30-