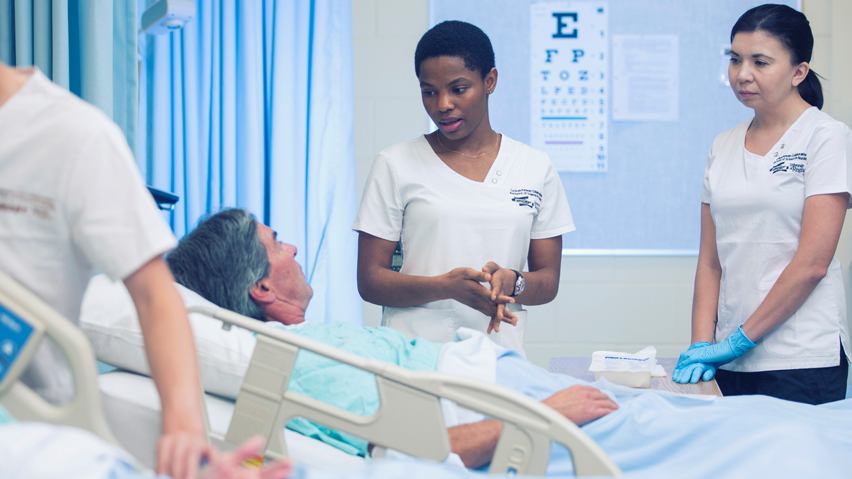 Collaborative nursing program receives seven-year CASN accreditation and five-year CRNS program approval
November 30, 2016 – Saskatchewan Polytechnic and the University of Regina's Saskatchewan Collaborative Bachelor of Science in Nursing (SCBScN) program recently passed two important milestones. The SCBScN program received seven-year accreditation through the Canadian Association of Schools of Nursing (CASN) and five-year program approval through the Saskatchewan Registered Nurses' Association (CRNS).
This was the first time that CASN and the CRNS partnered to undertake a joint process of accreditation and program approval.
"Achieving the highest level of accreditation possible is a significant milestone in our SCBScN program and one we are proud to celebrate," says Netha Dyck, dean of the School of Nursing at Saskatchewan Polytechnic. "We commend our stellar team of expert faculty and staff for their teaching excellence and supporting student success."
"Accreditation is recognized as an important, objective method of assessing excellence in nursing education programs," says david Gregory, dean of the Faculty of Nursing at the University of Regina. "Receiving this accreditation means graduates of the SCBScN program can be assured they will be well prepared for entry into an exciting career as members of the health care team serving the citizens of Saskatchewan."
The CASN reviewers commended the SCBScN program for incorporating indigenizing the curriculum and offering courses and clinical placements year-round. CASN noted employers spoke very highly about the caliber and performance of SCBScN students. Graduates also expressed they were prepared for professional practice and transitioned well into their role as Registered Nurses.
The CRNS complimented the SCBScN program for its strong relationship with the CRNS and for being responsive to students' needs, including support for the new National Council Licensure Examination for Registered Nurses (NCLEX-R).
The SCBScN program is unique in the fact that it is a collaborative and equitable partnership between two post-secondary institutions. The strength of the collaborative program is that it is responsive to students' needs. By combining resources, the University of Regina and Saskatchewan Polytechnic provide quality nursing education that prepares students to transition to become leaders and valuable members of interprofessional health care teams.
Saskatchewan Polytechnic serves 27,000 distinct students through applied learning opportunities at campuses in Moose Jaw, Prince Albert, Regina and Saskatoon, and through extensive distance education opportunities. Programs serve every economic and public service sector. As a polytechnic, the organization provides the depth of learning appropriate to employer and student needs, including certificate, diploma and degree programs, and apprenticeship training. Saskatchewan Polytechnic engages in applied research, drawing on faculty expertise to support innovation by employers, and providing students the opportunity to develop critical thinking skills.
The University of Regina is a comprehensive, mid-sized university that traces its roots back to the creation of Regina College in 1911. The University is home to 10 faculties, two academic units and approximately two dozen academic departments which have established reputations for excellence and innovative programs leading to Bachelor's, Master's, and doctoral degrees.
The Canadian Association of Schools of Nursing is the national accrediting body for nursing education in Canada. In 1987, the organization accredited its first undergraduate program and today, the accreditation of nursing education programs in Canada has become a core function of CASN.
-30-