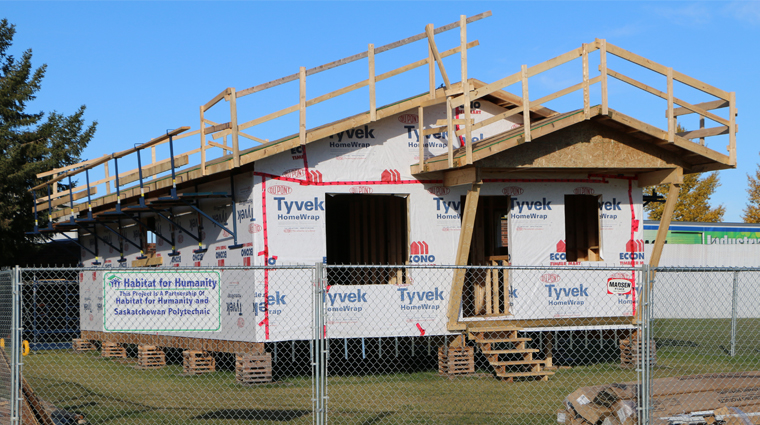 Sask Polytech, Habitat for Humanity, Prince Albert, and a Habitat family celebrate as construction begins on a new home
October 3, 2016 - This month Saskatchewan Polytechnic carpentry students begin to build their second Habitat for Humanity home. In February 2015, Saskatchewan Polytechnic and Habitat for Humanity, Prince Albert, signed a memorandum of agreement for carpentry students to build five houses in five years. Under the five-year plan, the students will frame houses and install windows, exterior doors, siding, soffits and shingles.
"Habitat for Humanity, Prince Albert, is excited to announce the commencement of our second home built in partnership with Sask Polytech. The faculty and students have been amazing to work with," shares Jan Adamson, Habitat for Humanity executive director. "These homes are of modest design, but hold a huge amount of hope and go a long way in changing the lives of our recipient families. Habitat partner families participate in a rigorous application process, volunteer in lieu of a traditional down payment and purchase their home through a zero interest mortgage."
"Our carpentry students work diligently over their short seven-week program to build a Habitat for Humanity home," shares John Erickson, School of Construction, (acting) dean. "This unique partnership provides students with a tangible, applied learning opportunity to frame and finish the exterior of a house. At the end of their program students have work-integrated learning experiences and also can feel good about giving back to their community."
Habitat for Humanity funds materials for the homes and is responsible for finishing the interior of the house, aided by the families that will live in the homes. Houses are built at Prince Albert campus and later moved to a lot within the City of Prince Albert for the recipient family.
Every year more than 63,000 Canadians volunteer with Habitat for Humanity Canada, a non-profit organization that builds affordable homes for low-income families in some 300 communities across the country. Habitat for Humanity, Prince Albert, was founded in 1995 and has served over 28 families. In recent years, Habitat for Humanity has built on average six homes annually in Prince Albert.
Saskatchewan Polytechnic serves 27,000 distinct students through applied learning opportunities at campuses in Moose Jaw, Prince Albert, Regina and Saskatoon, and through extensive distance education opportunities. Programs serve every economic and public service sector. As a polytechnic, the organization provides the depth of learning appropriate to employer and student needs, including certificate, diploma and degree programs, and apprenticeship training. Saskatchewan Polytechnic engages in applied research, drawing on faculty expertise to support innovation by employers, and providing students the opportunity to develop critical thinking skills.
-30-