Holiday decorating has gone to the doors in Regina
Campus-wide door decorating activity aims to remove the stress and increase the creativity!
What started out as a friendly little competition in the welding department has grown into a campus-wide adventure that stretches creative thinking to the next level, while helping staff share a little bit of the holiday spirit.
"It is a fun activity to de-stress with your co-workers before the holidays," says Crystal Olson, administrative assistant in the Student Services Department and organizer of the event.
Each year departments throughout the Regina campus participate, competition against one another for the title of best door and to win the trophy lovingly named The Festivus Cup. People across Regina campus can participate by voting on their favourite door in the library.
Check out some photos from Regina's Door Decorating Challenge 2016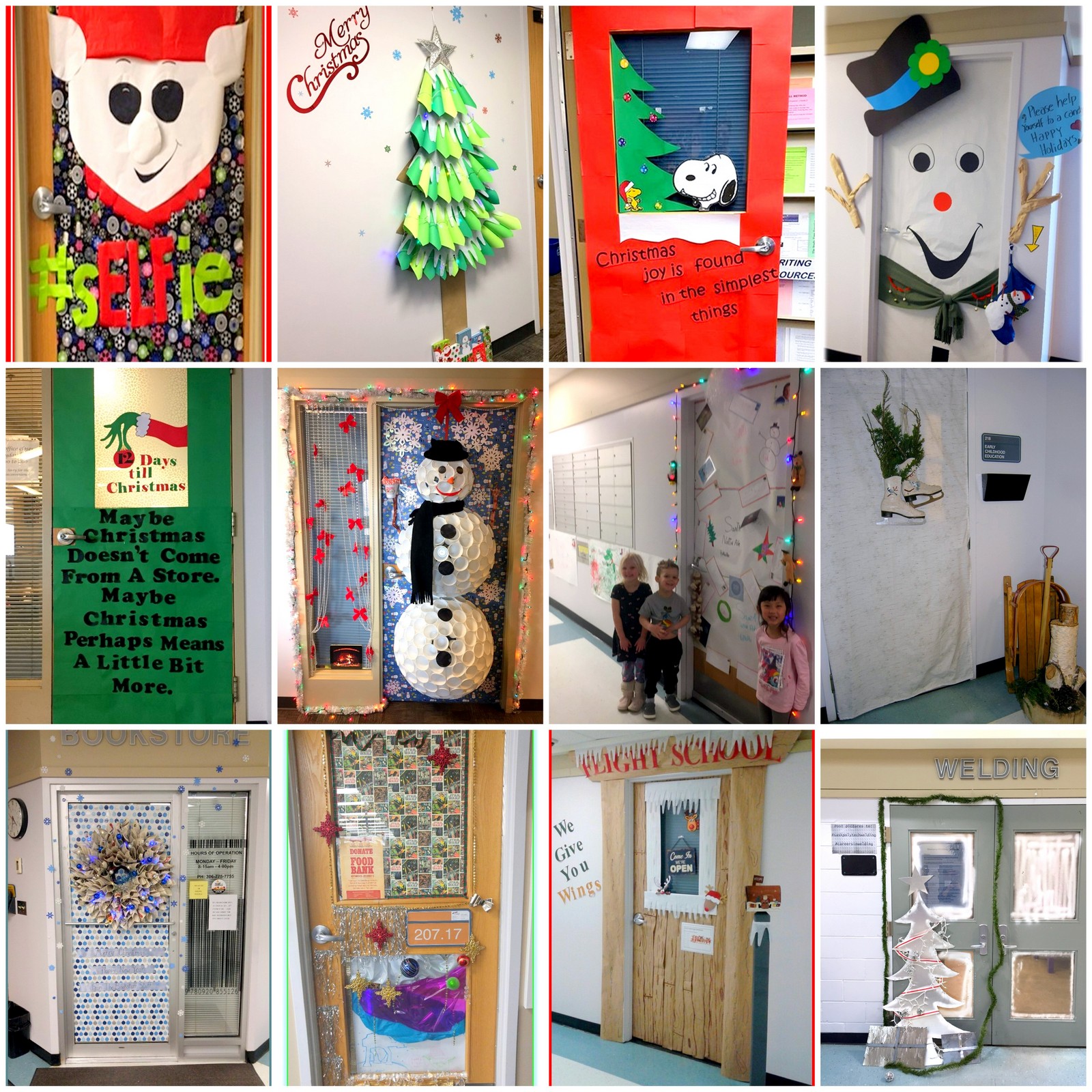 Want to make an antique book wreath? Here's how!
Items required
An old book that you're willing to rip the pages out of.
A stapler
A glue gun and glue sticks
A about a 10" piece of twine
A piece of foam core
Instructions
Tear or cut out about 75 pages. You'll want to be gentle with this as you will want them to remain (or as close to) the same shape and size they are while bound.
Fold each page into a cone and staple the bottom point.
Repeat the first two steps until you've rolled all your pages.
Next, draw your base onto the foam core. You can use a dinner plate for the outside edge, and a small bowl for the inside to create a ring.
Cut out the ring using an X-Acto blade.
Take your twine and tie it around to make the hanger.
Now you're ready to start the first row. Using hot glue - glue your cones pointed end onto the ring, side by side. Remember, this is row actually goes on to the back of your wreath
When you've gone all the way around, flip it over and do the same thing on the foam core on the front of your wreath. Make sure the inside cone sits between two outside cones.

What you are doing is layering your pages, which will help hide the foam core and fill out your wreath.
For the third row, move the point downwards so it hangs over the edge. Once you've glued the cone in place, you can tuck the point under to the back side and glue it in place as well.
Repeat for the fourth row.
TA-DAH!