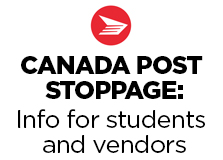 In the event of a possible strike or lockout of the Canadian Union of Postal Workers, some Sask Polytech services will be impacted. To address this, we have developed the following solutions:
Vendors:
Vendor payments will be sent via interoffice from Sask Polytech's administrative office to the vendor's city of residence for pick up at the local campus accounting office. Vendors can contact accounts.payable@saskpolytech.ca to ensure their cheque has been processed and delivered to their respective campus in Moose Jaw, Regina, Saskatoon or Prince Albert.
Vendors located outside of Moose Jaw, Regina, Saskatoon and Prince Albert should contact accounts.payable@saskpolytech.ca for more information.
Students:
Incoming and outgoing student mail will be impacted. Sask Polytech applications or parchments can be dropped off/picked up in person at any campus location. Students looking for updates or additional information please contact Registration Services. Campus Registration Services information is also listed below.

Requests for official transcripts to be mailed will be delayed until after the Canada Post stoppage. Transcripts will be emailed to participating post-secondary institutions with the original transcript mailed following the postal stoppage. Transcripts to the University of Saskatchewan and University of Regina will be couriered weekly.
Registration Services:
Moose Jaw Campus
Saskatchewan St and 6th Ave NW
PO Box 1420
Moose Jaw SK S6H 4R4
306-691-8383
306-691-8578 (fax)
RegInbox.MooseJaw@saskpolytech.ca

Prince Albert Campus, Technical Building
1100-15th Street East
Prince Albert SK S6V 7S4
306-765-1600
306-765-1838 (fax)
RegInbox.PrinceAlbert@saskpolytech.ca

Regina Campus
4500 Wascana Parkway
PO Box 556
Regina SK S4S 5X1
306-775-7301
306-775-7760 (fax)
RegInbox.Regina@saskpolytech.ca

Saskatoon Campus, Idylwyld Dr
1130 Idylwyld Drive North
PO Box 1520
Saskatoon SK S7K 3R5
306-659-4800
306-659-4067 (fax)
RegInbox.Saskatoon@saskpolytech.ca