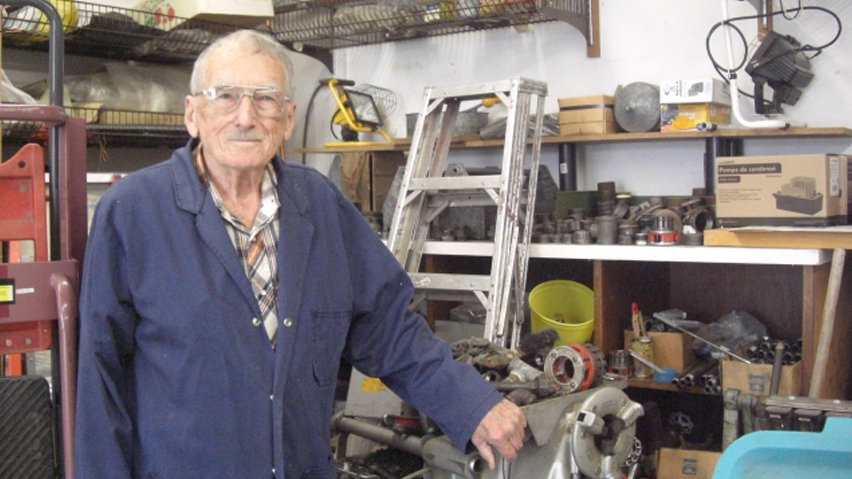 Lorne Figley says the key is to find something you love to do and make it your career
Even though he's 92-years-old, Lorne Figley is proud to be doing what he loves. In fact, Lorne has been the owner and operator of his own heating and plumbing business in Saskatoon for more than 65 years.
"Working helps keep my body fit and my brain sharp," he says. "I don't plan on retiring any time soon."
Chuckling, he adds, "I hope to die with a pipe wrench in my hand."
Lorne received his technical training at Saskatchewan Polytechnic in the 1950s and 1970s, and earned a number of certificates and trade tickets including sheet metal, plumbing, steam fitting/ pipefitting/ refrigeration and air conditioning.
"Oh, I definitely enjoyed my time there," says Lorne, speaking about Sask Polytech. "I'd still be going if there was more for me to learn."
Lorne said that his instructors at the institution were exceptional. He was happy to learn from topline instructors with employer connections – something that continues to be part of the benefits of a Sask Polytech education. He also says that having access to quality technical training enabled him to expand his expertise and survive economic ups and downs.
"I was able to do all the trades required in plumbing and heating after my business was downsized. This has allowed me to keep the company running as a one-man operation and gives me the opportunity to keep busy," says Lorne.
On Sunday, October 23, Sask Polytech presented Lorne with a lifetime achievement award. A $500 student award was also created in Lorne's name for an apprenticeship student who receives the highest marks on his or her journeyperson exam for a trade of Lorne's choosing.
"It is truly an honour to meet and celebrate Mr. Figley's remarkable accomplishments," says Dr. Larry Rosia, president and CEO at Sask Polytech. "Lorne is a lifelong learner, and we are very proud to have him as an alumnus. His dedication to his work and his trade is inspiring to all of us."
As far as becoming a Guinness World Record holder, Lorne says he's pretty proud of his achievements.
"My children and grandchildren include three engineers, four PhD's, a nurse, a lawyer and a veterinarian, but I'm the only one with a Guinness World Record," Lorne says with a laugh.
For more information, check out these news stories!