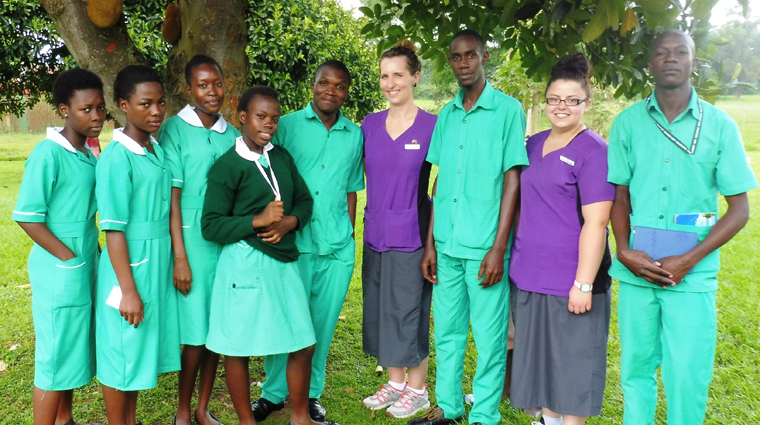 On April 27, 2016, four students and one faculty member from Saskatchewan Polytechnic's psychiatric nursing programs embarked on a journey to learn and network with mental health professionals in a new cultural context. For a month, students Trudy Derkach, Sarah Schneider, Kelly Kotzer, and Johann Engelke were accompanied by faculty member and organizer, Marilyn Schigol as they performed clinical rotations and observations at the Butabika National Referral Mental Hospital in Kampala, Uganda. Butabika is a teaching hospital which allowed the students to network with and learn from students in the local culture. The hospital is home to nine wards and houses approximately 900 patients at any given time.
During their time at Butabika, the students participated in clinical rotations in the children's and alcohol and drug wards, as well as in the outpatient and HIV clinics. It was noticed that observable psychiatric symptoms were presented similarly to what the students had already learned in their Canadian education. Diagnoses of illnesses like bi-polar disorder, depression, and post-traumatic stress disorder were familiar to the students. However, Uganda also classifies some conditions like epilepsy as mental disorders. Because of this, the students were able to gain further experience with treating a wider variety of symptoms than in clinical rotations at home.
The unique multidisciplinary nature of therapy at Butabika, specifically in treating alcohol and drug addiction, was something that struck a chord with the group. In Uganda, there is often a strong belief that mental illness is tied to spiritual factors like possession and witchcraft which can end up alienating patients from their faith. Butabika has developed a system of treatment which involves a team of occupational therapists, psychologists, psychiatrists, and counsellors with the addition of a chaplain to work with patients to dispel this myth and help patients re-enter their faith and communities. In the male and female convalescent units, patients are treated by teams of health-care professionals called firms that are led by a psychiatrist. The system is designed to have each patient cared for by the same people consistently even when they return as outpatients.
High levels of poverty and overcrowding are major challenges for health care in the Kampala area. Patients are often under nourished and teams in outpatient and primary health clinics can often treat 75 to 100 patients on any given day. This can cause ward and clinic staff to be spread thin. But the shortage of staff means that there is a very high value placed on all levels of students and professionals that work in the Butabika hospital. The team found it to be a very welcoming and rich learning environment that fostered a real sense of belonging and community.
The challenges that were experienced were heavily outweighed by the positive aspects of the trip. Seeing things like resilience of the human spirit, true meaning of community, genuine hospitality, kindred spirits in providing mental health care, multidisciplinary work, integration of spirituality as a healing tool, and cultural humility are experiences the team will be able to draw on in their professional and personal lives. Everyone agreed that these experiences would be impossible to duplicate in a domestic environment and were invaluable as a result.