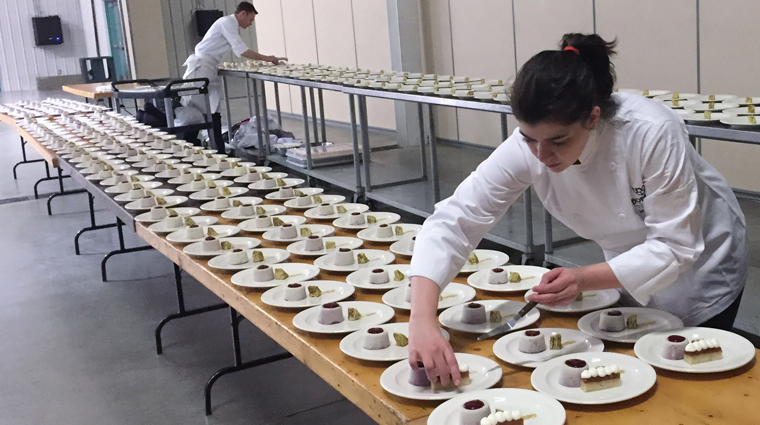 Achieving excellence through unconventional means
When it comes to learning to cook, former owner and head chef at Bliss Fine Food in Saskatoon and new Culinary Arts program head, Derek Cotton achieves excellence in teaching by taking the kitchen out of the classroom and into the community.
"If we just stay inside our four walls, then we're not providing our students with the best experience possible," says Cotton. "Cooking is all over the place and because food is so subjective my job is to make sure students get as big of a cross section of styles as they can. It's the right thing to do."
Sask Polytech's vision of excellence pushes educators and instructors to go above and beyond what is normally expected of them. The Culinary Arts program has a flavourful history of high standards and strong competencies but Cotton wants to foster more community partnerships to ensure the program remains a top choice for potential students from across the country.
"We have a fairly high application rate," says Cotton. "My goal is that in five, 10 and 15 years we're still maintaining those high numbers. We can't do that if we aren't offering the best programming that we can."
Looking to excite and recruit new generations of amazing cooks, Cotton is making connections with local high schools and teachers associations to help promote the two-year diploma program, which is the first step in becoming a Red Seal certified chef.
"We want to make sure we have and keep our great teachers. But we also need great students to ensure the program remains relevant. By offering exceptional and real-world learning opportunities we can continue to attract great students."
By participating in community events, such as a soup cook-off at the Saskatoon Farmer's Market, students are provided with opportunities to test their developing skills in the real world. More recently, students were invited to prepare hors d'oeuvres for Saskatoon's annual Chef's Gala.
"They got to pick their own menus and showoff what they can do. They also helped the presenting chefs prepare and plate each course," says Cotton. "The more diversity we can provide to our students and the more we do with our community, the better Sask Polytech's Culinary Arts program will be."
On February 19, Sask Polytech will host the provincial rounds of the Canadian Chef's Association junior and senior competitions. This event will see four culinary students, as well a food services employee and second year apprentice, competing for a chance to participate in the national competition in Windsor, Ontario in May.
"Working with organizations such as the Canadian Chef's Association provides opportunities that will allow us to meet very specific learning outcomes along the way," says Cotton.
"At the end of the day, you're not here for the money or great working hours. Cooking is a passion and chefs are passionate people," says Cotton. "The more we can do to develop and support that passion, the better off we are."
Learn more about the Culinary Arts program.
This is the first instalment of a four-part series highlighting the core values at Saskatchewan Polytechnic values: excellence, respect, integrity and sustainability.
Excellence: We go above and beyond what is normally expected to achieve excellence in our teaching, in our programming, in our learning and in our services. We accomplish this by maintaining high standards, strong competencies, committed partnerships and by being responsive and accessible.