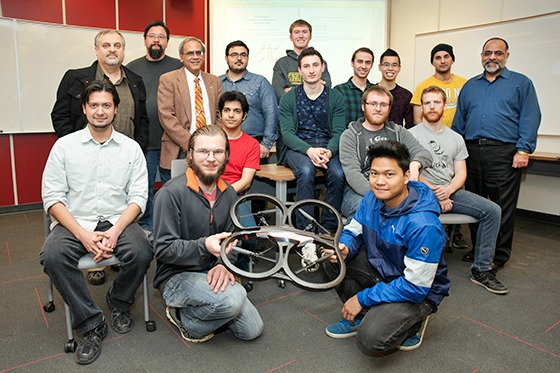 By Costa Maragos
The class, ENIN 495, teaches the theory, mechanics, construction and control of quadcopters, which are unmanned aerial vehicles.
The technology for these small four-rotor helicopter flying machines is constantly changing, creating a demand for adaptive education programs to provide the training people need to get the edge they need when entering the work force.
While the course is offered to fourth year U of R Engineering and Applied Science students, three instructors from Saskatchewan Polytech are participating as the first step in building a strong relationship to match applied learning with academic theory.
"We are developing new bonds with our educational partners at Sask Polytech in this new and important area of engineering, science and technology," says Dr. Raman Paranjape, professor of Electronic Systems Engineering at the U of R and one of the instructors. "We hope to create an on-going relationship with Saskatchewan Polytech in this area and enhance the learning opportunities for everyone."
A collaboration like this means both institutions can provide cutting-edge programming to more students while also ensuring graduates have the skills the workforce is looking for.
"This is a great opportunity for Saskatchewan Polytechnic to work in collaboration with the University of Regina on two fronts. To begin with, it's another good example of how a relationship between the two institutions can benefit various stakeholders such as students, faculty and future employers," says Jamie Hilts, Dean of the School of Mining, Energy and Manufacturing and the School of Natural Resources and Built Environment at Saskatchewan Polytech.
The class is also taught by Dr. Mehran Mehrandezh, associate professor of Industrial Systems Engineering at the U of R.
"The class provides students with hands-on experience on building, testing and controlling a flying machine," says Mehrandezh. "They get a chance to appreciate the synergy needed to make use of the sensory information obtained via board sensors and to control the machine through intelligent planning and programming."
The course includes simulation and hands-on experimental labs on constructing and controlling a quadcopter. The goal is to develop a knowledge base in this technological area that both institutions can share.
"We are pleased with this collaborative effort with Saskatchewan Polytech. Engineering projects need both technologists and engineers. Such an initiative, in a classroom setting, cultivates further understanding between the students of both professions and can create further links and knowledge sharing between our institutions," says Dr. Esam Hussein, Dean of the Faculty of Engineering and Applied Science.
The three Sask Polytech instructors are Dr. Abdul Raouf and Dr. Herve Lahamy who are both Geomatics Instructor and CJ Pelletier, Program Head of the Department of Geomatics and Surveying Engineering Technology.
"It is a great opportunity for our faculty to be involved in a new and evolving technological field, while allowing our institutions to provide a variety learning opportunities and valuable experiences to students of both institutions," says Hilts. "Sask Polytech is looking forward to working with the U of R to create an environment where students have access to a variety of learning techniques to truly understand the capabilities of this technology."
For Paranjape, the welcome presence of the Sask Polytech instructors is helping open doors that will greatly assist students at both institutions.
"We expect in the future to have engineering students working with Sask Polytech students in different aspects of this technology from various applications, such as survey and inspection to evaluation and 3D mapping of environments," says Paranjape.
Republished with permission from the University of Regina.