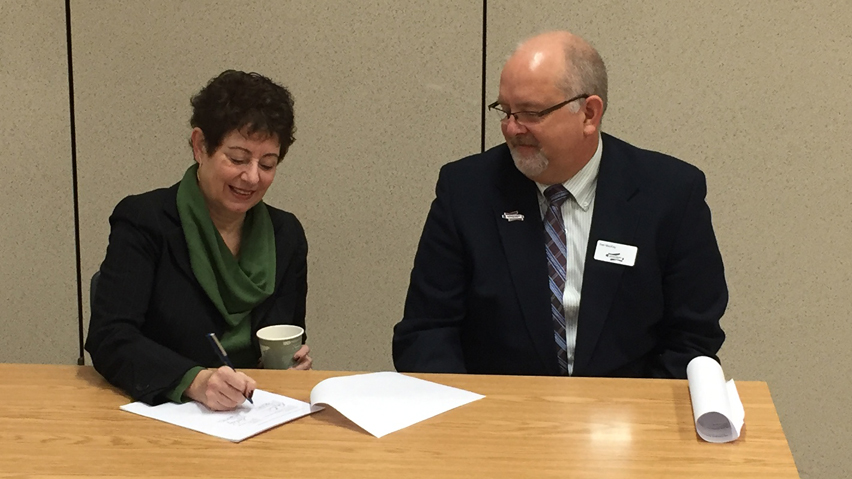 Collaboration provides students with an opportunity to maximize their education

April 14, 2016 - Saskatchewan Polytechnic and the University of Saskatchewan's (U of S) Edwards School of Business signed an agreement today that allows business students to transfer between institutions.
This agreement means graduates of the Saskatchewan Polytechnic two-year Business diploma program can transfer into the third year of the U of S's four-year Bachelor of Commerce program at Edwards to continue their education.
"This is certainly an exciting time for both institutions. Together, we are able to provide our students with an amazing opportunity," said Dr. Larry Rosia, Saskatchewan Polytechnic president and CEO. "Collaborating with the University of Saskatchewan through agreements like this reinforces our strong academic partnership that focuses on student needs."
"There are many different pathways to success through advanced education," said Daphne Taras, dean of the Edwards School of Business. "Working closely with Saskatchewan Polytechnic, we have created yet another superb opportunity for students. The Edwards School of Business warmly welcomes qualified transfer students."
"I congratulate these two fine schools," said Minister of Advanced Education Scott Moe. "This agreement allows students more choice during their post-secondary journey. Partnerships such as this one improve the student experience and provide more career opportunities for our students."
After completing a two-year Business diploma at Sask Polytech, graduates who meet entry requirements will have the opportunity to transfer into a four-year undergraduate degree program at roughly the halfway mark. As a result, students are able to graduate with both a diploma and a degree after four years of study.
Sask Polytech has negotiated credit transfer options, including entry into degree programs, with a number of universities and colleges across Canada. The U of S has secured, and continues to pursue, transfer articulation agreements with domestic and international post-secondary institutions, allowing for more options and flexibility for transfer students.
About the U of S Edwards School of Business
Over the past 100 years, Edwards School of Business has committed to providing excellent educational experiences for students. We offer five degree programs to over 2,200 current students at the certificate, undergraduate and graduate levels. Our mission is to develop business professionals who build nations. We embrace the teacher-scholar model and deliver our mission through faculty with strong academic and professional expertise. Through co-operative education and extensive experiential learning opportunities, our students receive relevant experience leading to exciting career opportunities upon graduation.
About Saskatchewan Polytechnic
Saskatchewan Polytechnic serves 27,000 distinct students through applied learning opportunities at campuses in Moose Jaw, Prince Albert, Regina and Saskatoon, and through extensive distance education opportunities. Programs serve every economic and public service sector. As a polytechnic, the organization provides the depth of learning appropriate to employer and student need, including certificate, diploma and degree programs, and apprenticeship training. Saskatchewan Polytechnic engages in applied research, drawing on faculty expertise to support innovation by employers, and providing students the opportunity to develop critical thinking skills.
-30-