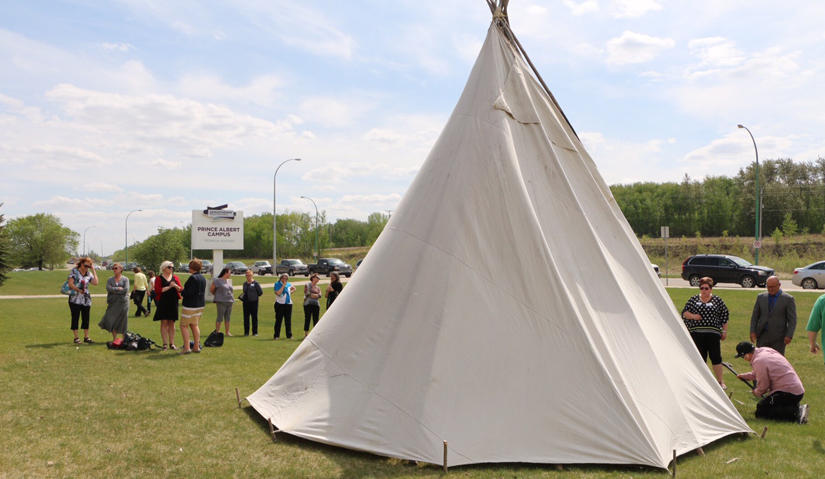 September 21, 2016 - Saskatchewan Polytechnic's Aboriginal Relay Challenge returns as part of the fall solstice celebration. The event is supported through Saskatchewan Polytechnic's Aboriginal Student Achievement Plan (ASAP) and the Indigenous Students Centre. The relay takes place September 22 at the Prince Albert campus from 11:30a.m. - 1:00p.m.
"We are very excited to bring back the Aboriginal Relay Challenge. The challenge is a great outdoor event for students and staff to learn about day-to-day tasks early inhabitants had to endure to survive in the north," says ASAP advisor Shelley Belhumeur. "We look forward to having a Sask Polytech senior management team member participate in the event."
During the Aboriginal Relay Challenge teams of 10 carry a baton through nine legs of the relay. The timed challenge starts with a long distance run. Two team members must then paddle across the river and back in a canoe. The baton is passed through three separate legs of the race. The last runner passes the baton to a bicyclist who rides around the Exhibition Centre track. The baton is then passed to a runner carrying a heavy pack. This is followed by a log cutting challenge. The final leg is a fire starter event in which competitors have to bring water to a rolling boil using kindling, matches, a bottle of water and a tin can.
The Aboriginal Relay Challenge has ran periodically since 2002. The highest recorded registration was 160 participants (16 teams).
Media are invited to attend the relay.
Event: Aboriginal Relay Challenge
Time: Thursday, September 22, 2016 at 11:30 a.m. - 1:00p.m
Location: Saskatchewan Polytechnic, Prince Albert Campus
Relay starting point - green space north the Technical Building